These Nut Free Cookie Dough Protein Bars are deliciously chewy, gluten-free and dairy-free with a sugar-free option too. I make them with egg white protein powder and oats, but you can substitute a range of other protein powders depending on what you have at home.
I like to keep the bars in the fridge or freezer for a quick snack, or when I want something sweet after dinner. You don't even need a heavy duty food processor to make them – a simple blender will work!
Protein powder substitutions
The great thing about this recipe is that it works with a range of different protein powders. I go through each option below.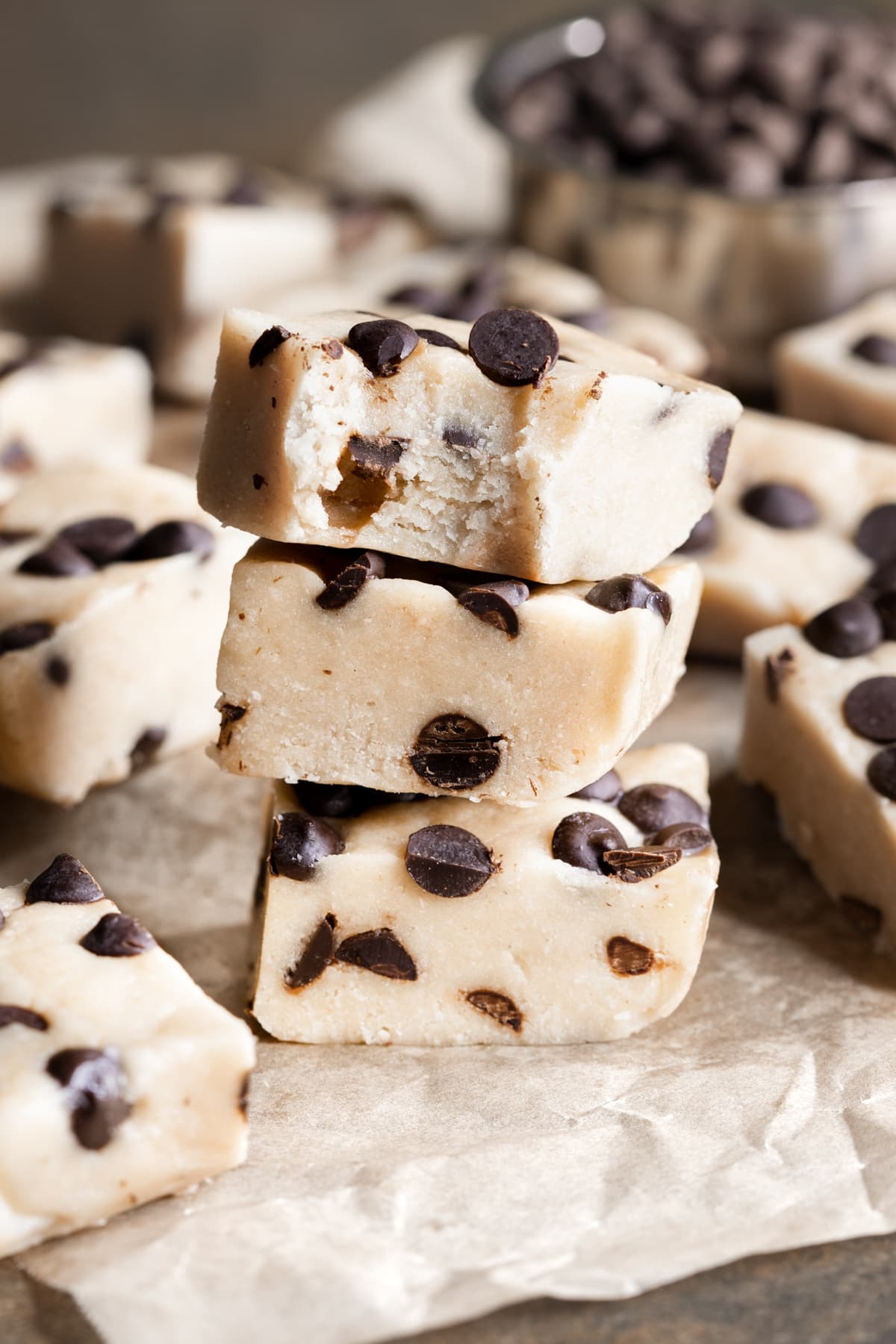 Whey protein powder: Whey protein powders are a great substitute for egg white protein powder in this recipe. Whey protein isn't dairy-free like pure egg white powder, but it blends into the recipe in a very similar way.
Collagen powder: Collagen powder will also work well in this recipe and it's dairy-free. It's usually more expensive than egg white and whey protein powders, but it dissolves really well into protein bar recipes.
Vegan protein powder: I have also tested the recipe with brown rice protein powder. It just gave the bars an earthier flavor and less chewy texture. I imagine that most plant-based protein powders should also work. If you make the bars with your favorite vegan protein powder, I'd love to hear how it goes.
Unflavored protein powder is my preference, since we flavor the protein bars ourselves. But flavored protein powders will certainly still work.
Making the protein bars without protein powder
If you don't have any protein powder, you can use extra rolled oats in this recipe as a substitute. Oats aren't as high protein as protein powders, but they are somewhere between 11–17% protein.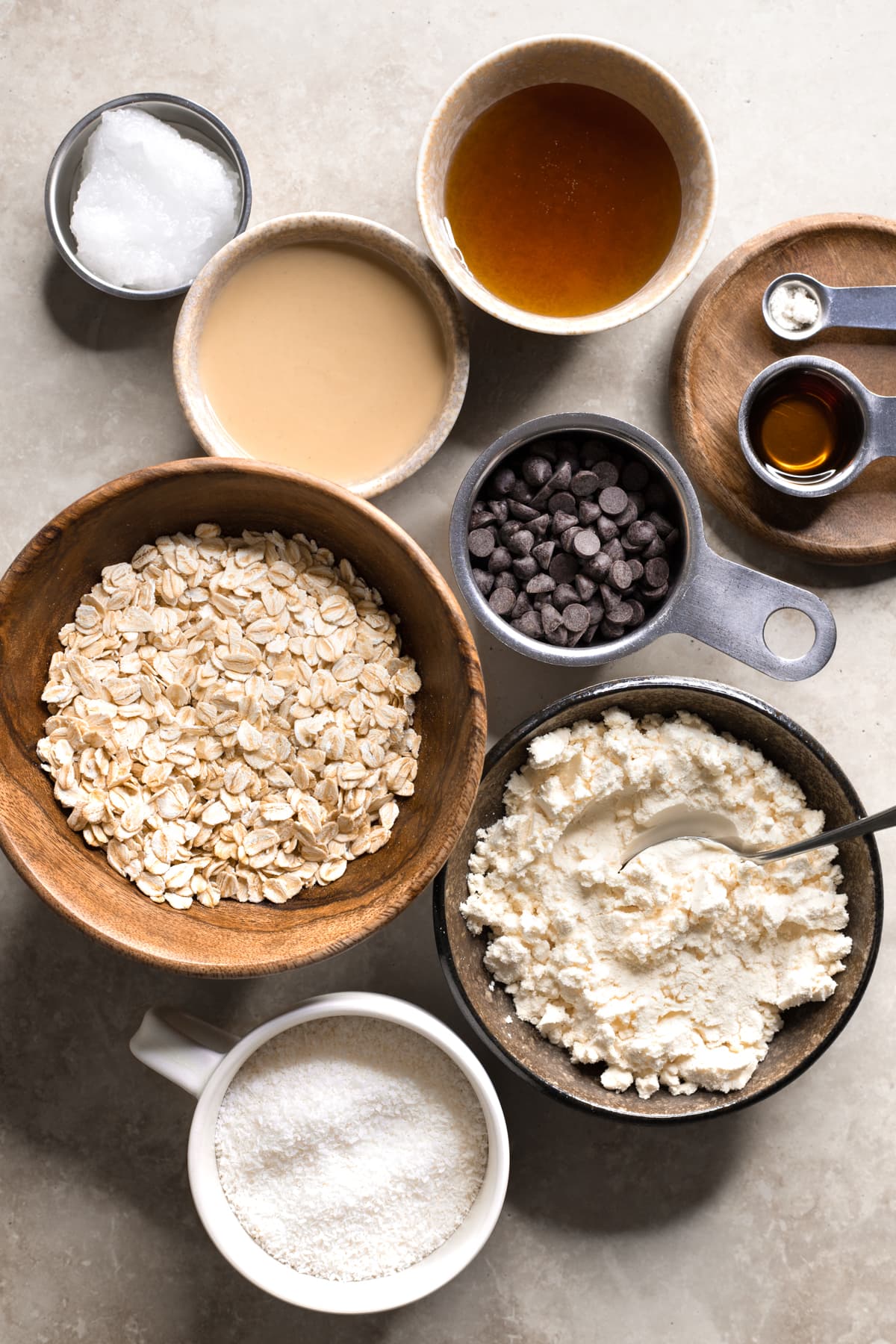 Oats work as a protein powder substitute in recipes where protein powder isn't the main dry ingredient. This is because oats have a more drying effect than protein powders that are designed to dissolve in liquids. Since we already use oats in this recipe, you should be able to swap out the protein powder for more oats.
Sugar-free protein bar substitutions
You can make these Nut Free Cookie Dough Protein Bars sugar-free by using sugar-free syrup and chocolate chips. This reduces the sugar content per bar from 5.6 grams to 0.8 grams if that is something that suits your goals.
You can check out the nutrition information for each version of the bars under the recipe below.
Although I usually prefer ingredients that haven't been overly processed, there are some more natural sugar-free syrups and chocolates on the market these days. They can be handy if you have to keep your sugar intake down.
I have started to experiment with different brands and will write more on this once I find some great options. If you have any suggestions, let me know in the comments section below – I'd love to hear.
I also often use half sugar-free syrup and half brown rice syrup, then chop up some 85% or 90% cocoa dark chocolate to use instead of chocolate chips. This reduces the sugar content of the bars without altering the taste too much.
Ingredients for Nut Free Cookie Dough Protein Bars
Egg white protein powder: I use unflavored egg white protein powder, which is 100% pure powdered egg whites. I talk about protein powder substitutions above if you don't have egg white protein powder.
Rolled oats: Blended into a powder to supplement the protein powder as a dry ingredient. I use traditional rolled oats, but quick oats should also work.
Desiccated coconut: Blended with the protein powder and oats to add some moisture and subtle sweet flavor. I use unsweetened desiccated coconut.
Tahini: To keep the protein bars nut-free. I use hulled tahini since it's less bitter than unhulled tahini. You can also use a nut butter, like almond butter or natural peanut butter, if you don't need the bars to be nut-free.
Brown rice syrup: Also known as rice malt syrup, to sweeten the bars. You can also use a sugar-free substitute, which I talk about above.
Coconut oil: To stop the bars from drying out and also to help hold them together.
Vanilla extract: To add to the cookie dough flavor. You can leave it out if you don't have any, but I really love it in these bars.
Chocolate chips: Who doesn't want chocolate chips in their cookie dough? You can use regular chocolate chips, sugar-free chocolate chips or chop up your favorite chocolate bar.
Sea salt: To enhance the flavor of the bars. Always worth it.
More protein bar recipes
These Cookie Dough Protein Bars with Collagen Powder are gluten-free, grain-free, dairy-free and the closest I have come to a cleaner version of Quest cookie dough protein bars.
For another protein bar made with oats, these Chewy Choc Chip Oat Protein Bars are also studded with chocolate chips.
These Vegan Peanut Butter Oat Protein Bars are drizzled with chocolate and could easily pass as a healthy slice or dessert.
If you like nougat, these No Bake Almond Nougat Protein Bars are chewy, paleo, gluten-free and grain-free.
You can find all of my protein bars and balls on the Protein Bar and Protein Ball Recipes page.
Nut Free Cookie Dough Protein Bars Recipe
Serves
12 bars
Prep time
5 mins
Cook time
30 mins chilling
Ingredients
1/2 cup / 45g rolled oats
1/2 cup / 47g unsweetened desiccated coconut
1/2 cup / 50g unflavored egg white protein powder (see Note 1 for substitutions)
1/4 cup / 60g tahini
1/4 cup / 60ml / 86g brown rice syrup (or sugar-free substitute, see Note 2)
3 tbsp / 45ml / 42g coconut oil, softened
2 tsp vanilla extract
Pinch of sea salt
1/4 cup / 40g chocolate chips (or sugar-free substitute, see Note 3)
Method
Line a 10 x 20 cm / 4 x 8 inch loaf tin with baking paper.

Blend the rolled oats, desiccated coconut and egg white powder in a blender until you get a powder.

Tip the mixture into a bowl and add the tahini, brown rice syrup, coconut oil, vanilla and salt. Stir until well combined. Alternatively, you can mix everything in a food processor.

Stir through most of the chocolate chips, then press the mixture into the lined tin. Sprinkle over the remaining chocolate chips and press them gently into the mixture.

Chill in the freezer for about 30 minutes or until firm. Once firm, cut into bars.
Notes
1. Protein powder substitutions – You can also use whey protein powder, collagen powder or plant-based protein powder. If you don't have protein powder, you can use an extra 1/2 cup / 45g rolled oats (more details in the post above).
2. Brown rice syrup substitutions – For sugar-free protein bars, you can use a sugar-free syrup (more details in the post above). Or you can use another liquid sweetener like maple syrup or honey.
3. Chocolate chip substitutions – You can use sugar-free chocolate chips, or a chopped dark chocolate bar with 85-90% cocoa to keep sugar to a minimum.
4. Storage – Store the protein bars in an airtight container in the fridge for up to 3 days. If you won't eat the bars in this time, you can freeze them and defrost in the fridge as needed.
Nutrition Facts
Serving size: 1 bar (made with brown rice syrup and 70% cocoa chocolate)
Energy: 684kJ (163Cal)
Protein: 5.7g
Total Fat: 10.6g
Saturated Fat: 6.4g
Total Carbohydrate: 10.2g
Sugars: 5.6g
Dietary Fibre: 1.7g
Sodium: 29mg
Potassium: 24mg
Serving size: 1 bar (made with sugar-free syrup and sugar-free chocolate)
Energy: 597kJ (143Cal)
Protein: 5.8g
Total Fat: 10.8g
Saturated Fat: 6.4g
Total Carbohydrate: 3.6g
Sugars: 0.8g
Dietary Fibre: 1.5g
Sodium: 28mg
Potassium: 24mg