These Vegan Peanut Butter Oat Protein Bars are no-bake, gluten-free and could easily pass as a healthy slice or dessert. They are super satisfying and come together easily with just a bowl and a spoon. Perfect to stash in your fridge or freezer for a quick snack or after dinner treat.
The great thing about this recipe is that it works with a range of protein powders. You can also make the protein bars without protein powder by substituting extra oats. I go through all of these options in more detail below.
No bake protein bar recipe
Since these are no-bake vegan protein bars, all you have to do is press the mixture into a tin or container, then chill it in the refrigerator. I used an 8 inch / 20 cm square dish to make the bars shown in the photos. However, you could press the mixture into a smaller container to get thicker bars, or a larger one for thinner bars.
You can also roll the mixture into protein balls if you prefer. I say 'roll', but you actually need to 'press' the mixture into balls. Just squash some of the mixture into a lumpy looking ball, then finish off by rolling it between the palms of your hands to smooth it out.
Protein powder options
I make these bars with unflavored protein powder. Any variety will work. Vegan powders like pea protein isolate or brown rice protein powder are good options. You can also make the protein bars with non-vegan powders like whey protein powder, collagen powder or egg white protein powder.
However, if there is a flavored protein powder that you enjoy, go ahead and use it. Neutral flavors like vanilla or chocolate should work nicely with the peanut butter.
Protein bars without protein powder
You can also make these protein bars without protein powder. Just use extra oat flour as a substitute. The recipe already calls for some oat flour, so it's easy to just use some more. You can buy oat flour or make your own by blending rolled oats in food processor or blender until you get a powder.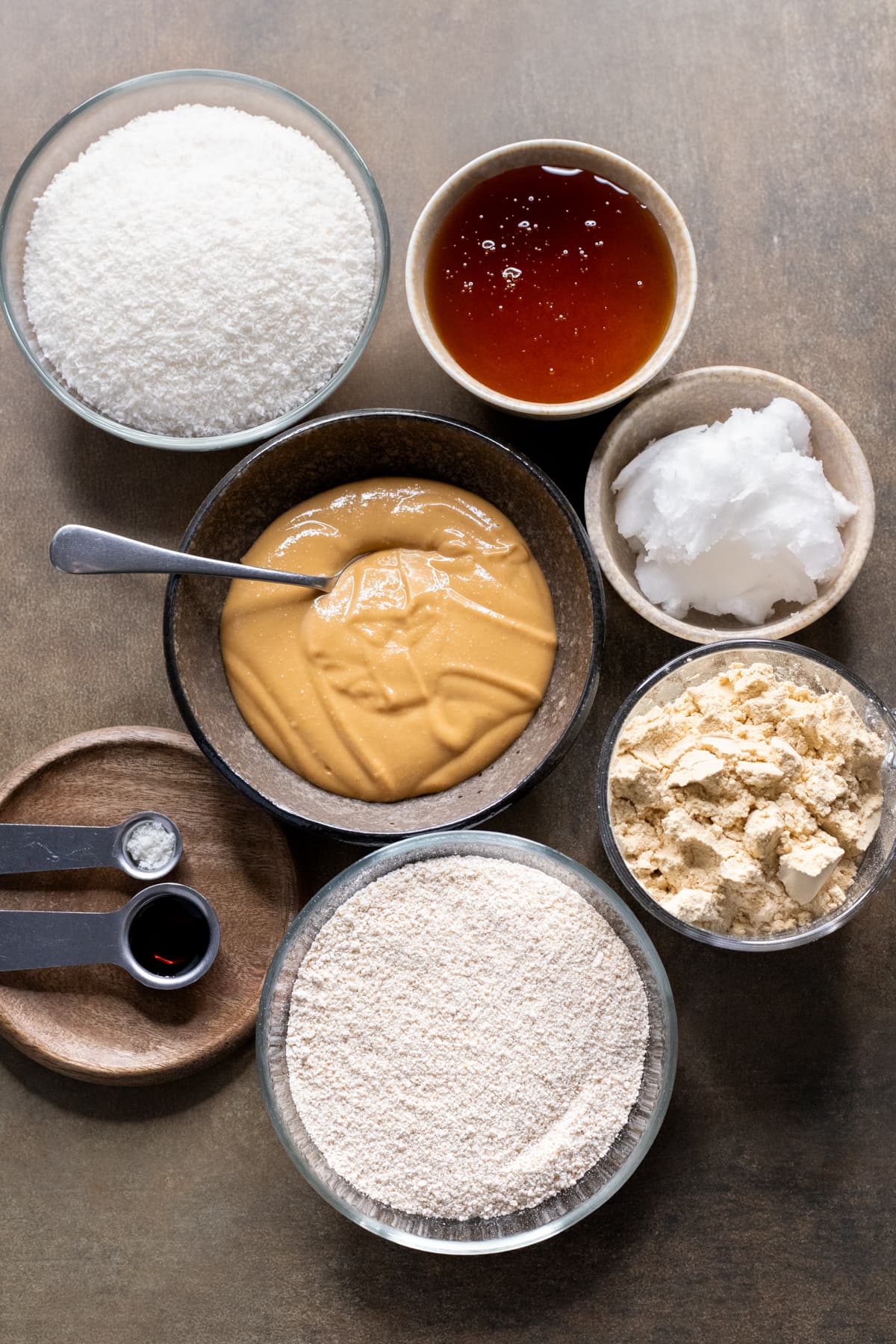 I usually blend a large batch of rolled oats into a powder, then store it in an airtight jar or container in the pantry for easy use in recipes. When making your own oat flour, just make sure no water or moisture gets into the oats while blending and storing them. You want your dry goods like oats and flours to stay dry while storing them to avoid bacterial growth.
Ingredients for Vegan Peanut Butter Oat Protein Bars
Peanut butter: Natural smooth peanut butter works best in this recipe. The ingredients should just list peanuts and salt.
Brown rice syrup: I use brown rice syrup, also known as rice malt syrup, to sweeten the protein bars. It's fructose-free with a thick texture. Maple syrup, honey and sugar-free syrups also work if you prefer.
Coconut oil: Coconut oil helps the bars set firm. You want it to be softened or melted before adding to the mixture. Then it firms up when you chill the bars.
Oat flour: Oat flour gives the bars a chewy texture and adds some protein. You can make your own oat flour by blending rolled oats in a food processor or blender to get a powder.
Desiccated coconut: Coconut adds some natural sweetness to the bars. I use unsweetened desiccated coconut.
Protein powder: Most protein powders will work in this recipe, but I usually use unflavored pea protein isolate. I go through a range of protein powder options and substitutes above.
Vanilla extract: Vanilla extract is totally optional, but I highly recommend it to give the bars a dessert vibe.
Sea salt: Who doesn't love salted peanut butter? If your peanut butter isn't salted, I would increase the salt to 1/4 teaspoon or to taste.
More no bake protein bar recipes
These Nut Free Cookie Dough Protein Bars use tahini instead of nut butter for a deliciously chewy, gluten-free and dairy-free protein bar.
If you have collagen protein at home, these Cookie Dough Protein Bars with Collagen Powder are the closest I have come to a clean dupe for Quest cookie dough protein bars.
I also love these No Bake Almond Nougat Protein Bars, which are chewy, paleo, gluten-free and dairy-free.
You can check out more options on the Protein Bar and Protein Ball Recipes page.
Vegan Peanut Butter Oat Protein Bars Recipe
Serves
12 bars
Prep time
5 mins
Cook time
30 mins chilling
Ingredients
1/2 cup / 120g natural smooth peanut butter
1/2 cup / 120ml / 172g brown rice syrup (see Note 1 for substitutions)
1/3 cup / 80ml / 72g coconut oil, melted
1 tsp vanilla extract
1 cup / 90g oat flour (see Note 2 to make your own)
1 cup / 94g unsweetened desiccated coconut
1 cup / 100g unflavored pea protein powder (see Note 3 for substitutions)
Pinch of sea salt
For decoration (optional)
Melted dark chocolate, for drizzling
Crushed nuts, for sprinkling
Method
Mix the peanut butter, brown rice syrup, coconut oil and vanilla extract in a bowl until well combined.

Add the oat flour, desiccated coconut, protein powder and salt. Mix until everything is well combined.

Tip the mixture into an 8 inch / 20 cm square cake tin or dish lined with baking paper. Press the mixture firmly into the tin using a flat bottomed glass or your hands. Transfer to the fridge to chill for 30 minutes or until firm.

Once firm, remove the slab from the tin and drizzle over melted chocolate and crushed nuts if desired. Leave for a few minutes until the chocolate is set, then cut into bars.
Notes
1. Brown rice syrup substitutions – You can also use maple syrup, which is sweeter than brown rice syrup, or honey for a non-vegan option. Honey has a robust flavor, so it will give the bars a strong honey taste. Sugar-free syrups also work if you want sugar-free protein bars.
2. Oat flour – Make your own oat flour by blending the same weight of rolled oats in a blender or food processor until you get a powder.
3. Pea protein powder substitutions – This recipe works with most protein powders. Brown rice protein, vegan protein blends, whey, collagen or egg white protein powder all work. If you don't have protein powder, extra oat flour can also be used as a substitute. I use unflavored protein powder, but neutral flavors like vanilla or chocolate should also work nicely.
4. Storage – Store the bars in an airtight container in the fridge. They bars also freeze well. I usually keep enough bars for a few days in the fridge and freeze the leftovers. Then I just defrost the frozen bars in the fridge overnight as needed.
Nutrition Facts
Serving size: 1 bar
Energy: 1080kJ (258Cal)
Protein: 10g
Total Fat: 16.2g
Saturated Fat: 10g
Total Carbohydrate: 19.5g
Sugars: 10.2g
Dietary Fibre: 3.8g
Sodium: 163mg
Potassium: 68mg