These gluten-free Chewy Choc Chip Oat Protein Bars are no bake, studded with chocolate chips and super easy to make. You can swap out the chocolate chips for your favourite chocolate bar, chopped into chunks. Adding some nuts into the mix is also delicious!
Since this is a no bake recipe, you can set the bars in any container you like. I used a 10 x 20cm loaf tin here, which gives thinner bars. You could press the mixture into a smaller tupperware container if you want to get thicker bars.
After chilling the mixture in its container to firm up, I cut the slab into 6 bars. But you can cut them as large or small as you want. If you want to make the mixture into protein balls, you can roll the mixture into balls instead of pressing it into a container.
Feel free to change up the chocolate chips. I like to use dark chocolate chips around 60-70% cocoa. But if you want to reduce the sugar content, you could chop up some 85% cocoa chocolate or a sugar-free chocolate bar instead.
Ingredients for Chewy Choc Chip Oat Protein Bars
Rolled oats: I use old fashioned rolled oats, which we process into a flour before adding to the mixture. Quick oats would also work if that's all you have. Oats naturally don't contain gluten, but they are often processed on the same equipment as wheat. If you're strictly gluten-free, you can buy gluten-free oats.
Whey protein isolate: I use unflavoured whey protein isolate to boost the bars with protein, then sweeten the bars with the maple syrup. However, if you want to use a flavoured whey protein that contains sweetener, you could reduce the maple syrup and increase the milk slightly to replace the lost liquid.
Coconut flour: Combined with the oats, the coconut flour gives the bars a chewy texture. It also gives the bars structure and helps to hold them together.
Cashew butter: Stops the bars from drying out and provides some healthy fats. You could use another nut butter, like almond butter or peanut butter, if you prefer.
Maple syrup: Used to sweeten the bars, since I use unflavoured protein powder. You could also use honey or rice malt syrup. If you use a flavoured protein powder that is sweetened, you could reduce the maple syrup as mentioned above.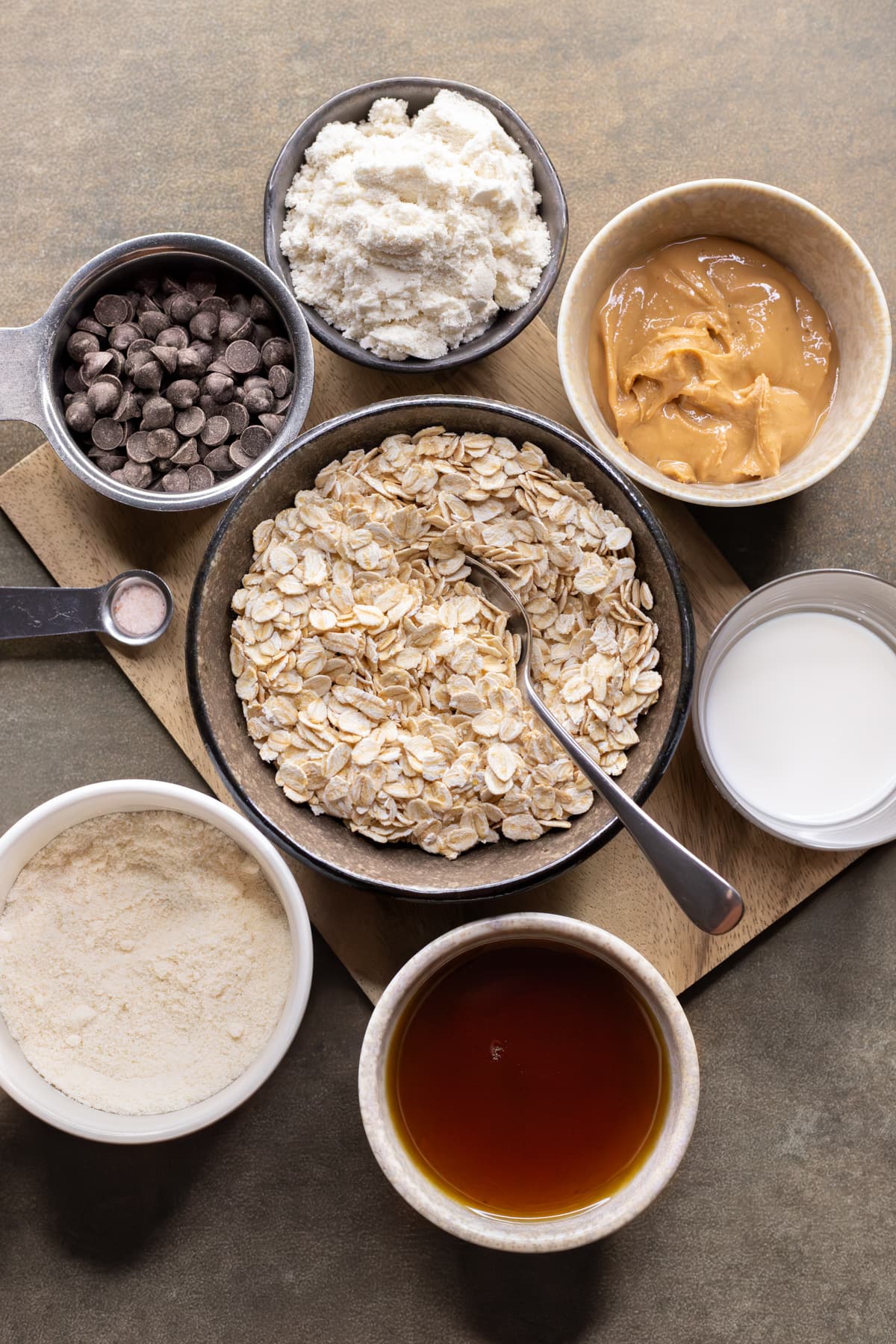 Unsweetened almond milk: Just a small amount is used to bring the mixture to a dough consistency. You can use any milk you like, or water if you don't have any milk.
Dark chocolate chips: Feel free to use any chocolate chips you like. Or chop up your favourite chocolate bar and use that instead.
Sea salt: Enhances the flavour of the bars. You can leave it out, but I highly recommend including it.
I haven't tested the recipe with a plant-based protein powder, but I image it would work since there's not a large amount of protein powder used. You may just need to add a little extra milk to get the mixture to form a dough, since plant-based protein powders are usually drier than whey.
More protein bar recipes
For another oat-based bar recipe, you might like my No Bake Chocolate Oat Bars. They are nut-free and sweetened with a combination of Medjool dates and maple syrup.
These Nut Free Cookie Dough Protein Bars are deliciously chewy made with egg white protein powder and oats. But you can make them with a range of protein powders.
These Cookie Dough Protein Bars with Collagen Powder are gluten-free, grain-free, dairy-free and the closest I have come to a cleaner version of Quest cookie dough protein bars.
You can find all of my protein bars and balls on the Protein Bar and Protein Ball Recipes page.
Chewy Choc Chip Oat Protein Bars Recipe
Serves
6 bars
Prep time
10 mins
Cook time
20 mins chilling
Ingredients
1 cup (90g) rolled oats
1/4 cup (62g) cashew butter
1/4 cup (60ml/78g) maple syrup
1/8 teaspoon sea salt
1/4 cup (25g) unflavoured whey protein isolate
1/4 cup (25g) coconut flour
4 teaspoons (20ml/20g) unsweetened almond milk, or more as needed
1/4 cup (40g) dark chocolate chips
Method
Line a 10 x 20cm loaf tin (or a similar sized container) with baking paper or cling film. Process the oats in a food processor or blender to turn them into a flour.

Place the cashew butter, maple syrup and sea salt into a large mixing bowl and stir well to combine. Add the oat flour, whey protein powder and coconut flour and mix well. Add the almond milk one teaspoon at a time and continue to mix until you get a dough. If it's too dry add another teaspoon of milk. If it gets too sticky, add a little extra coconut flour.

Mix about two thirds of the chocolate chips into the dough. I find it easiest to work the chips into the dough with my hands.

Firmly press the dough into the lined tin, sprinkle over the remaining chocolate chips and press them into the surface. Chill in the freezer for about 20 minutes until firm before slicing into bars.

Store in an airtight container in the fridge or freezer.
Notes
The bars are best eaten within 1-3 days. Any extra bars that you won't eat in this time can be frozen, then defrosted in the fridge as needed.
You can also make the mixture into protein balls if you prefer. Just shape the dough into balls instead of pressing into a tin.
Nutrition
Serving size: 1 bar (when recipe is cut into 6 bars)
Energy: 970kJ (232Cal)
Protein: 9.3g
Total Fat: 9.3g
Saturated Fat: 3.1g
Total Carbohydrate: 28.8g
Sugars: 12.2g
Dietary Fibre: 4.2g
Sodium: 63mg
Potassium: 97mg
Nutrition information is an estimate only. It may vary depending on the brand of ingredients used.