This Easy No Bake Vegan Slice is gluten-free and has three layers: a chocolate biscuit base, a sweet and creamy filling and a thick chocolate topping. You might already have the ingredients in your pantry. No baking needed, just mix, press into a container and chill in the fridge.
The first layer is similar to a biscuit base, but made with rolled oats and coconut. It's lightly sweetened with maple syrup or your liquid sweetener of choice. Then a little bit of coconut oil holds it together.
Coconut oil sets hard when chilled in the fridge, so it's perfect for no bake slice recipes. Being plant-based, it also keeps the slice vegan. I also like to add a dash of raw cacao powder to the base to give it a chocolate flavour.
The creamy middle layer is super versatile, so you can make adjustments based on what you have at home. I like to use cashew butter, sweetened with maple syrup for a caramel vibe, and a dash of sea salt. But you could use almond butter, peanut butter or even tahini if you want to make the slice nut-free.
For the topping, all you need is a bar of chocolate and a little extra coconut oil. We just melt the chocolate and stir through some coconut oil. Adding coconut oil to the melted chocolate means that it doesn't set as hard in the fridge, giving the topping a smoother texture.
I love eating the slice straight from the fridge. Or, you can leave it out of the fridge for a few minutes to soften slightly so it becomes ultra creamy. Just don't leave it out of the fridge for too long, particularly in warm weather, as it will continue to melt.
Healthy vegan slice recipes
I am a firm believer in eating well most of the time, then having whatever you crave in moderation. So I definitely enjoy treats and desserts that are not healthy now and then.
However, when I feel like making a dessert with healthier ingredients, this vegan slice works well. It's a lot lower in sugar than a typical dessert, but still tastes indulgent. Since it also contains healthy fats, it's pretty satisfying too.
If you need the slice to be strictly vegan and dairy-free, make sure you check the ingredients of the chocolate bar that you use for the topping. Most good quality dark chocolate that has a cocoa content of 70% or above won't contain any dairy. However, some lower quality chocolate brands do add milk solids.
Ingredients for Easy No Bake Vegan Slice
Rolled oats: For the base. You can use old fashioned rolled oats or quick oats if that's all you have at home.
Desiccated coconut: To blend into the base. I like to use unsweetened desiccated coconut.
Raw cacao powder: To give the base a chocolatey taste. You can use cocoa powder instead of raw cacao powder if you prefer.
Cashew butter: For the creamy, middle layer. I like to use cashew butter because it has a naturally sweet flavour. Almond butter or natural peanut butter are also delicious. If you can't eat nuts, you could use tahini instead.
Maple syrup: To sweeten the base and middle layer. Maple syrup is my favourite here, since it gives a delicious caramel vibe. Honey will also work if you don't need the slice to be strictly vegan. You could also use rice malt syrup, but it's not as sweet as maple syrup so the slice won't taste as sweet.
Dark chocolate: I use a 70% cocoa chocolate here. If you want to reduce the sugar content even further, you could use 85% or 90% cocoa chocolate, or a sugar-free chocolate bar instead.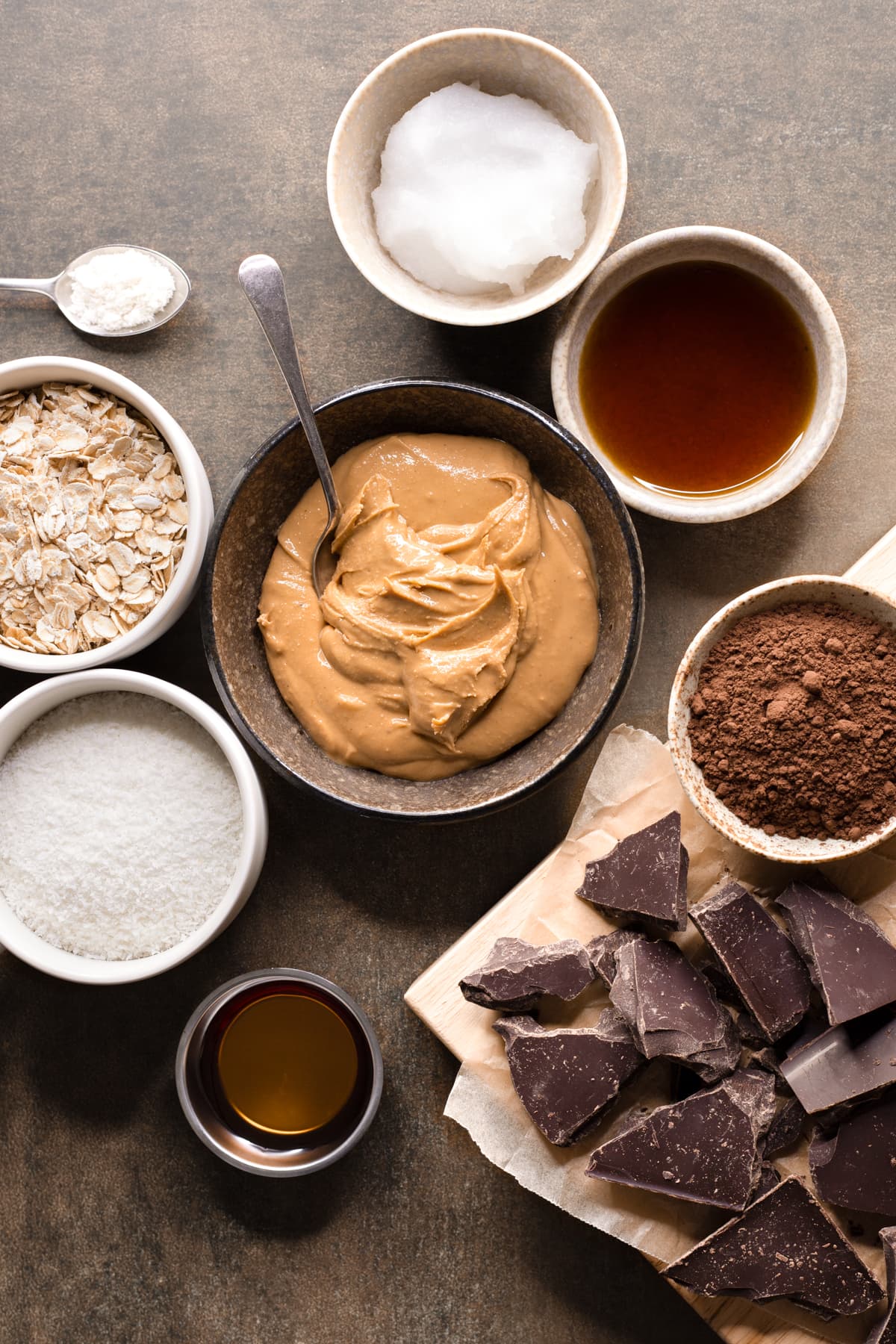 Coconut oil: To help the slice set. As the slice chills in the fridge, the coconut oil hardens to hold the slice together. Being dairy-free, using coconut oil also keeps the slice vegan.
Vanilla extract: To boost the caramel layer. If you have vanilla bean paste, even better. If you don't have vanilla extract or paste, you can leave it out. I would just avoid vanilla essence, since I always find that it has a slightly chemical flavour.
Sea salt: To enhance the flavours. I highly recommend including it, as it really does make a difference!
More easy vegan slice recipes
This Vegan No Bake Chocolate Mint Slice is perfect if you enjoy choc mint desserts like me.
This Chocolate Raspberry and Chia Slice is another healthy, no bake slice with a dreamy raspberry filling.
These 4 Ingredient Vegan Peanut Butter Bars are a healthy version of old fashioned chocolate peanut butter bars.
For a healthy breakfast or snack, these Easy Baked Oatmeal Breakfast Bars are soft-baked, chewy, gluten-free and vegan.
You can find all of my bars and slices on the Bar and Slice Recipes page.
Easy No Bake Vegan Slice Recipe
Serves
12 pieces
Prep time
15 mins
Cook time
1 hour chilling
Ingredients
For the base
3/4 cup / 68g rolled oats (see Note 1)
3/4 cup / 52g unsweetened desiccated coconut
8 tsp / 13g cocoa powder
1/8 tsp fine sea salt
8 tsp / 40ml / 52g maple syrup
4 tsp / 20ml / 16g coconut oil, melted
For the middle layer
1/2 cup / 125g cashew butter (see Note 2)
4 tsp / 20ml / 26g maple syrup
8 tsp / 40ml / 32g coconut oil, melted
1/2 tsp vanilla extract
1/8 tsp fine sea salt
For the topping
3.5oz / 100g dark chocolate
8 tsp / 40ml / 32g coconut oil
Method
Line a 10 x 16 cm / 4 x 6 inch container with baking paper or cling film (see Note 3).

Process the base ingredients in a small food processor until well combined. Press the mixture into the prepared container and set aside in the freezer.

Mix the middle layer ingredients together until smooth. Pour over the base and return to the freezer.

Melt the chocolate and coconut oil in a microwave or using a double boiler. Stir until well combined and allow to cool slightly. Pour over the middle layer, then chill in the fridge for at least 1 hour to set.

Once firm, cut into pieces with a sharp knife. You can turn the slice on its side to cut it if the middle layer is getting squashed down.
Notes
1. Oats – Oats naturally don't contain gluten, but as they are often processed on the same equipment as wheat, they can have traces of gluten. If you're strictly gluten-free, you can buy gluten-free oats.
2. Cashew butter substitutes – Almond butter or natural peanut butter also work well. You can also use tahini for a nut-free option.
3. Container – Since it's a no bake slice, you can set it in any container that you like. I use a container around 10 x 16 cm / 4 x 6 inches. A larger container will make the layers thinner.
4. Measuring your ingredients – The easiest way to make this slice is to weigh the ingredients in grams on a food scale. With a scale, you can measure out the base ingredients straight into your food processor bowl, and the rest in one mixing bowl. This saves a lot of washing up.
5. Storage – Store the slice in an airtight container in the fridge. It also freezes well. You can eat it straight from the fridge, or let it soften for a few minutes at room temperature.
Nutrition Facts
Serving size: 1 piece (made with 70% cocoa dark chocolate)
Energy: 1034kJ (247Cal)
Protein: 4g
Total Fat: 19.4g
Saturated Fat: 11.8g
Total Carbohydrate: 13.4g
Sugars: 7.6g
Dietary Fibre: 2.8g
Sodium: 57mg
Potassium: 72mg