These Almond Flour Double Chocolate Zucchini Muffins are secretly healthy, gluten-free, grain-free, paleo and studded with chocolate chips. Plus, they taste like rich chocolate cake. The recipe is also small batch, so perfect when you want a treat without overindulging.
Making these zucchini muffins with almond flour gives them a soft and fluffy texture. Adding zucchini helps to keep the muffins moist with the added benefit of boosting the nutrient content. Then I use cacao powder and dark chocolate chips for a double chocolate hit.
Healthy zucchini muffins
These healthy zucchini chocolate muffins are a great alternative to regular chocolate muffins if you want to stick to unprocessed ingredients. First, instead of using wheat flour, almond flour provides healthy fats and can be enjoyed by people following a gluten-free or grain-free diet. Second, I use a mixture of extra virgin coconut oil and almond butter to replace refined vegetable oil that is often used in muffin recipes. Third, I use pure maple syrup to sweeten the muffins instead of regular sugar. Of course, maple syrup is still a form of sugar but it provides some minerals and antioxidants.
This chocolate zucchini muffin recipe is also small batch, which I find super useful if you want to keep your intake of sweets and desserts under control. The recipe makes 5 generously-sized muffins, instead of the typical yield of 12. However, you can easily double the recipe if you want to make a larger batch to freeze or to share.
Sugar free zucchini muffins
I like to sweeten the zucchini muffins with pure maple syrup because it cuts through the cacao powder nicely. However, if you want sugar-free zucchini muffins, you can use a sugar-free maple syrup substitute. Just keep in mind that some of the more natural sugar-free syrups made with stevia or monk fruit don't taste quite as sweet as real maple syrup.
For the chocolate chip component, I use 70% cocoa dark chocolate chips to reduce the sugar content of the muffins. Or you can buy sugar-free chocolate chips. If you can't find either of those options, you can use a bar of 70% cocoa dark chocolate and roughly chop it into pieces to use instead of chocolate chips. Regular dark chocolate chips, which are usually around 45% cocoa, also work if you don't mind a slightly higher sugar content.
How to get water out of zucchini before baking
In this recipe, I squeeze out the excess moisture from the zucchini before baking the muffins. This is to ensure that the muffins don't get soggy. Some of my other zucchini recipes don't require this step because they contain other ingredients to absorb excess water, but for these chocolate zucchini muffins I use squeezed zucchini.
The quickest way to remove excess water from zucchini is to grate it, sprinkle it between two sheets of paper towel, then press down so the paper towel absorbs the excess moisture. You can watch how I do this in the recipe video below. I like this method here because it doesn't completely dry out the zucchini. After you have done this, simply scoop up the squeezed zucchini and measure it out for the recipe.
Ingredients for Almond Flour Double Chocolate Zucchini Muffins
Almond flour: Also known as blanched almond meal, almond flour is simply ground almonds that have had their skins removed. It gives a lovely fluffy texture to the muffins and keeps them gluten-free and grain-free.
Raw cacao powder: The first chocolate element. I used raw cacao powder when I made the muffins for the recipe photos and video, but regular unsweetened cocoa powder also works well.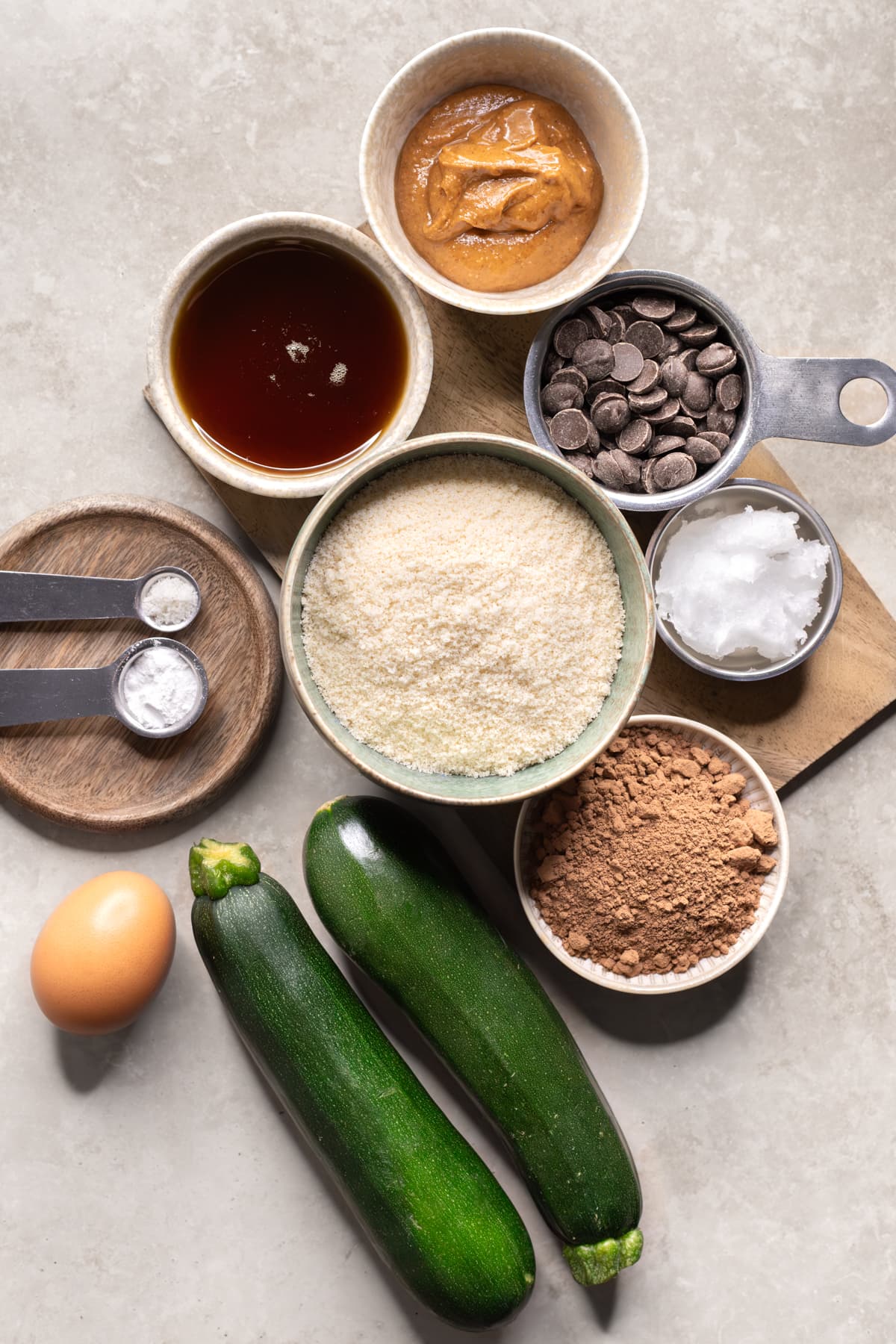 Almond butter: Almond butter works with the coconut oil and zucchini to keep the muffins moist. Cashew butter also works well as an alternative.
Maple syrup: To sweeten the muffins, I like maple syrup best. Raw honey, brown rice syrup or sugar-free syrups could also be used.
Coconut oil: A small amount of coconut oil keeps the muffins moist. It also adds a hint of natural sweetness.
Zucchini: Since these are zucchini muffins. Make sure that you squeeze out the excess moisture before measuring the zucchini. I explain how to do this in the recipe notes below.
Egg: An egg holds the muffins together.
Chocolate chips: The second chocolate element. I like to use dark chocolate chips as I explain above. But any variety of chocolate chips or a roughly chopped chocolate bar will work.
Baking powder: Baking powder gives the muffins some lift. Make sure your baking powder is within its best before date to ensure that it works properly.
Sea salt: I always add sea salt to baking recipes, particularly chocolate ones. It really helps to enhance all the flavors.
More healthy baking recipes
These savory Buckwheat Zucchini Muffins are gluten-free and easy to make ahead for a healthy breakfast or snack.
For another small batch treat, these Paleo Chocolate Chip Cookies are deliciously chewy and made with almond flour and coconut flour.
These Easy Baked Oatmeal Breakfast Bars are soft-baked, chewy, gluten-free and lower in sugar than other oat and muesli bars.
You can find more healthy baking ideas on the Baking Recipes page.
Almond Flour Double Chocolate Zucchini Muffins Recipe
Serves
5 muffins
Prep time
10 mins
Cook time
30 mins
Ingredients
3/4 cup + 2 tbsp / 84g almond flour
2 tbsp / 14g raw cacao powder (or cocoa powder)
1/2 tsp baking powder
1/4 tsp fine sea salt
1 egg
1/4 cup / 60ml / 60g almond butter
1/4 cup / 60ml / 80g maple syrup
2 tbsp / 30ml / 28g coconut oil, melted
1/3 cup firmly packed / 50g grated and squeezed zucchini (see Note 1)
1/3 cup / 60g dark chocolate chips (or chopped chocolate)
Method
Preheat your oven to 160°C fan-forced / 180°C / 350°F and line a muffin tray with 5 muffin cases.

Mix the almond flour, cacao powder, baking powder and salt in a large bowl. Make a well in the center.

Crack the egg into the well. Whisk it lightly with a fork to combine the yolk and white. Add the almond butter, maple syrup, melted coconut oil and zucchini. Whisk to combine, without incorporating the dry ingredients.

Fold the dry ingredients into the wet ingredients until everything is just combined. Fold through half of the chocolate chips. Scoop the mixture into the muffin cases. Press the remaining chocolate chips on top of the muffins.

Bake in the preheated oven for 30 minutes or until a skewer inserted into the center of a muffin comes out clean.
Notes
1. Zucchini – Grate and squeeze the zucchini before measuring it out. To squeeze, I sprinkle the grated zucchini between two sheets of paper towel, then press down so the towels absorb the excess moisture. You can watch how I do this in the recipe video above. Then either weigh out 50g of the squeezed zucchini on a food scale, or firmly pack it into a 1/3 cup measure.
2. Storage – Allow the muffins to cool completely then store them in an airtight container in the fridge for up to 5 days. You can also freeze the muffins, then defrost them the fridge overnight or warm them up from frozen in the microwave or oven.
Nutrition Facts
Serving size: 1 muffin (made with 70% cocoa dark chocolate)
Energy: 356 Cal / 1490 kJ
Protein: 8.9g
Total Fat: 27g
Saturated Fat: 10.8g
Total Carbohydrate: 17.6g
Sugars: 14g
Dietary Fiber: 2g
Sodium: 196mg
Potassium: 167mg