These No Bake Peanut Butter Oat Energy Balls only take 5 minutes to make and are boosted with protein and chia seeds. Plus they taste like peanut butter cookie dough. Perfect when you need a quick and healthy snack.
I love to keep the energy balls in the fridge or freezer for times when I feel like something sweet after dinner but don't want a sugar crash afterwards. Since they are bite-sized, they work well for this purpose. Plus, since they are rich in good fats, protein and fiber, I find them pretty satisfying.
Healthy protein energy balls
These peanut butter energy balls are well balanced with a range of nutrients. Rolled oats provide slow-release carbs and fiber, and they also contain some protein. Natural peanut butter also provides some protein and satisfying healthy fats. When buying natural peanut butter, the ingredients should only be peanuts and salt.
I also like to add protein powder to level up the protein content, which makes the balls more filling. Plus I mix in some chia seeds. Chia seeds are a great source of healthy omega-3 fats, so great to have on hand at home. I store mine in the fridge to keep them fresh and also add them to my smoothies in the morning.
How to make no bake energy balls
No bake energy balls are usually blended in a food processor, then rolled into balls. However, unlike many energy ball recipes, you don't need a fancy high-powered food processor to make these ones. This is because they are not sweetened with dates, which require a high-powered processor to blend without the blades getting stuck.
For this recipe, I just use the large processor attachment that came with my hand blender. You can see the one that I use in the recipe video below. Hand blender sets are really inexpensive compared to heavy-duty processors, and they work well for these energy balls.
Energy balls without a food processor
If you don't have a food processor, you can still make these peanut butter oat energy balls with a basic blender or just a bowl and a spoon. If you have a blender, simply whiz the rolled oats in the blender until you get a flour, tip it into a bowl, then mix in the other ingredients by hand.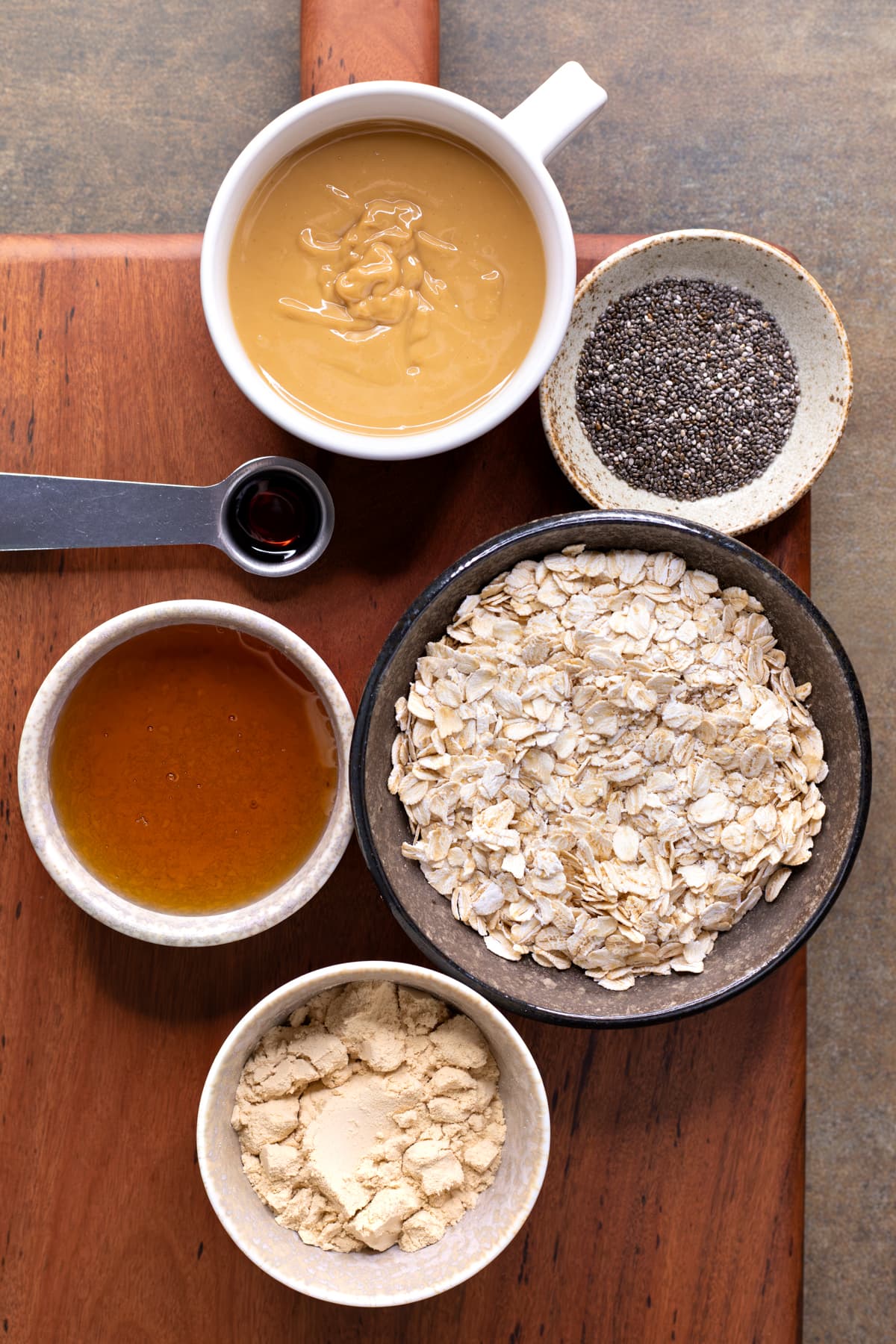 For the bowl and spoon method, all you have to do is substitute pre-made oat flour instead of the rolled oats. You can buy oat flour at most supermarkets these days, or online. Just measure out the same weight of oat flour in grams in place of the rolled oats (i.e. 68g as stated in the recipe below). If you don't have a food scale to measure in grams, start with about 1/2 cup oat flour, then add more as needed to get a dough consistency. This is because oat flour compacts more tightly in cup measures than rolled oats.
Ingredients for No Bake Peanut Butter Oat Energy Balls
Rolled oats: Old-fashioned rolled oats are my preference for this recipe. However, quick oats will also work if that's what you have at home. It shouldn't make a difference since we are blending the oats into a flour.
Protein powder: I use unflavored pea protein isolate to boost the protein content of the energy balls. However, any protein powder should work. Or you can use extra oats instead of protein powder. You may just need to adjust the mixture slightly if it's too wet or too dry. I explain how to do this in the notes under the recipe below.
Chia seeds: Chia seeds give a nice dose of omega-3 fats and I also think they look pretty studded throughout the balls. If you don't have any at home, you can just leave them out. The balls will still be delicious.
Natural peanut butter: Natural smooth peanut butter works best in my opinion. You could also use another nut butter, like natural almond butter. If your nut butter does not contain salt, I would add a generous pinch of sea salt to the mixture.
Brown rice syrup: I sweetened the energy balls with brown rice syrup, also known as rice malt syrup, because it is fructose-free and adds to the chewy texture of the balls. However, you can also use honey maple syrup or another syrup sweetener if you prefer.
Vanilla extract: A dash of vanilla extract gives the balls a peanut butter cookie dough vibe. You can leave it out if you don't have any.
More no bake recipes
These No Bake Almond Nougat Protein Bars are deliciously chewy and topped with a layer of dark chocolate.
For a zesty dessert, this No Bake Vegan Lime Cheesecake is a dairy-free and paleo alternative to key lime pie.
If you enjoy chocolate with peppermint, this No Bake Chocolate Mint Slice is one of my personal favorites.
You can find more no bake recipe ideas on the No Bake Recipes page.
No Bake Peanut Butter Oat Energy Balls Recipe
Serves
12 balls
Prep time
5 mins
Cook time
0 mins
Ingredients
3/4 cup / 68g rolled oats
1/3 cup / 30g protein powder (or more oats, see Note 1)
1 tbsp / 10g chia seeds
1/2 cup / 120ml / 120g natural smooth peanut butter
1/4 cup / 60ml / 85g brown rice syrup (see Note 2 for substitutes)
1 tsp vanilla extract
Method
Blend the rolled oats, protein powder and chia seeds in a food processor until the oats turn into a flour.

Add the peanut butter, brown rice syrup and vanilla. Pulse until everything is well combined and you get a dough texture (see Note 3 if the mixture is too dry or too wet).

Roll the mixture into 12 balls (see Note 4). Enjoy straight away, or chill in the refrigerator for a slightly firmer texture.
Notes
1. Protein powder substitutes – You can substitute extra rolled oats for the protein powder if you prefer. However, if you have some protein powder at home it will give the energy balls a higher protein content. I use unflavored pea protein isolate, but most protein powders should work in this recipe. If using a flavored protein powder, make sure you enjoy the flavor because you will be able to taste it.
2. Brown rice syrup substitutes – I like to use brown rice syrup, also known as rice malt syrup, because it's fructose-free and adds to the chewy texture of the energy balls. However, you can use honey, maple syrup or another syrup sweetener if you prefer.
3. Fixing dry or wet mixture – Variation in the texture of your peanut butter, or substituting protein powders or sweeteners, may make the mixture too dry or wet. If your mixture is too dry or crumbly, blend in some water or extra peanut butter until you get a pliable dough. If your mixture is too wet, blend in some extra rolled oats or protein powder. Add the adjustments slowly, about a tablespoon at a time.
4. Rolling the mixture into balls – To roll by hand, break off a piece of the mixture, press it firmly together to compact it, then roll it between the palms of your hands to smooth it out. You can also use a cookie dough scoop to portion out the mixture. In the recipe video above, I use 1.5 inch / 4 cm scoop to get 12 balls.
5. Storage – Store the energy balls in an airtight container in the fridge. They also freeze well.
Nutrition Facts
Serving size: 1 ball
Energy: 112 Cal / 470 kJ
Protein: 5.2g
Total Fat: 5.6g
Saturated Fat: 0.8g
Total Carbohydrate: 11.2g
Sugars: 5.5g
Dietary Fiber: 1.5g
Sodium: 35mg
Potassium: 84mg