These no-bake Almond Nougat Protein Bars are deliciously chewy, easy, paleo and gluten-free. I make them with egg white protein powder. Egg white powder is one of the most bioavailable protein powders available, meaning that it is absorbed well by the body. Plus it gives the protein bars their nougat vibe.
Egg white powder has become one of my top picks to use in protein bars and balls. It is made from egg whites that have been dried and pasteurised to remove pathogens and extend shelf life. The powder is naturally dairy-free, but gives a similar texture to whey protein powder in recipes like these no-bake protein bars. This makes it a good option if you can't tolerate whey or casein protein and want to avoid the chalkier texture of vegan protein powders.
Best egg white protein powder for recipes
For me, the best egg white protein powder to use in recipes is an unflavored one that is 100% dried egg whites. It's used in commercial protein bars like RXBAR, or Googys Good Egg Protein Bars in Australia. You can buy egg white powder online or in supplement stores. Check the ingredients list before purchasing. It should just list egg white powder, pure egg whites, egg albumen or egg albumen powder.
There are also flavored egg white protein powders available. However, I find that the added flavors and sweeteners can leave an artificial taste when used in protein powder recipes. That's why I prefer to use unflavored protein powder, then add my own natural sweetener.
How to use egg white powder
You can use egg white powder like any other protein powder. However, I personally don't use it for smoothies where you're just mixing it with water and a few other ingredients. This is because it can give a slightly bitter taste when it's the main ingredient. If you've read the reviews of egg white protein powders online, particularly unflavored ones, you see this feedback regularly.
However, unflavored egg white powder works so well in recipes like these almond nougat protein bars. It blends with the other ingredients and gives a beautiful chewy texture. If you have a recipe that calls for whey protein powder, it will usually work well with egg white powder too. Similar to whey, egg white powder works best in recipes where there is some liquid, like a liquid sweetener, or moisture from something like fresh Medjool dates.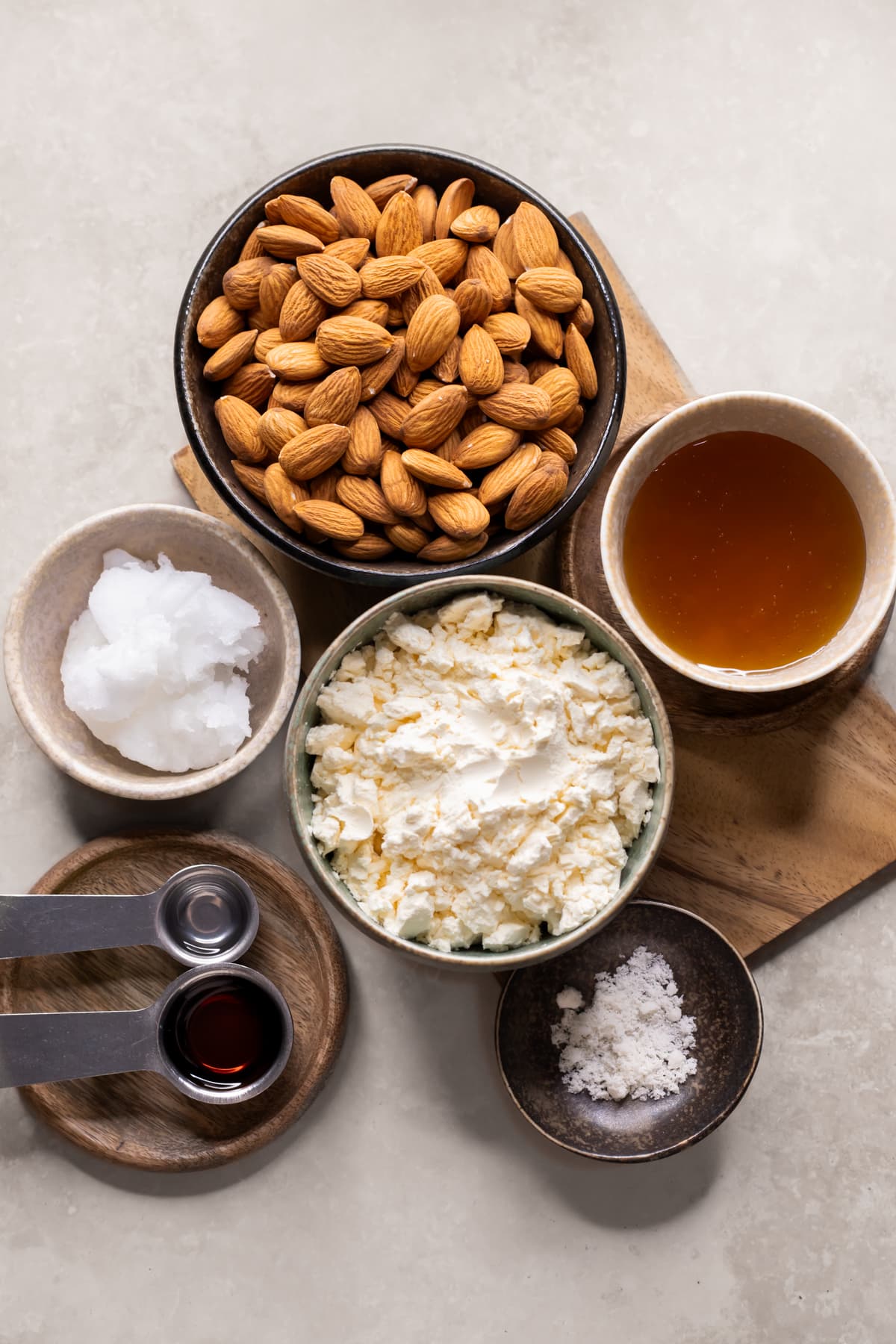 Ingredients for No Bake Almond Nougat Protein Bars
Raw almonds: Almonds form the base of the protein bars. Raw and unsalted almonds work best. We blend them into a flour before adding to the recipe.
Egg white powder: Egg white protein powder gives the bars a boost of bioavailable protein. I talk more about this above. You could use whey protein powder as a substitute.
Raw honey: Raw honey is suitable for a paleo diet, but any syrup sweetener will work. If you prefer a milder taste, brown rice syrup is a good option. Or a sugar-free syrup if you want sugar-free protein bars.
Coconut oil: Coconut oil helps the bars set firm after chilling in the fridge. I use some boiling water in the recipe, which melts the coconut oil if it's solid.
Vanilla extract: Vanilla is always a good addition to sweet bars and slices. You can use vanilla extract, vanilla paste, vanilla powder or fresh vanilla bean if you have it.
Almond extract: I love to use a dash of almond extract for a subtle marzipan vibe. It's totally optional though.
Sea salt: Salt enhances the flavor of the bars. I highly recommend adding some to the bars.
Water: A small amount of water helps the protein powder blend smoothly with the rest of the ingredients.
More protein powder recipes
These Vegan Peanut Butter Oat Protein Bars are drizzled with chocolate and taste like dessert.
For choc mint fans, these Choc Mint Whey Protein Balls are high in protein and easy to make with just bowl and a spoon.
These Cookie Dough Protein Bars with Collagen Powder are gluten-free, dairy-free and the closest I have come to a cleaner version of Quest cookie dough protein bars.
You can find more protein powder ideas on the Protein Bar and Protein Ball Recipes page.
No Bake Almond Nougat Protein Bars Recipe
Serves
12 bars
Prep time
10 mins
Cook time
30 mins chilling
Ingredients
1 1/2 cups / 214g raw almonds
1 cup / 100g unflavored egg white powder (see Note 1)
1/4 tsp fine sea salt
3 tbsp / 45ml / 42g coconut oil
2 tbsp / 30ml / 30g boiling water
1/3 cup / 80ml / 113g raw honey (or brown rice syrup, see Note 2)
1/2 teaspoon vanilla extract
1/2 teaspoon almond extract (optional)
Optional toppings
2.2oz / 60g dark chocolate, melted
0.4oz / 10g raw almonds, crushed for sprinkling
Method
Blend the almonds in a food processor or blender until they turn into a flour consistency with some clumps starting to form (see Note 3).

Tip the almond mixture into a large bowl with the egg white protein powder and salt. Mix well to combine, pressing out any large clumps. Make a well in the center.

Add the coconut oil and boiling water into the well. If your coconut oil is solid, mix it with the boiling water until it melts. Add the honey, vanilla extract and almond extract. Mix everything until well combined and you get a dough consistency.

Tip the dough into a loaf tin lined with baking paper. Press it into the tin firmly with the back of a spoon. If adding the optional toppings, spread the melted dark chocolate over the slab and sprinkle over the crushed almonds.

Chill the slab in the fridge for 30 minutes or until firm. Once firm, slice into bars with a sharp knife.
Notes
1. Egg white powder – You can buy unflavored egg white powder online or at supplement stores. The ingredient list should say 100% egg white powder, pure egg whites, egg albumen or egg albumen powder. You can also use unflavored whey protein powder as a substitute if you don't need the bars to be dairy-free and paleo.
2. Sweetener – Raw honey is a paleo sweetener. Some raw honey varieties are quite strong in flavor, so make sure you use one that you enjoy. For a milder taste, brown rice syrup works well. Sugar-free syrups should also work if you want sugar-free protein bars.
3. Blending the almonds – If you have a small food processor or blender, like the one I use in the recipe video above, blend the almonds in batches to avoid overcrowding the processor. As the natural oils from the almonds are released, the flour will start to clump together.
4. Storage – Store the protein bars in an airtight container in the fridge for up to 3 days. Freeze any bars that you won't eat within this timeframe, then defrost in the fridge as needed.
Nutrition Facts
Serving size: 1 bar (without optional toppings)
Energy: 839kJ (201Cal)
Protein: 11.2g
Total Fat: 13.3g
Saturated Fat: 3.5g
Total Carbohydrate: 8.6g
Sugars: 8.7g
Dietary Fibre: 2.1g
Sodium: 50mg
Potassium: 0.3mg
Serving size: 1 bar (with optional toppings)
Energy: 976kJ (233Cal)
Protein: 11.9g
Total Fat: 15.8g
Saturated Fat: 4.8g
Total Carbohydrate: 10.4g
Sugars: 8.9g
Dietary Fibre: 2.8g
Sodium: 52mg
Potassium: 29mg