These Banana Cinnamon Baked Oatmeal Protein Bars are easy to make in one bowl and sweetened only with banana. No sugar or other sweeteners. Perfect if you want a whole food, low sugar protein hit that tastes like banana bread.
I love the baked oatmeal bars warmed up with some Greek yoghurt, or coconut yoghurt for a dairy-free option, and an extra dusting of cinnamon. But they are also delicious on their own. Since they are high in protein, fiber and nutrients, they make a great healthy breakfast or snack.
Baked protein bars
The great thing about baked protein bars is that you can incorporate wholesome protein sources like fresh egg whites. In these baked oatmeal protein bars I use a mixture of egg whites, pea protein powder, rolled oats and natural peanut butter to pack a decent protein punch.
These baked protein bars also have more of a cake-like texture. I love this when I want a change from no-bake protein bars, which are chewier. Plus you can enjoy baked oatmeal protein bars warmed up with a range of toppings like fresh berries or coconut yoghurt for a dairy-free option.
Do these baked oatmeal bars contain sugar?
No sugar, or other processed sweeteners, are added to these baked oatmeal bars. Instead, they are sweetened with banana. Of course, bananas do contain natural sugars, but they also provide a host of nutrients.
The recipe doesn't use an excessive amount of banana, so the bars are subtly sweet. They have approximately 3.6 grams of sugar, 10.1 grams of protein, 3.9 grams fiber and 186 calories or 778 kilojoules per bar. You can check out the full nutrition estimate under the recipe below.
Ingredients for Banana Cinnamon Baked Oatmeal Protein Bars
Banana: The banana sweetens the oatmeal bars and gives a banana bread flavor. Use a ripe banana for the sweetest flavor.
Egg whites: Egg whites boost the protein content of the bars. They also help to hold the bars together.
Natural peanut butter: I use natural smooth peanut butter, which is made with only peanuts and salt. Others nut butters also work, or seed butters like tahini for a nut-free version. Just keep in mind that tahini and other seed butters are more bitter in flavor than nut butter.
Rolled oats: Traditional old-fashioned rolled oats work best in this recipe. They provide some additional protein too.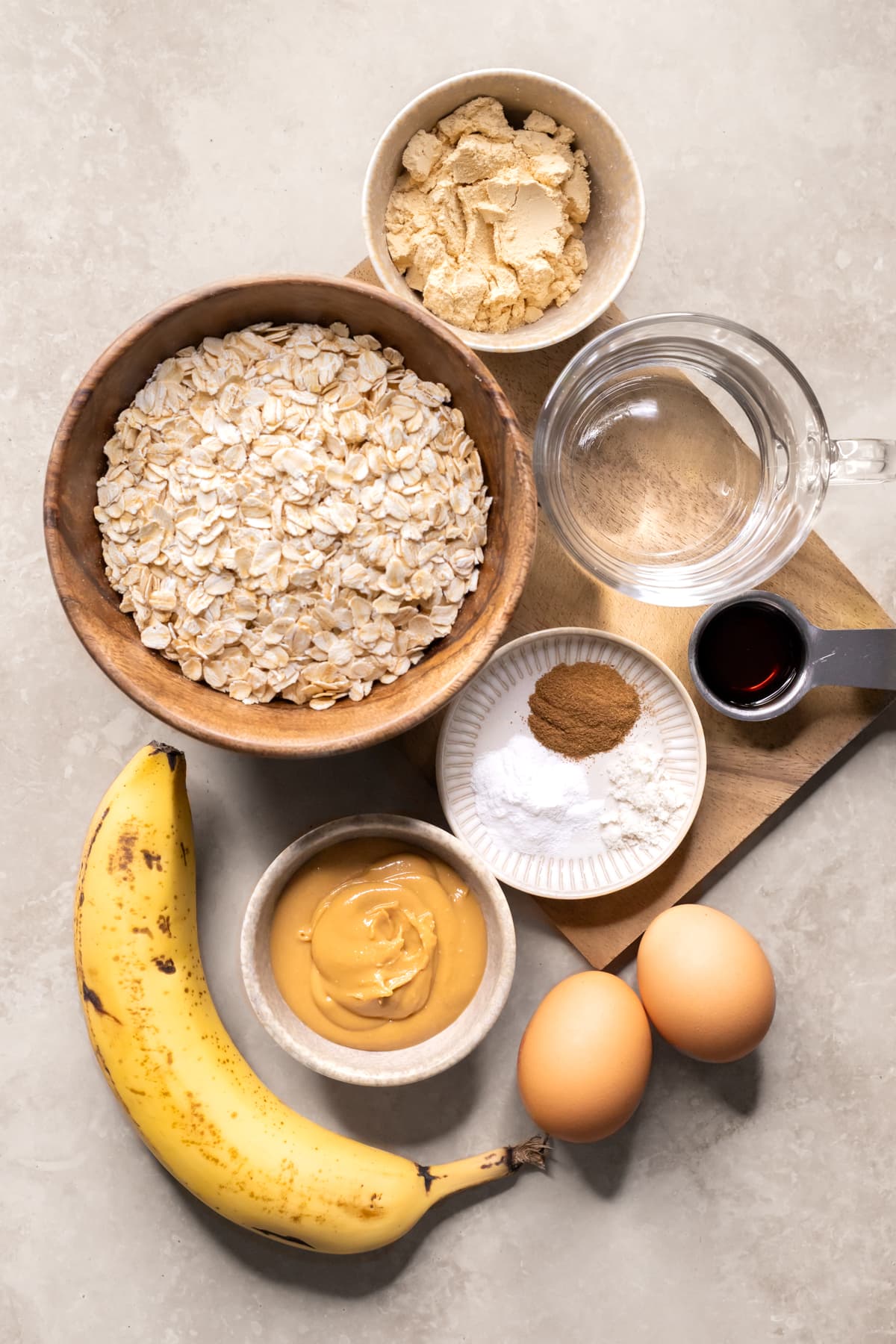 Vanilla extract: I love to add vanilla extract for some extra sweetness. However, you can leave it out if you don't have any at home.
Protein powder: I use unflavored pea protein isolate, but any vegan protein powder will work the same way. I haven't tested whey or collagen protein powders, but would love to hear if you try it out. Oat flour should also work instead of protein powder if you prefer.
Baking powder: Baking powder gives the bars some lift. Make sure your baking powder is within its best before date to ensure that it works.
Ground cinnamon: Since these are banana cinnamon flavored bars. Feel free to mix things up by adding a pinch of nutmeg or allspice in addition to the cinnamon.
Sea salt: I always add sea salt to my baking recipes since it enhances the flavor of whatever you are making.
Water: Water is needed to help the oats cook and to stop things from drying out. You could use milk if you prefer, but I find that water works well.
More healthy oats recipes
These Peanut Butter Oat Protein Bars work with a range of protein powders to suit what you have at home.
For a protein bar without nuts, these Nut Free Cookie Dough Protein Bars are super easy to make and taste like dessert.
These Easy Baked Oatmeal Breakfast Bars are perfect for a quick breakfast or snack and you can add your favorite mix-ins.
I regularly make this Creamy Homemade Oat Milk, which is non-slimy and ready in only 5 minutes.
You can find more oat recipes on the Oats Recipes page.
Banana Cinnamon Baked Oatmeal Protein Bars Recipe
Serves
6 bars
Prep time
5 mins
Cook time
30 mins
Ingredients
1/2 cup / 150g mashed banana
2 egg whites
1/4 cup / 60g natural smooth peanut butter
1/2 cup / 120ml / 120g water
2 tsp vanilla extract
1 1/4 cups / 113g rolled oats
1/4 cup / 25g pea protein powder (see Note 1)
1 tsp baking powder
1 tsp ground cinnamon
1/4 tsp fine sea salt
Method
Preheat your oven to 160°C fan-forced / 180°C / 350°F and line a 10 x 20 cm / 4 x 8 inch loaf tin with baking paper.

Beat the mashed banana and egg whites together in a large mixing bowl with a fork. Beat in the peanut butter, water and vanilla.

Add the rolled oats, protein powder, baking powder, cinnamon and salt. Fold everything together until well combined.

Tip the mixture into the lined loaf tin, smoothing out the top with the back of a spoon. Bake in the preheated oven for 30 minutes or until lightly browned around the edges and a skewer inserted into the middle of the loaf comes out clean.

Transfer the loaf to a wire rack to cool. Once cool, slice the loaf into bars with a serrated knife.
Notes
1. Protein powder – I used unflavored pea protein isolate in this recipe. Other vegan protein blends also work. I haven't tested whey or collagen protein powder, but would love to hear if you do. I found that 1/4 cup / 25g of protein powder gave the best result in terms of texture. In the recipe video above, I actually used 1/2 cup / 50g protein powder, which gave a thicker batter but slightly drier result. So I recommend sticking to 1/4 cup / 25g protein powder.
2. Storage – Store the protein bars in an airtight container in the fridge, or freeze them. You can warm them up in a microwave before serving if desired.
Nutrition Facts
Serving size: 1 bar (when loaf cut into 6 bars)
Energy: 186Cal / 778kJ
Protein: 10.1g
Total Fat: 6.4g
Saturated Fat: 0.9g
Total Carbohydrate: 21.9g
Sugars: 3.6g
Dietary Fiber: 3.9g
Sodium: 232mg
Potassium: 176mg