This No Bake Vegan Lime Cheesecake has a gluten-free biscuit base and creamy, zesty lime filling. Perfect if you need a healthy dairy-free and paleo alternative to regular lime cheesecake or key lime pie. It's also easy to make with just a blender.
Since it's a no-bake cheesecake, all you have to do is mix the ingredients and set it in the fridge. You also don't need any gelatine. We just use simple, whole food ingredients that you might already have at home.
Dairy free cheesecake
Regular cheesecake is usually made with cream cheese and heavy creamy, so it's not ideal for people who can't eat dairy. This lime cheesecake is dairy-free, vegan and paleo. It's a great alternative if you're cooking for people who have a dairy allergy or who follow a vegan diet or paleo diet.
What is vegan cheesecake made of?
Instead of using dairy-based cream cheese to get that creamy cheesecake texture, this recipe uses a combination of soaked cashew nuts and coconut cream. A lot of vegan cheesecake recipes require vegan cream cheese. However, vegan cream cheese isn't always easy to find. So for this recipe, I wanted to stick to ingredients that you can easily find at the supermarket.
Vegan cheesecake with cashew nuts
Cashew nuts give this no-bake vegan cheesecake structure. This means you don't need to use gelatine. It's important to pre-soak the nuts to soften their texture so that they blend smooth.
In the recipe below, I give you two options for soaking the nuts. An express option that only takes 30 minutes, or the traditional option where you soak the nuts overnight in the fridge.
In addition to the soaked cashew nuts, I add the thick portion of refrigerated coconut cream to the cheesecake for extra creaminess. When you refrigerate a can of coconut cream overnight, the thick portion rises to the top, which is what you want to use. The combination of cashew nuts and coconut cream works really well with the zesty lime flavor.
Ingredients for No Bake Vegan Lime Cheesecake
Almonds: Used in the base. Raw and unsalted almonds work best. You can use cashew nuts or another nut if you prefer.
Cashew nuts: Soaked and used in the cheesecake filling. Make sure you use unsalted cashew nuts.
Desiccated coconut: Blended with the almonds to make the base. I use unsweetened desiccated coconut.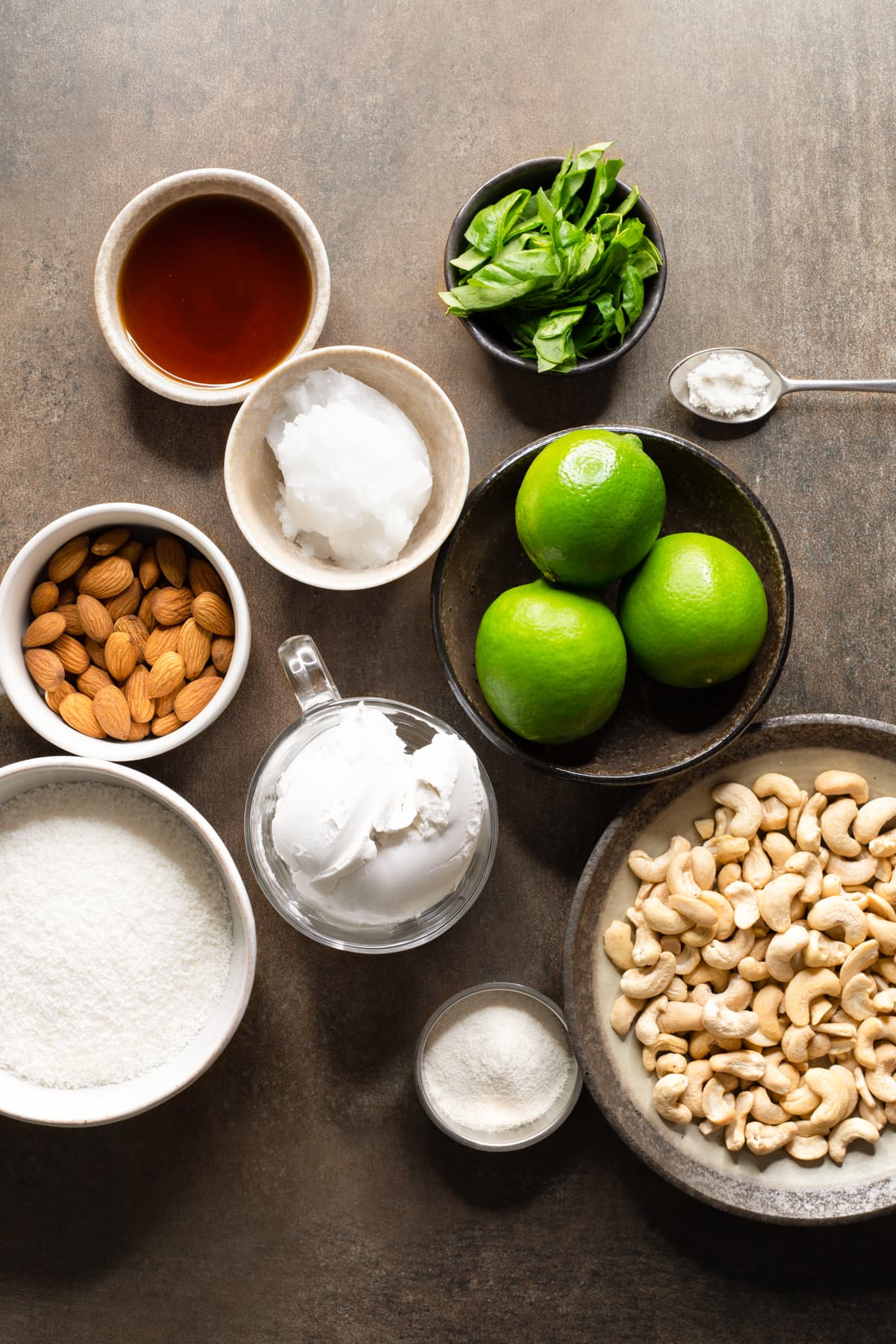 Coconut flour: Also used in the base to keep it gluten-free and grain-free.
Limes: Since this is a lime cheesecake! We use the zest and juice. I find that I need about 4-5 limes, but it's a good idea to have extra on standby.
Maple syrup: To sweeten the cheesecake. I think maple syrup works best in this recipe, but you could use honey or brown rice syrup as a substitute. Just keep in mind that honey has a strong flavor and brown rice syrup is less sweet than maple syrup.
Coconut cream: We use the thick portion of refrigerated coconut cream in the cheesecake filling. I find that one 400ml / 13.5 fl oz can of coconut cream gives enough for the recipe.
Coconut oil: Used to set the base, and also added to the filling to help it set firm.
Sea salt: To enhance the flavors in the base and filling. It's optional, but I never skip it.
Baby spinach: To give the filling a pale green color. You won't taste it! You can leave it out if you don't mind a more off-white color for the filling.
More no-bake vegan desserts
This Vegan No Bake Chocolate Mint Slice is perfect if you enjoy choc mint desserts like me.
If you like caramel slice, this Easy No Bake Vegan Slice has a deliciously creamy vegan caramel filling.
These 4 Ingredient Vegan Peanut Butter Bars are a healthy version of old fashioned chocolate peanut butter bars.
If you have leftover coconut cream, you could make this Easy Vegan Chocolate Mousse.
For a white chocolate vibe, this Vegan White Christmas Slice is made with cocoa butter and is studded with cranberries and pistachio nuts.
You can find all of my vegan desserts on the Vegan Recipes page.
No Bake Vegan Lime Cheesecake Recipe
Serves
12 slices
Prep time
20 mins
Cook time
2 hours chilling
Ingredients
For the base
1 cup / 143g raw almonds
1 cup / 93g desiccated coconut
3 tbsp / 45ml / 60g maple syrup
2 tbsp / 30ml / 28g coconut oil, softened
2 tbsp / 14g coconut flour
1/8 tsp fine sea salt
For the filling
1 1/2 cups / 215g raw cashew nuts, soaked quick or overnight (see Note 1)
1/2 cup / 120ml / 90g thick portion refrigerated coconut cream (see Note 2)
1/2 cup / 120ml / 120g freshly-squeezed lime juice
1/4 cup / 60ml / 80g maple syrup
2 tbsp / 30ml / 28g coconut oil, melted
1 tbsp finely grated lime zest
1/8 tsp fine sea salt
1/2 cup / 15g baby spinach leaves, for green color
Method
Line a 20 x 20 cm / 8 x 8 inch square dish or cake tin with baking paper.

Make the base by blending the almonds and desiccated coconut in a blender until the mixture starts to clump together. Tip the mixture into a bowl and add the rest of the base ingredients. Stir until well combined. Alternatively, you can blend all base ingredients in a food processor.

Tip the base mixture into the lined dish and press it out evenly with the back of a spoon or a flat bottomed glass. Set aside in the freezer to chill.

Drain your soaked cashew nuts well, then place them in a blender or food processor along with the remaining topping ingredients. Blend until smooth.

Tip the topping over the base, smoothing it out evenly with the back of a spoon. Chill in the freezer for 1-2 hours, or the fridge for 4-6 hours, until firm (see Note 3).

Once firm, cut into pieces. Serve with extra whipped coconut cream and lime zest if desired.
Notes
1. How to soak cashew nuts – Quick: Place cashew nuts in a bowl, cover with boiling water and soak for 30 minutes on your countertop. Overnight: Place cashew nuts in a bowl, cover with cold water and soak overnight in the fridge.
2. Refrigerated coconut cream – Leave your can of coconut cream in the fridge overnight so the thick portion rises to the top of the can. When ready to use, open the can and scoop out the thick portion to use in the recipe.
3. Chilling the cheesecake – The fastest way to set the cheesecake is to chill in the freezer for 1-2 hours until the edges and middle feel firm to touch. Once firm, transfer to the fridge until ready to eat. The cheesecake texture is creamiest when served from the fridge.
4. Making ahead of time – You can make the cheesecake ahead of time and freeze it for 1-2 weeks. Defrost in the fridge overnight to serve the next day.
5. Storage – Store in the fridge for 2-3 days. You can freeze what you won't eat within that timeframe, then defrost in the fridge as needed.
Nutrition Facts
Serving size: 1 slice
Energy: 1323kJ (316Cal)
Protein: 7.3g
Total Fat: 25.2g
Saturated Fat: 11g
Total Carbohydrate: 20g
Sugars: 9g
Dietary Fibre: 3.4g
Sodium: 63mg
Potassium: 305mg