These savory Buckwheat Zucchini Muffins are gluten-free and made with buckwheat flour and cheese. They're easy to make ahead for a quick and healthy breakfast or snack. Plus you don't have to squeeze the zucchini!
I originally published this post back in 2015, but decided it was time to update it with some new photos and a video. I've also included some handy tips below, and updated the recipe to include measurements in grams. That way, those of you (like me) who prefer to weigh everything out into one bowl on a food scale can make the muffins with less washing up.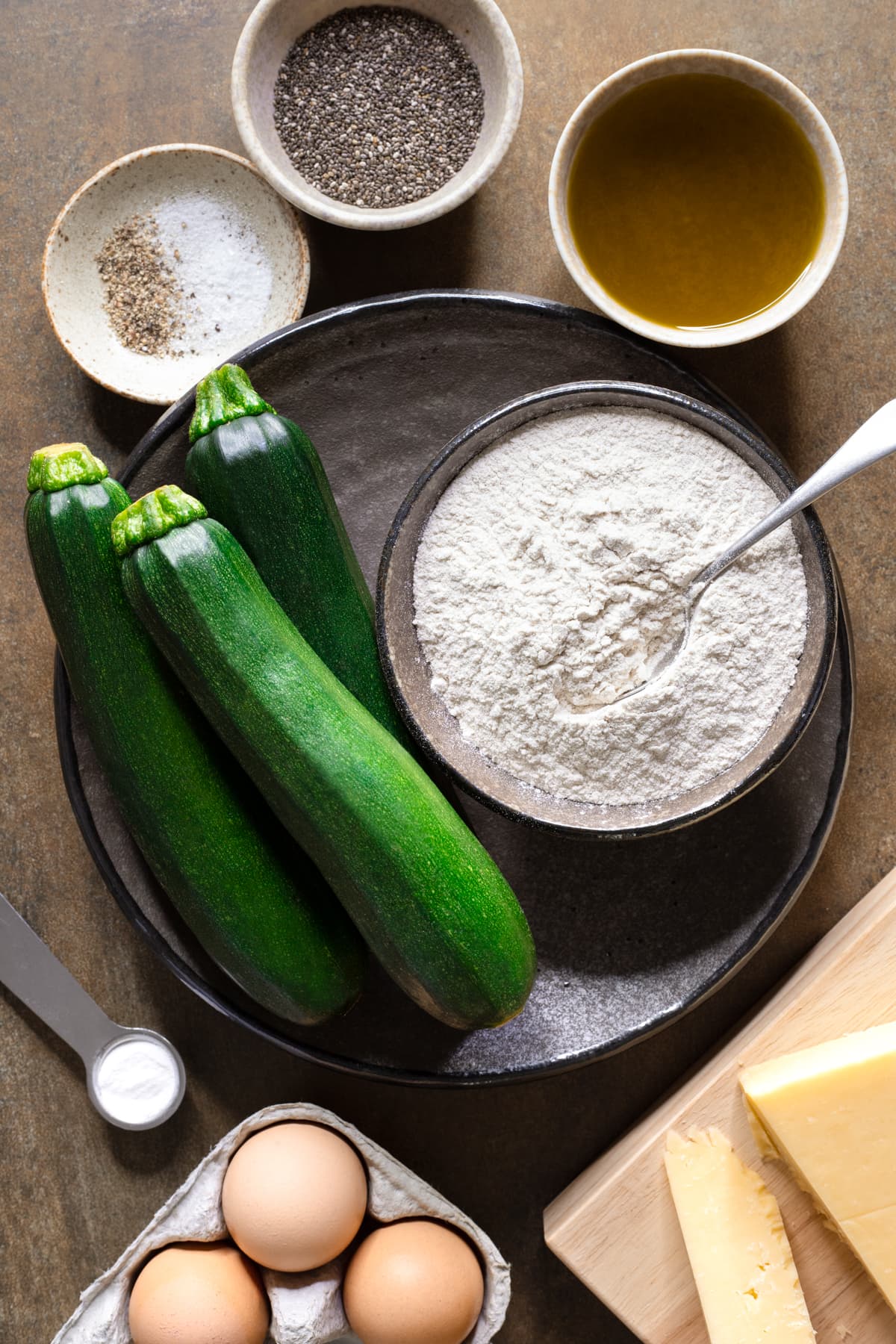 Savory zucchini muffins
If you're looking for a healthy snack to replace sugary foods, savory zucchini muffins like these ones are handy to have on hand. Made with minimally processed whole food ingredients, the muffins are filling and won't leave you with a sugar crash. They're also easy to grab in the morning for breakfast.
Since the muffins are savory and contain cheese, they will need to be kept in the fridge. I store them in an airtight container in the fridge. They should keep that way for up to 5 days. You can also freeze the muffins and defrost them in the fridge as needed.
Zucchini keeps savory muffins super moist, but it also means that condensation will appear around the muffins while they are in the fridge. If you feel like the muffins are soggy, you can simply warm them up in the oven or microwave to evaporate any excess moisture before serving.
Gluten free savory muffins
Buckwheat flour keeps these savory zucchini muffins gluten-free. I use light buckwheat flour, which is made from hulled buckwheat. Dark buckwheat flour, on the other hand, is made from unhulled buckwheat.
Light buckwheat flour has a finer texture and is more subtle in taste. The dark variety has more fiber but it is stronger in flavor. You can use either variety in the recipe, but I personally refer light buckwheat flour for flavor and texture reasons.
You can buy light buckwheat flour at most supermarkets these days. Check the health food aisle or the baking section. Health food stores also sell it. I buy mine from a bulk health food store that sells organic flours by weight. You can also buy buckwheat flour online.
Ingredients for Buckwheat Zucchini Muffins
Zucchini: Fresh zucchini is the base ingredient for the muffin mixture. It also keeps the muffins super moist.
Cheese: For added flavor and to also help keep the muffins moist. I use cheddar or mozzarella cheese. But any cheese that you can grate will work.
Olive oil or melted butter: Both work well in these muffins. If using olive oil, I recommend a good quality extra virgin olive oil since it has a higher smoke point than refined olive oils.
Chia seeds: These are optional, but I like to add them for some extra nutrients. They also absorb some moisture, which can be handy if your zucchini are very watery.
Eggs: To bind the muffin mixture together. Three eggs are needed to hold everything together since we use quite a bit of zucchini.
Buckwheat flour: To keep the muffins gluten-free. I haven't tested the recipe with alternative flours, but I imagine all purpose flour or gluten-free plain flour would work.
Baking powder: To give the muffins some lift. Make sure your baking powder is within its best before date to ensure that it works properly.
Sea salt and black pepper: To season the muffins. Essential, in my option, since these are savory muffins. Be generous!
Leftover zucchini and buckwheat flour
If you have leftover zucchini, you might like to try these Gluten Free Zucchini Fritters with Feta are great served with eggs for breakfast or simply on their own as a snack.
For a sweet treat, this Double Chocolate Zucchini Bread is grain-free and tastes like a rich chocolate cake.
If you have leftover buckwheat flour, you might like to try these Buckwheat Jam Thumbprint Cookies. They are gluten-free, dairy-free, vegan and have a sweet, earthy flavour and shortbread-like texture.
You could also try this Gluten Free Apple Cake with Buckwheat Flour. It's sweetly spiced, nut-free, egg-free and super easy to throw together with pantry ingredients.
More savory muffins to try
These gluten-free Savoury Sweet Potato Muffins are made with oat flour and perfect to make if you have leftover sweet potato.
For a herb infused twist, these Herbed Sweet Potato & Oat Savoury Muffins are deliciously fragrant with chopped fresh parsley.
If you want a low carb option, these Grain Free Zucchini Muffins are a variation of this recipe using coconut flour instead of buckwheat flour.
You can find all of my muffins on the Muffin Recipes page.
Buckwheat Zucchini Muffins Recipe
Serves
12 muffins
Prep time
10 mins
Cook time
40 mins
Ingredients
1.1lb / 500g zucchini, grated
5.3oz / 150g cheddar or mozzarella cheese, grated
1/2 cup / 120ml / 110g extra virgin olive oil or melted butter (see Note 1)
2 tbsp chia seeds (optional)
3 eggs
1 cup / 120g buckwheat flour (see Note 2)
1 tsp baking powder
Sea salt
Black pepper
Method
Preheat your oven to 180°C fan-forced / 200°C / 400°F and line a 12 cup muffin tray with muffin cases.

Mix the grated zucchini, grated cheese, olive oil (or melted butter), chia seeds (if using) and eggs together in a large mixing bowl. Add the buckwheat flour, baking powder and a good pinch of sea salt and cracked black pepper. Stir well until everything is well combined.

Spoon the mixture into the muffin cases and bake in the preheated oven for 30-40 minutes or until browned.

Allow the muffins to cool slightly in the tray, then transfer to a cooling rack to cool completely.
Notes
1. Olive oil or butter – If using olive oil, I recommend a good quality extra virgin olive oil because it has a higher smoke point than refined olive oils. Melted butter also works well if you prefer.
2. Buckwheat flour – For best results, I recommend weighing your flour in grams on a food scale. I explain how to use a digital food scale in this post.
3. Storage – Store the cooled muffins in an airtight container in the fridge. They should last for 5 days in the fridge, or you can freeze them. You can re-heat the muffins in the oven or microwave before serving.
Nutrition Facts
Serving size: 1 muffin (made with extra virgin olive oil)
Energy: 841kJ (201Cal)
Protein: 6.4g
Total Fat: 15.8g
Saturated Fat: 4.1g
Total Carbohydrate: 9.9g
Sugars: 1.2g
Dietary Fibre: 2.2g
Sodium: 191mg
Potassium: 143mg