These easy Buckwheat Jam Thumbprint Cookies are gluten-free, vegan and a healthy alternative to the classic recipe. They are made with nuts, buckwheat flour and your favorite jam. Raspberry, strawberry, apricot, cherry or blackcurrant jam are all delicious.
The recipe is a variation of Lalo's Famous Cookies from Gwyneth Paltrow's cookbook My Father's Daughter. The original recipe used barley flour and canola oil. It also gave a yield of 60 cookies! I adjusted the recipe to use buckwheat flour to keep the cookies gluten-free and extra virgin olive oil instead of canola oil. I also reduced the quantity to make 16 cookies because I don't want to find out how quickly I can eat 60 cookies.
How to make healthy jam thumbprint cookies
Jam thumbprint cookies are traditionally made with butter, wheat flour and sugar. You make a small indentation in the center of each cookie, like a 'thumbprint', then fill it with jam. I love the classic version, but this recipe is great if you want something a little healthier made with less processed ingredients.
Why do my thumbprint cookies crack?
If your thumbprint cookies crack, it could be because the dough isn't smooth enough. First, make sure you blend your almonds until they are as fine as possible. If you still have larger chunks of almond, the final dough will be less smooth and more likely to crack.
Second, make sure you roll the dough into a smooth ball before pressing with your finger to make the indentation. If your mixture is too dry and crumbly, stir though a little extra olive oil until you get a smooth dough.
Lastly, I recommend using your index or middle finger to make the indentations, not your thumb. This gives you more control. You can watch the recipe video below to see how I do this.
Should you fill thumbprint cookies before or after baking?
It is best to fill jam thumbprint cookies before baking them. This allows the jam to 'set' into the cookie. The heat of the oven evaporates some of the moisture from the jam so it sets firm.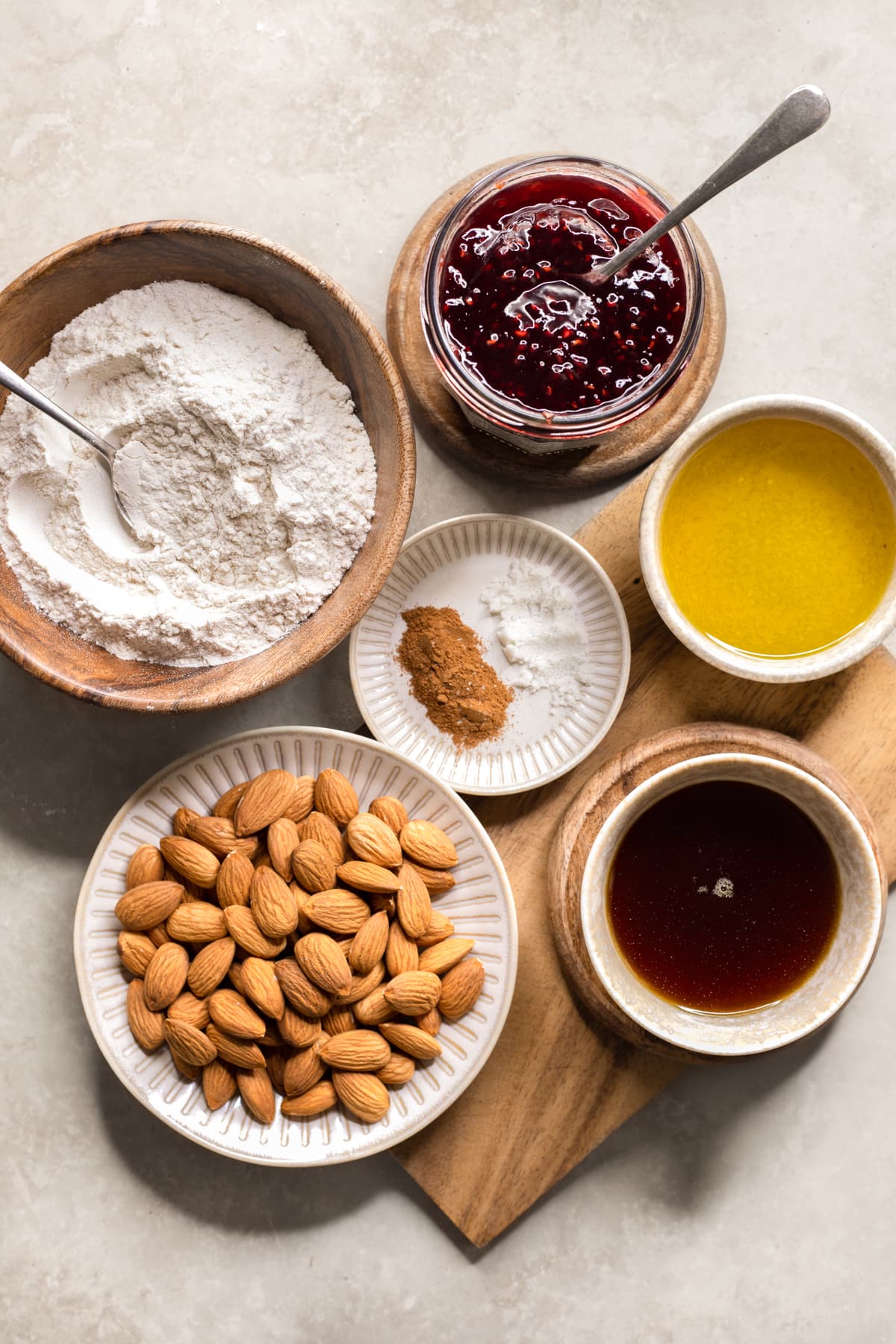 Ingredients for Buckwheat Jam Thumbprint Cookies
Raw almonds: Raw and unsalted almonds work best. I imagine that you could also use walnuts, cashew nuts, brazil nuts or a mixture of nuts if you prefer.
Buckwheat flour: Buckwheat flour is needed to hold the cookies together and keeps them gluten-free. You should be able to use all-purpose flour if you don't need the cookies to be gluten-free.
Extra virgin olive oil: An extra virgin olive oil with a light or less robust flavor profile is ideal. But any olive oil will work.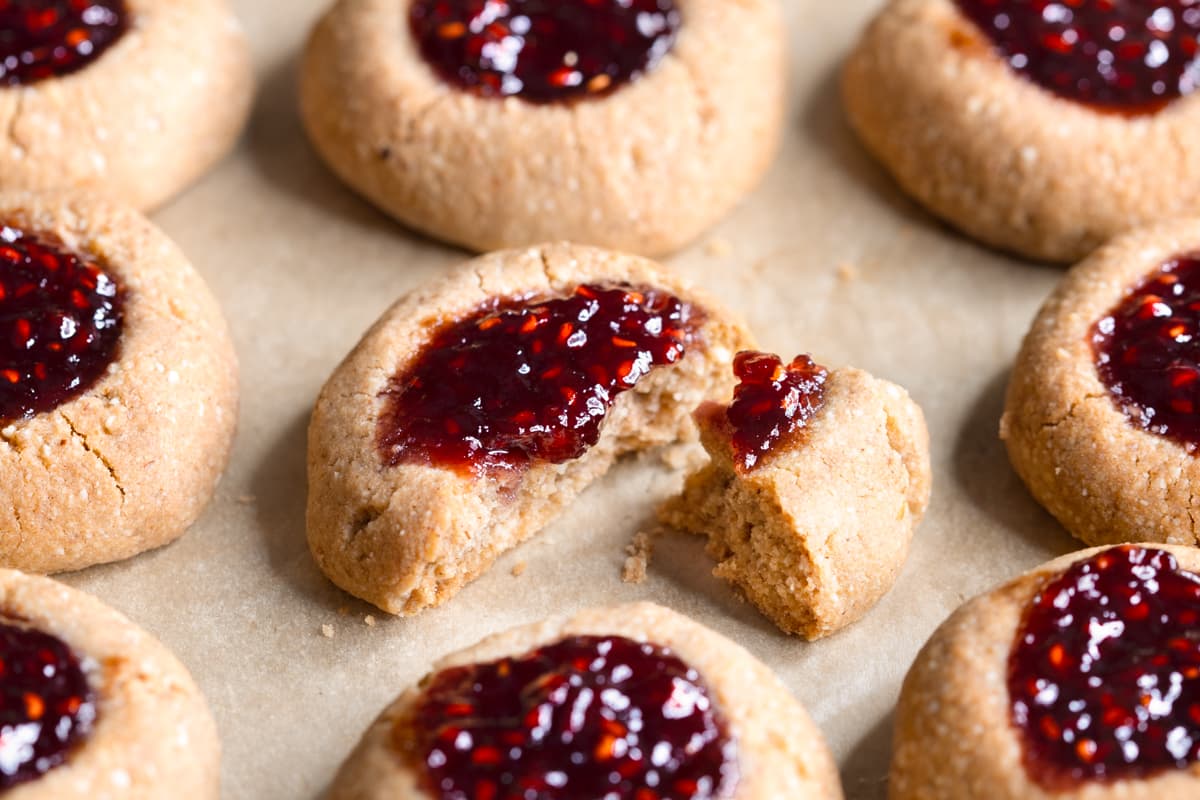 Maple syrup: Maple syrup works best as the sweetener for this recipe. You should be able to use honey if you prefer, but maple syrup is my preference here.
Cinnamon powder: Cinnamon gives the cookies a subtle earhiness. Since we only use a small amount, it doesn't make the cookies taste like cinnamon. You can leave it out if you prefer.
Fine sea salt: Salt brings out the flavors in whatever you are baking.
Jam of your choice: Any jam will work in this recipe. Strawberry, raspberry, apricot, blackcurrant, blueberry or cherry would all be nice.
More healthy baking recipes
These Almond Olive Oil Shortbread Cookies are a variation of this recipe, but dipped in dark chocolate.
You might also like these Small Batch Paleo Chocolate Chip Cookies, which are deliciously chewy, vegan and gluten-free.
For a decadent dessert, this Vegan Sweet Potato Chocolate Fudge Cake is rich, chocolatey, moist and surprisingly easy to make.
You can find all of my baked goods on the Baking Recipes page.
Buckwheat Jam Thumbprint Cookies Recipe
Serves
16 cookies
Prep time
15 mins
Cook time
20 mins
Ingredients
3/4 cup / 98g raw almonds
1 cup / 120g buckwheat flour (see Note 1)
1/4 tsp cinnamon powder
1/4 tsp fine sea salt
1/4 cup / 60ml / 54g extra virgin olive oil
1/4 cup / 60ml / 85g maple syrup
1/4 cup / 70g jam of choice
Method
Preheat your oven to 160°C fan-forced / 180°C / 350°F and line a baking tray with baking paper.

Process the almonds in a food processor or blender until finely ground. Place them in a mixing bowl and add the buckwheat flour, cinnamon and salt. Stir to combine. Add the olive oil and maple syrup and mix well until you get a dough.

Press the mixture into 16 balls and place them on the lined baking tray. I do this by pressing the mixture into one large sausage, splitting it in two, then splitting each half in two, then repeating this twice more on each portion to get 16 portions. Use your fingers to make an indentation in the middle of each cookie.

Spoon some jam into the indentation in each cookie. Bake in the preheated oven for 20 minutes or until the edges of the cookies are just starting to brown.

Allow the cookies to cool on the tray. The jam will be very hot straight out of the oven, so let them cool before eating.
Notes
1. Flour – I recommend weighing your flour in grams on a food scale for best results. You should be able to use all-purpose flour instead of buckwheat flour if you don't need the cookies to be gluten-free.
2. Storage – The cookies are best stored in an airtight container in the fridge.
Nutrition Facts
Serving size: 1 cookie
Energy: 498kJ (119Cal)
Protein: 2.3g
Total Fat: 6.9g
Saturated Fat: 0.8g
Total Carbohydrate: 13.8g
Sugars: 6.1g
Dietary Fibre: 1.5g
Sodium: 33mg
Potassium: 99mg