This Gluten Free Apple Cake is sweetly spiced, nut-free and egg-free. It's super easy to throw together with pantry ingredients. Like all good apple cakes, it smells amazing while it's baking in the oven.
The cake starts with a cake batter spiced with cinnamon and allspice. Cinnamon is a no-brainer with apples and allspice has become one of my new favourite spices. If you don't have any ground allspice at home, a pinch of nutmeg or cloves would also be delicious with the cinnamon.
Then we stir fresh apples into the batter. I like to use red apples in this recipe, but any apples will work. Peeling the apples before chopping them up is optional. It just helps the apple pieces meld better with the cake batter.
I've been using unsweetened oat milk in my baking recipes lately. In this recipe, you can use any milk that you like. If using a non-dairy milk, I like to make sure it's unsweetened. Have a read of the ingredients list, since some brands tend to add quite a lot of sugar!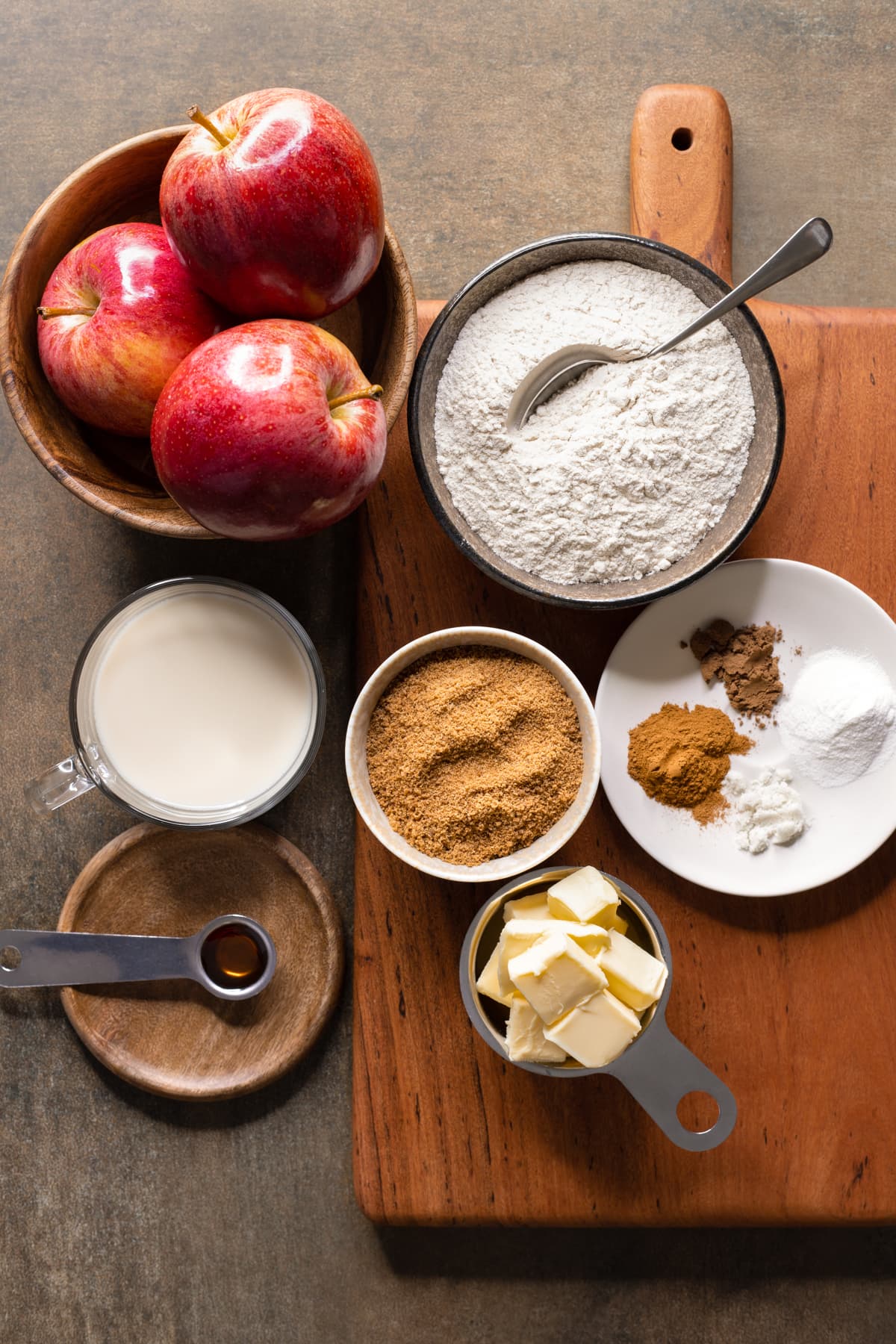 Healthy apple cake recipe
I love using buckwheat flour in healthy cake recipes like this apple cake. It's naturally gluten-free and arguably more nutritious than most gluten-free flour blends. You can find buckwheat flour at most major supermarkets these days.
To sweeten the cake batter, I use coconut sugar in this recipe. It has a delicious caramel-like flavor that goes so well with the spices. Like all natural sweeteners, it is still sugar at the end of the day. But my general philosophy on nutrition is to focus on eating nutrient-dense foods, without getting too obsessive.
I have only used 1/2 cup, or 70 grams, of coconut sugar in the whole cake. For me, this is all that is needed since the fresh apples also provide sweetness. If you don't have coconut sugar, you could use brown sugar or raw sugar instead.
Ingredients for Gluten Free Apple Cake
Apples: Red apples are my favourite for this cake. But any variety of apple will work.
Unsalted butter: The traditional option for an apple cake. I like to use unsalted butter and add my own salt to the cake batter so that I can control the salt level.
Coconut sugar: Adds a delicious caramel-like flavor to the cake. I love the depth of flavor that it provides. But you could use brown sugar or raw sugar if that's what you have at home.
Buckwheat flour: To keep the cake gluten-free. If you don't need the cake to be gluten-free, it should work with all purpose plain flour. I haven't tested this but would love to hear if you do.
Milk of choice: I used unsweetened oat milk. But any milk will work. If you're using a non-dairy milk, opt for an unsweetened variety if you want to keep the sugar content down.
Baking powder: To give the cake batter some lift. Make sure your baking powder is within its best before date because it stops working properly when it gets stale.
Cinnamon: A must with apples, in my opinion! You could use ground ginger instead for a gingerbread vibe if you don't like cinnamon.
Allspice: Works perfectly with the cinnamon. You can substitute a pinch of nutmeg or cloves instead if you don't have allspice at home. Or simply leave it out.
Fine sea salt: To enhance the flavors in the cake. Highly recommended!
Vanilla extract: Blends well with the spices. Vanilla paste would be even better if you have it.
More buckwheat flour recipes
Check out these Buckwheat Jam Thumbprint Cookies if you have leftover buckwheat flour. They are one of my all time favourite cookies, with a shortbread-like texture.
This Vegan Sweet Potato Chocolate Fudge Cake is rich, moist and gluten-free thanks to buckwheat flour.
These Buckwheat Pancakes are also a great gluten-free alternative to regular wheat flour pancakes.
For a savory option, I like to make these Buckwheat Zucchini Muffins.
You can find more healthy baking ideas on the Baking Recipes page.
Gluten Free Apple Cake with Buckwheat Flour Recipe
Serves
10 slices
Prep time
10 mins
Cook time
55 mins
Ingredients
1/3 cup / 76g unsalted butter
1/2 cup / 70g coconut sugar (see Note 1 for substitutes)
14oz / 400g / about 3 apples (see Note 2)
1 cup / 120g buckwheat flour (see Note 3)
1 tsp cinnamon powder
1/4 tsp allspice powder
1 tsp baking powder
1/4 tsp fine sea salt
3/4 cup / 180ml / 180g milk of choice (I used unsweetened oat milk)
1 tsp vanilla extract
Method
Preheat your oven to 160°C fan-forced / 180°C / 350°F and line the base and sides of a 20 cm / 8 inch round cake tin with baking paper.

Place the butter and coconut sugar into a small saucepan and stir over a low heat until the butter is melted. Set aside to cool.

Peel, core and chop the apples into small pieces about 1 cm / 0.5 inch thick.

Place the flour, cinnamon, allspice, baking powder and sea salt in a large mixing bowl. Stir to combine. Add the cooled melted butter and sugar mixture, milk and vanilla and fold everything together until just combined. Fold through the chopped apples. Don't over mix.

Pour the mixture into the lined tin and bake in the preheated oven on the middle rack for 55-60 minutes or until browned and a skewer inserted into the middle of the cake comes out clean.

Allow to cool slightly in the tin, then transfer to a wire rack to cool completely. Sprinkle a pinch of coconut sugar on top before serving if desired.
Notes
1. Coconut sugar – You can also use brown sugar or raw sugar if you prefer. Coconut sugar is just a less processed option and adds a rich toffee-like flavor.
2. Apples – You should end up with about 300g chopped apple pieces after peeling, coring and chopping the whole apples. I peel the apples so that the apple pieces meld better with the cake batter. However, feel free to leave the skins on if you prefer.
3. Flour – I recommend weighing your flour in grams on a food scale for best results. If you don't have buckwheat flour and don't need the cake to be gluten-free, you can use all purpose plain flour instead.
Nutrition Facts
Serving size: 1 slice
Energy: 663kJ (158Cal)
Protein: 1.8g
Total Fat: 6.9g
Saturated Fat: 4.1g
Total Carbohydrate: 22.5g
Sugars: 11.5g
Dietary Fibre: 1.2g
Sodium: 115mg
Potassium: 45mg