This Gluten Free Buckwheat Olive Oil Quick Bread is no-knead, easy to make and ready in 35 minutes. Made with buckwheat flour and tapioca flour, the bread has a soft and fluffy texture. Plus extra virgin olive oil keeps the bread moist and adds a boost of nutrients.
Although it is a savory buckwheat bread, you can enjoy it with sweet or savory toppings. I love the bread with nut butter and a drizzle of maple syrup. You can also serve it with eggs or avocado for a satisfying breakfast, or use it to make a healthy sandwich.
No-yeast quick bread
Quick breads like this one are made without yeast. They don't require any kneading or leavening time. That is why they are fast to make. All you have to do is mix the batter, pour it into a tin and bake it in the oven.
I keep the bread gluten-free by using a combination of buckwheat flour and tapioca flour. Buckwheat flour is a high-protein wholesome ingredient that I love to use in heathy baking recipes. However, it can be heavy in texture so I combine it with tapioca flour in this recipe to keep the bread light and fluffy.
What do quick breads use instead of yeast?
Instead of yeast, quick breads use baking powder or baking soda to make the bread rise. Baking soda, also known as bicarbonate of soda, needs to be combined with an acidic ingredient like yogurt or vinegar for it to activate and work as a raising agent. Baking powder, on the other hand, already has an acid added to it so it works as a raising agent alone. The trade off is that baking powder is weaker than baking soda, so you need to add a lot more of it.
In this buckwheat quick bread recipe, I use a combination of baking powder and baking soda. If I only used baking powder, I would need a large amount to lift the bread. So I also add some baking soda, which is activated by the acidity of the yogurt.
What do eggs do in quick breads?
Eggs give quick breads structure, helping to hold everything together. They are also particularly useful in gluten-free quick breads, where you don't have the benefit of gluten to help bind the dough. The eggs also add additional protein and nutrients to the bread.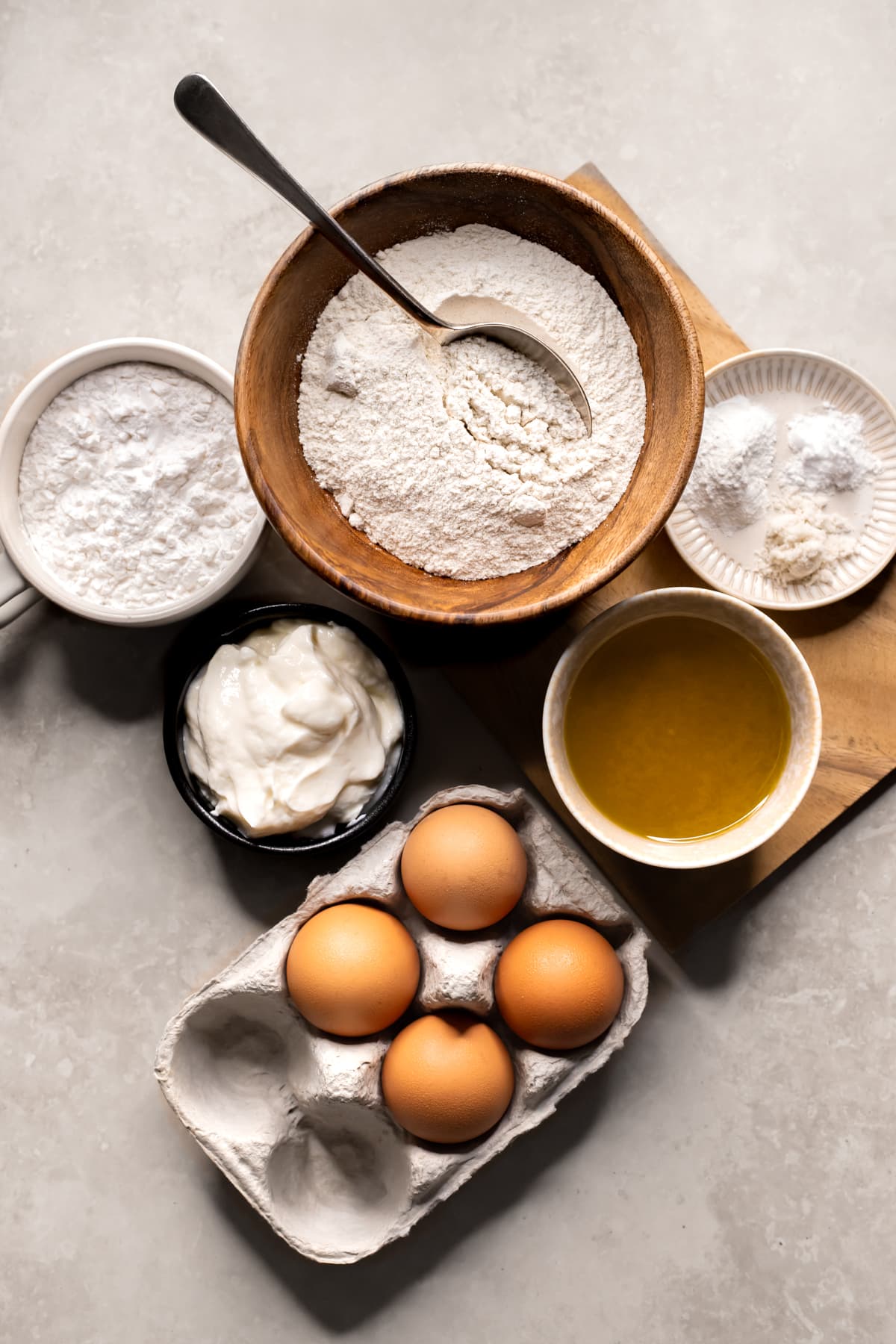 I use four eggs in this buckwheat bread. Don't worry though, the bread doesn't taste eggy. The flavor of the extra virgin olive oil and subtle earthiness of the buckwheat flour shines through.
Ingredients for Gluten Free Buckwheat Olive Oil Quick Bread
Buckwheat flour: Buckwheat flour keeps this quick bread gluten-free. You can buy buckwheat flour at most supermarkets these days, online or at health food stores.
Tapioca flour: Also known as tapioca starch, tapioca flour is gluten-free and blends with the buckwheat flour to keep the bread light and fluffy. You can also buy it at most supermarkets or online.
Extra virgin olive oil: I use a good quality extra virgin olive oil, since the flavor of the olive oil comes through in the bread. It also provides good fats and antioxidants. To preserve the health benefits, the bread is baked at a temperature below the smoke point of olive oil.
Eggs: Eggs bind the bread and hold everything together, since there is no gluten in the buckwheat flour and tapioca flour to bind the dough.
Plain yogurt: The acidity of plain yoghurt activates the baking soda to make the bread rise. Plain Greek or natural yogurt are best. You can't taste the yogurt in the bread.
Baking powder: Baking powder helps the bread rise, in conjunction with the baking soda.
Baking soda: Also known as bicarbonate of soda or bi-carb soda, the baking soda reacts with the acidity of the yogurt to give the bread extra lift.
Sea salt: Salt enhances the flavor of the bread. I use finely ground sea salt, but any salt will work.
More quick bread recipes
For another buckwheat-based bread, this Easy Pumpkin Loaf is made with buckwheat flour and pumpkin purée to keep it moist. It also works with sweet or savory toppings.
This Easy Gluten Free Flatbread is made with only 3 ingredients, no yeast and you cook it in a fry pan.
For something sweet, this Sweet Potato Bread is gluten-free, vegan, super moist and studded with chocolate chips.
You can find more healthy bread ideas on the Bread Recipes page.
Gluten Free Buckwheat Olive Oil Quick Bread Recipe
Serves
16 slices
Prep time
5 mins
Cook time
30 mins
Ingredients
1 cup / 120g buckwheat flour (best to weigh in grams, see Note 1)
1/2 cup / 60g tapioca flour
2 tsp baking powder
1/4 tsp baking soda
3/4 tsp fine sea salt
4 eggs
1/2 cup / 120ml / 140g plain yogurt (see Note 2)
1/3 cup / 80ml / 73g extra virgin olive oil
Method
Preheat your oven to 160°C fan-forced / 180°C / 350°F and line a 10 x 20 cm / 4 x 8 inch loaf tin with baking paper.

Mix the buckwheat flour, tapioca flour, baking powder, baking soda and salt in a large mixing bowl. Make a well in the center.

Crack the eggs into the well. Whisk them with a fork to combine the yolks and whites. Add the yoghurt and whisk it into the eggs. Then whisk the olive oil into the egg and yoghurt mixture, without incorporating the dry ingredients.

Fold the dry ingredients into the wet ingredients until everything is just combined. Pour the mixture into the lined loaf tin, smoothing the top with the back of a spoon.

Bake in the preheated oven on the middle rack for 30 minutes or until lightly browned and a skewer inserted into the center of the bread comes out clean. Lift the loaf out of the tin and transfer to a wire rack to cool. Slice the bread with a serrated knife for the cleanest cut.
Notes
1. Measuring your flour – I highly recommend weighing the buckwheat flour and tapioca flour in grams on a food scale for best results. This is because cup measures can be inconsistent depending on how you pack the flour, often resulting in too much flour and dry bread. I explain exactly how to use a digital food scale for accuracy and to save on washing up in this post.
2. Yoghurt – You can use fat-free, low-fat or full-fat Greek or natural yogurt. It must be plain, not flavored, since the acidity of plain yogurt reacts with the baking soda to help the bread rise.
3. Storage – The bread is best on the day of baking. Any leftovers can be stored in an airtight container in the fridge or frozen. It will start to dry out in the fridge, so I prefer to freeze it in slices, then defrost them from frozen in the microwave or oven as needed.
Nutrition Facts
Serving size: 1 slice (made with 0.5% fat Greek yoghurt)
Energy: 426kJ (102Cal)
Protein: 3.2g
Total Fat: 6g
Saturated Fat: 1g
Total Carbohydrate: 9.2g
Sugars: 0.5g
Dietary Fibre: 0.8g
Sodium: 190mg
Potassium: 15mg