These Almond Olive Oil Shortbread Cookies are a healthy twist on a classic shortbread biscuit. They are gluten-free, dairy-free, vegan and easy to make with just six ingredients. You might already have what you need in your pantry.
Regular shortbread cookies are traditionally made with white sugar, butter and a blend of wheat flour and rice flour. They also don't include leavening agents, like baking powder or baking soda. This is what gives shortbread its crumbly texture. If you enjoy shortbread but want to bake with more wholesome and less-processed ingredients, this recipe could be the answer.
First, we replace wheat and rice flours with a blend of buckwheat flour and raw almonds whizzed into a powder. Almonds add some good fats and buckwheat flour is naturally gluten-free, so it's a handy substitute if you choose to avoid wheat. Blending the two together in this recipe helps to replicate the crumbly texture of traditional shortbread.
Second, butter is replaced with extra virgin olive oil (more on this below). I love butter and often use it in my cooking. This recipe just gives you another option if you want to mix things up. It also works well if you're looking for a dairy-free and vegan cookie recipe.
Third, we use maple syrup instead of white sugar. Of course, maple syrup is still sugar as far as your body is concerned. But it provides a small amount of minerals and I personally adore the taste.
You could use another liquid sweetener like honey or brown rice syrup if you prefer. However, I strongly recommend maple syrup for this recipe. The rich and sweet flavor of maple syrup works so well to balance out the earthiness of the extra virgin olive oil and buckwheat flour.
Cookies with olive oil instead of butter
Replacing butter with olive oil when baking cookies has become quite popular. If you're making the switch to reap the health benefits of olive oil, then you want to use extra virgin olive oil and be mindful of the temperature of your oven.
The key difference between extra virgin olive oil and other olive oils is the method used for extracting the oil from the olives. Extra virgin olive oil is cold pressed, which means that the oil is extracted without the use of chemicals or heat. This preserves a higher level of natural antioxidants and healthy fats. Other olive oils, such as refined olive oil or light olive oil, don't provide the same health benefits.
When using olive oil in baking recipes like these Almond Olive Oil Shortbread Cookies, I choose an extra virgin olive oil that has a milder flavor profile. I usually use Cobram Estate 'light flavor intensity' extra virgin olive oil. It's made with olive varieties selected for their less robust flavors. You can buy it at most major supermarkets in Australia.
Alternatively, you can look for another extra virgin olive oil with a mild or lighter flavor profile. Just avoid confusing 'light flavor' extra virgin olive oil with 'light olive oil'. 'Light olive oil' is refined and doesn't offer the health benefits associated with extra virgin olive oil.
Another thing to keep in mind is the temperature of your oven when baking olive oil cookies. Extra virgin olive oil has a smoke point of approximately 190-207°C / 374-405°F. You want to keep your baking temperature below that. This is because heating oils above their smoke point degrades the beneficial compounds in the oil and may also form harmful compounds.
Ingredients for Almond Olive Oil Shortbread Cookies
Raw almonds: Raw and unsalted almonds work best in this recipe. We blend them into a powder before adding to the recipe. I always store nuts in the fridge to keep them fresh.
Buckwheat flour: Using buckwheat flour keeps the recipe gluten-free. It also contributes to the shortbread texture of the cookies. You can buy buckwheat flour at most supermarkets these days. It's usually stocked in the health food aisle or along with the regular flours.
Cinnamon powder: Just a small amount of cinnamon gives the cookies a little boost. It's not a key flavor of the cookies though, so you can leave it out if you prefer.
Fine sea salt: Always a good idea to bring out the flavor of baking recipes.
Maple syrup: To sweeten the cookies. Maple syrup works best in this recipe because its sweetness balances out the earthiness of the buckwheat flour and extra virgin olive oil.
Extra virgin olive oil: Using extra virgin olive oil instead of butter keeps the cookies dairy-free and vegan. It also provides a unique flavor. I talked about the benefits of extra virgin olive oil, and the brand I'm currently using, above.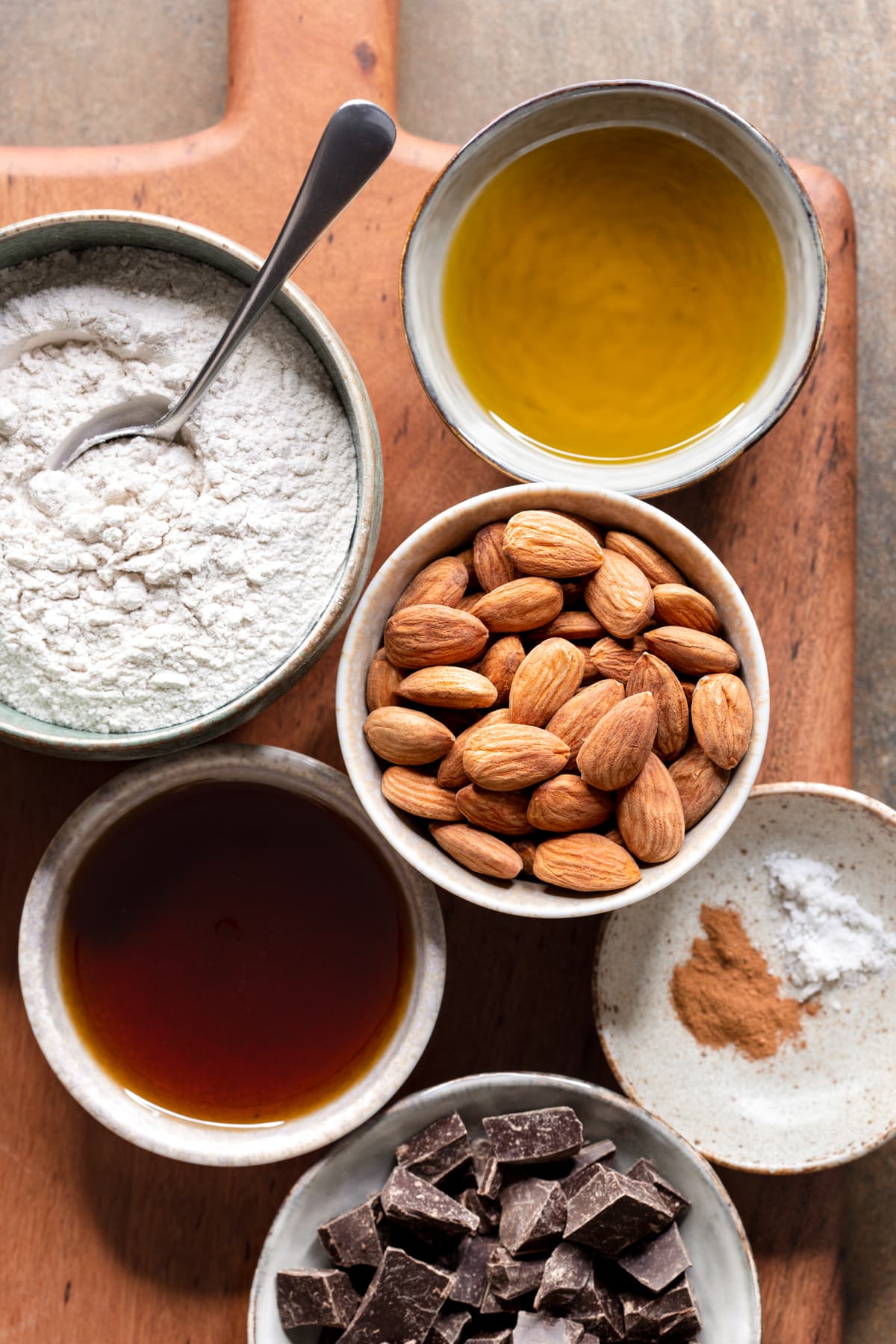 Dark chocolate: For dipping and drizzling over the cookies once they have cooled. You can use any chocolate you like. If you need the cookies to be strictly vegan, check that your chocolate does not contain milk solids. Most good quality dark chocolate with at least 70% cocoa content won't contain milk solids.
Sea salt flakes: A little sprinkle of sea salt flakes on anything with chocolate is heavenly. It's totally optional though.
More cookie recipes
These Paleo Chocolate Chip Cookies are deliciously chewy, vegan, gluten-free and small batch.
For another cookie recipe using olive oil, check out these Buckwheat Jam Thumbprint Cookies.
You can find all of my cookies on the Cookie Recipes page.
Almond Olive Oil Shortbread Cookies Recipe
Serves
12 cookies
Prep time
20 mins
Cook time
20 mins
Ingredients
3/4 cup / 107g raw almonds
1 cup / 120g buckwheat flour (see Note 1)
1/4 teaspoon cinnamon powder
1/4 teaspoon fine sea salt
1/4 cup / 60ml / 80g maple syrup
1/4 cup / 60ml / 55g extra virgin olive oil (see Note 2)
2.1 oz / 60g dark chocolate
Sea salt flakes, to garnish
Method
Preheat your oven to 160°C fan-forced / 180°C / 350°F and line a baking tray with baking paper or a silicone baking mat.

Process the almonds in a food processor or blender to turn them into fine crumbs. Tip the crumbs into a mixing bowl and add the buckwheat flour, cinnamon and salt. Stir to combine. Add the maple syrup and olive oil and mix well until you get a dough.

Press the mixture into 12 balls and place them onto the lined baking tray (see Note 3). Flatten each ball into a cookie shape. The cookies will stay the same shape as they bake.

Bake in the preheated oven for 20-25 minutes or until the edges of the cookies are just starting to brown. Allow the cookies to cool on the tray.

Once the cookies are completed cold, melt the chocolate in the microwave or using a double boiler. Allow the melted chocolate to cool so it thickens, then dip each cookie into the chocolate and place on a tray lined with baking paper. Sprinkle with sea salt flakes if desired, then refrigerate until the chocolate sets.
Recipe Notes
1. Flour – I recommend weighing your flour in grams for best results. If you prefer to use cups, the recipe calls for 1 US cup (240ml). You will need to gently spoon the buckwheat flour into the cup so it doesn't pack tightly.
2. Olive oil – I use Cobram Estate 'light flavor intensity' extra virgin olive oil in this recipe. It's an extra virgin olive oil made with olive varieties selected for their less robust flavors. I talk more about this in the body of the post above.
3. Cookie dough scoop – A cookie dough or ice cream scoop with a release handle makes it easy to divide the mixture into even portions. Firmly pack the mixture into the scoop, then release it onto the tray. You can watch the recipe video above to see how I do this. My scoop is 1.5 inch / 4 cm in diameter, which gives 12 cookies.
4. Storage – You can store the cookies in an airtight container at room temperature. However, I like to store them in the fridge for maximum freshness.
Nutrition Facts
Serving size: 1 cookie (made with 70% cocoa dark chocolate)
Energy: 721kJ (172Cal)
Protein: 3.5g
Total Fat: 11.5g
Saturated Fat: 2.2g
Total Carbohydrate: 15g
Sugars: 4.5g
Dietary Fibre: 2.8g
Sodium: 52mg
Potassium: 108mg
Nutrition information is an estimate only. It may vary depending on the brand of ingredients used.