These Small Batch Paleo Chocolate Chip Cookies are deliciously chewy and so easy to make. They also happen to be vegan, gluten-free and grain-free with almond flour and coconut flour. Plus, you don't have to chill the dough.
Since it's a small batch recipe, it makes four large, bakery-style cookies with a soft and fudgy interior. You can also divide the mixture into eight small cookies if you prefer. Baking in smaller batches can be handy if you want to keep your dessert intake under control.
Vegan and paleo chocolate chip cookies
These chocolate chip cookies are vegan because they are dairy-free and egg-free. However, no one would know unless you tell them. Almond butter replaces the need for an egg or egg substitute. So you don't have to bother with a flax egg or chia egg.
The cookies are also paleo because they are gluten-free, grain-free and sweetened with coconut sugar. Paleo cookies and paleo desserts are still meant to be treats. They just provide some less refined options so you don't feel like you are missing out. Plus, they work for people who can't eat gluten or grains.
Cookies with almond flour and coconut flour
I use a mixture of almond flour and coconut flour in these cookies instead of a grain-based flour. Almond flour is also sometimes called blanched almond meal. It's made by 'blanching' or removing the skin from the almonds, then grinding them into a flour.
In addition to the almond flour, I add a small amount of coconut flour to give the cookies some structure. If you leave it out, the dough will be too sticky to shape into portions. Make sure you measure it carefully though, since adding too much coconut flour can make your cookies dry.
Coconut sugar vs sugar
I sweeten these chocolate chip cookies with coconut sugar. Coconut sugar is made from coconut palm blossoms and it's less refined than regular sugar. It offers some trace nutrients and is usually allowed in moderation on a paleo diet.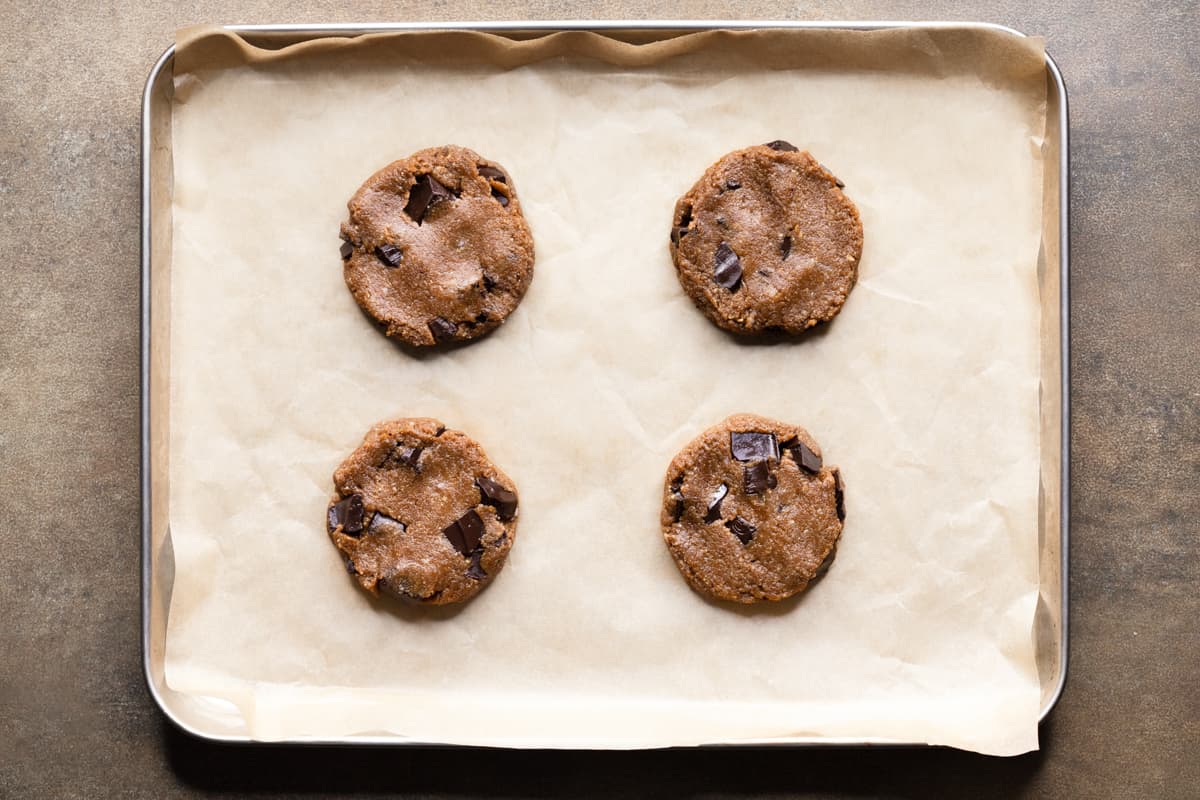 However, it is still sugar at the end of the day. I personally just love to use coconut sugar in these cookies because it adds a toffee-like flavor. Brown sugar should work as a substitute if needed, although it may alter the texture and spread of the cookies.
What chocolate is paleo?
You can buy paleo chocolate, such as Hu brand, to use in these cookies. Paleo chocolate is usually sweetened with coconut sugar and doesn't contain dairy, namely "milk solids", or emulsifiers like soy lecithin.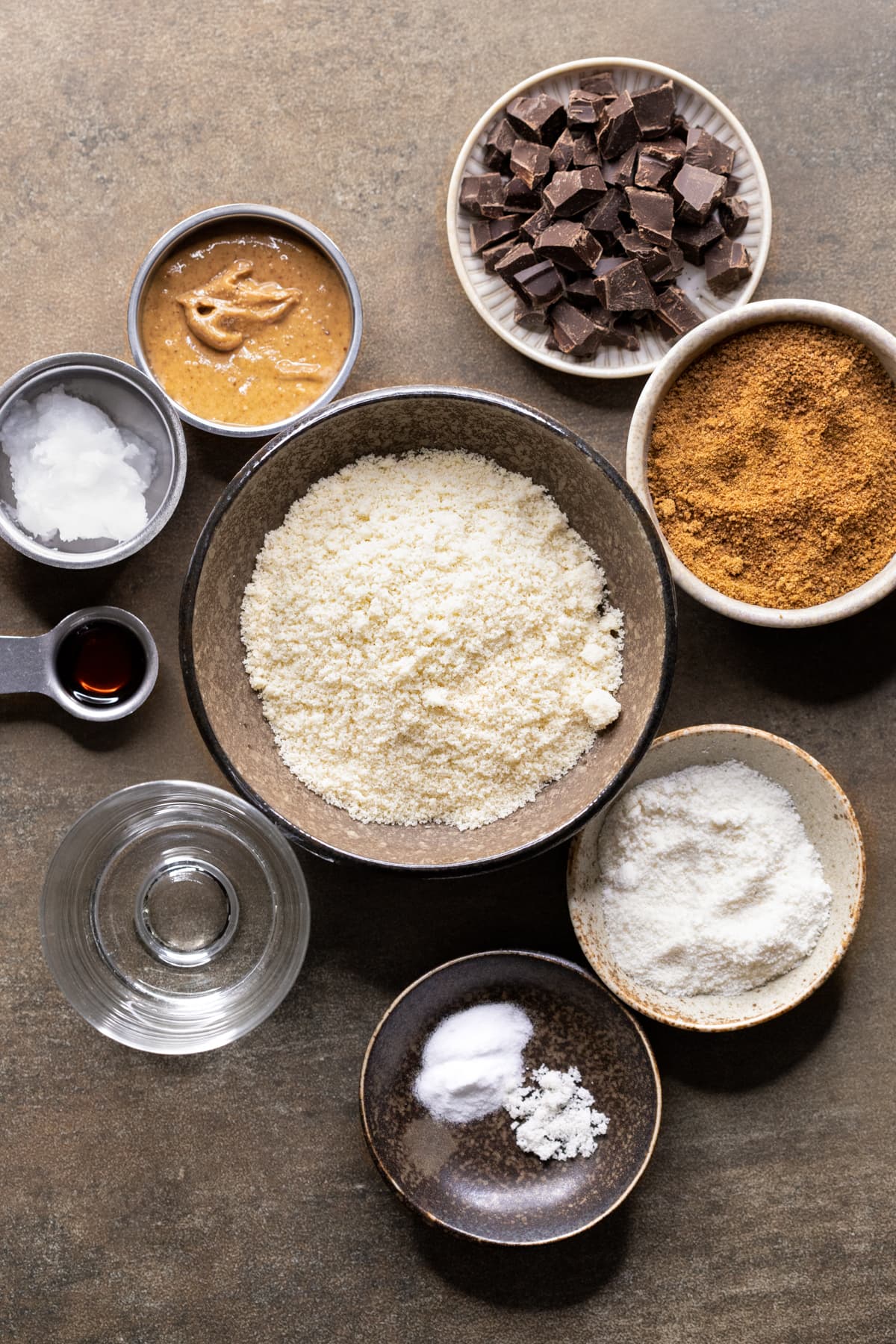 However, regular dark chocolate with a high cocoa content is also usually allowed in moderation on a paleo diet. The higher the cocoa content, the less sugar or sweetener in the chocolate. Good quality 70% to 85% cocoa dark chocolate also won't usually contain milk solids or emulsifiers. Just check the ingredients list if you are concerned. I often use Lindt 70% or 85% dark chocolate, which doesn't contain dairy or soy lecithin.
If you don't need the cookies to be paleo or vegan, feel free to use whichever chocolate or chocolate chips you like best. I personally still like to choose a chocolate with at least 70% cocoa to keep the overall sugar content of the cookies down.
Ingredients for Small Batch Paleo Chocolate Chip Cookies
Almond butter: Natural almond butter holds the cookies together so you don't need an egg. I use unsalted almond butter that only lists almonds as the sole ingredient. You could also use another nut butter if you prefer.
Coconut oil: A small amount of coconut oil helps to keep the cookies moist and fudgy.
Coconut sugar: I sweeten these cookies with coconut sugar so they are suitable for a paleo diet. Coconut sugar also gives a beautiful toffee-like flavor.
Vanilla extract: Vanilla is always a great addition to cookies. I usually use pure vanilla extract, but vanilla bean paste or the seeds from a vanilla bean pod would be even better if you happen to have them.
Almond flour: Almond flour, or blanched almond meal, keeps the cookies paleo and grain-free. It also adds some healthy fats.
Coconut flour: We need a small amount of coconut flour to give the cookie dough some structure.
Baking soda: Also known as bicarbonate of soda, baking soda gives the cookies a bit of lift.
Fine sea salt: Salt is essential to season the cookie dough. I highly recommend that you include it.
Dark chocolate: I like to chop dark chocolate into chunks to add to the cookie dough. You can also use chocolate chips if you prefer. I talk about paleo chocolate options above.
More cookie recipes
These Almond Olive Oil Shortbread Cookies are a chocolate-dipped, healthy twist on a classic shortbread biscuit.
For jam lovers, these Buckwheat Jam Thumbprint Cookies are gluten-free, vegan and made with buckwheat flour.
You can find all of my cookies on the Cookie Recipes page.
Small Batch Paleo Chocolate Chip Cookies Recipe
Serves
4 large cookies
Prep time
8 mins
Cook time
12 mins
Ingredients
2 tbsp / 30g almond butter
1 tbsp / 14g coconut oil, softened
1/4 cup / 47g coconut sugar
1/2 tsp vanilla extract
1 tbsp / 15ml / 15g water
1/2 cup / 48g almond flour
1 tbsp / 7g coconut flour
1/4 tsp baking soda (bicarbonate of soda)
1/8 tsp fine sea salt
40g dark chocolate, chopped (see Note 1)
Method
Preheat your oven to 160°C fan-forced / 180°C / 350°F and line a baking tray with baking paper.

Mix the almond butter, coconut oil, coconut sugar, vanilla and water in a mixing bowl until well combined. Add the almond flour, coconut flour, baking soda and salt. Stir to combine. Fold through the chopped chocolate.

Divide the mixture into four balls. I do this with a cookie dough scoop (see Note 2). Place each ball onto the lined baking tray and press down to flatten, smoothing the edges with your fingers. The cookies only spread slightly as they bake.

Bake in the preheated oven for 11-12 minutes or until the edges are just starting to brown. Allow to cool on the tray, then transfer to a wire rack to cook completely. The cookies will firm up as they cool.
Notes
1. Chocolate – You can buy paleo chocolate or just use good quality dark chocolate with at least 70% to 85% cocoa to keep the sugar content down. I talk more about paleo chocolate in the body of the post above.
2. Cookie size – I use a 2 inch / 5 cm cookie dough scoop to make 4 large cookies. If you don't have a cookie dough scoop, you can roll the mixture by hand. For smaller cookies, you can divide the mixture into 8 portions and bake for about 9-10 minutes.
3. Storage – I store the cookies in an airtight container in the fridge to keep the healthy fats from the almond butter and almond flour as fresh as possible.
Nutrition Facts
Serving size: 1 large cookie (made with 70% cocoa chocolate)
Energy: 1065kJ (255Cal)
Protein: 5.5g
Total Fat: 17.3g
Saturated Fat: 6.2g
Total Carbohydrate: 19.3g
Sugars: 13.1g
Dietary Fibre: 3.3g
Sodium: 163mg
Potassium: 195mg