This Vegan White Christmas Slice is a delicious gluten-free, dairy-free, gourmet version of the traditional Christmas recipe. Made with cranberries, pistachio nuts and currents, the slice is also grain-free and paleo friendly. It's a lot healthier and lower in sugar too.
Instead of using processed ingredients like white chocolate or copha, this white christmas recipe is secretly healthier thanks to some clever whole food ingredient swaps. The result is a creamy, vegan slice that's just sweet enough with all the best mix ins. You can can also easily customise the mix ins to suit your taste.
Gluten free and dairy free white christmas recipe
To keep this vegan white christmas slice dairy-free, I use cocoa butter instead of white chocolate. Cocoa butter, also known as cacao butter, is a fat extracted from the cocoa bean. It's used to make chocolate, and is responsible for chocolate's smooth and creamy mouthfeel. Most good quality white chocolate includes cocoa butter, but milk solids are also usually added.
You can buy vegan white chocolate to make white christmas, but I like to control how much sweetener is added. So I prefer to use cocoa butter in this recipe and add my own sweetener. Maple syrup is what I find works best here, but you can use other liquid sweeteners like brown rice syrup or honey if you prefer.
To keep the slice gluten-free and grain-free, I leave out the rice bubbles, which are usually added to white christmas recipes.
However, if you love the texture that rice bubbles provide, you can easily mix some into the recipe. I actually added some puffed brown rice to the mixture on my first attempt at the recipe, and it did turn out nicely.
White christmas recipe without copha
Copha is often a key ingredient in white christmas recipes in Australia. Copha is a brand name for a vegetable fat shortening that is produced in Australia. It's made from hydrogenated coconut oil. For a less processed option, I prefer to use cocoa butter in this recipe.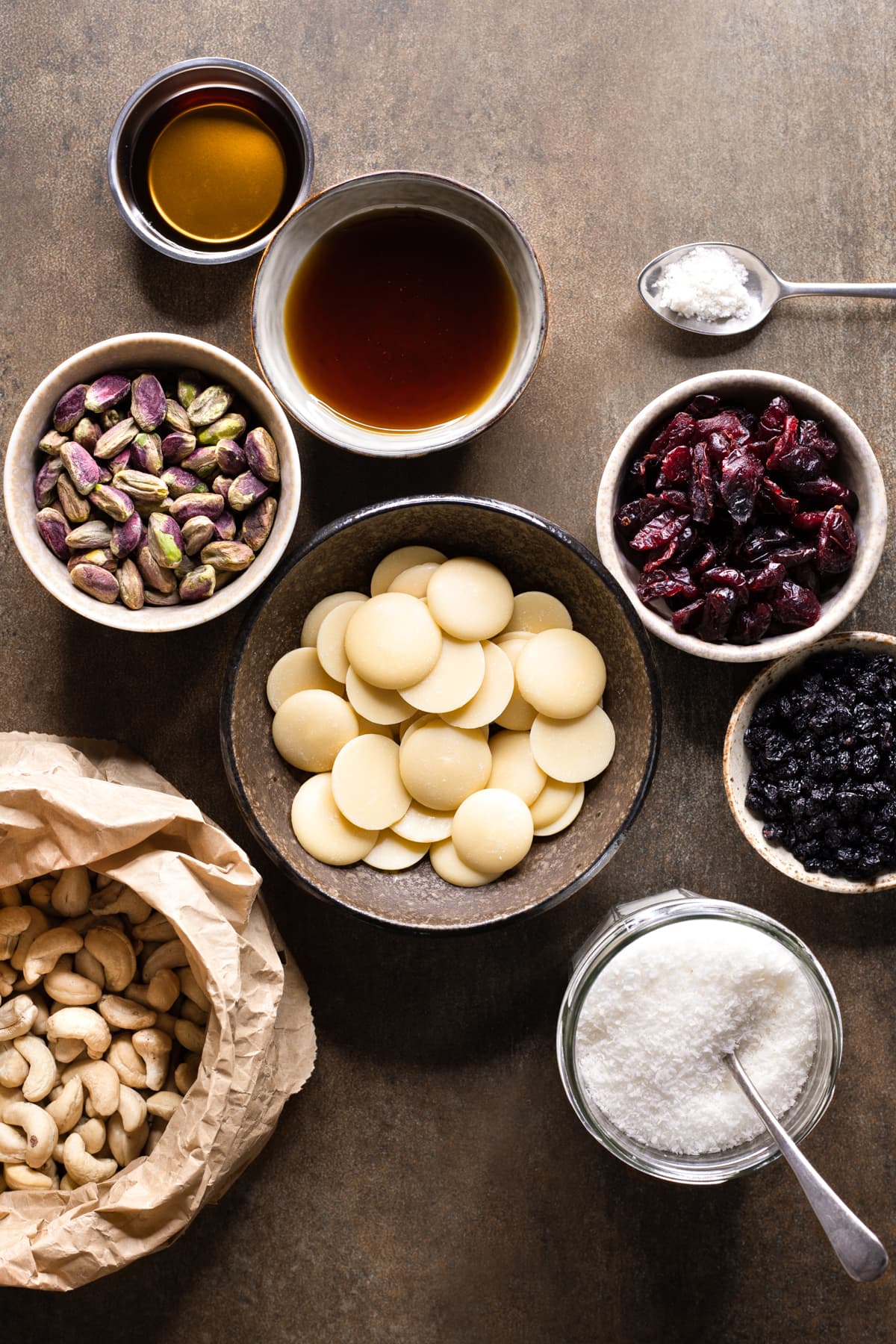 To make up for the loss of coconut flavor, I just add unsweetened desiccated coconut to the recipe. I blend it with the cashew nuts before mixing with the melted cocoa butter. If you can't find cocoa butter, you can also make the recipe with coconut oil instead. I've explained how to do this in the recipe notes below.
Ingredients for Vegan White Christmas Slice
Cocoa butter: To hold the slice together and provide a beautiful creamy texture. You can use melted coconut oil as a substitute if needed.
Raw cashew nuts: Blended with the melted cocoa butter and coconut to create the creamy base mixture. Another creamy nut like macadamia nuts of brazil nuts instead if you prefer.
Unsweetened desiccated coconut: To provide a subtle coconut flavor. I buy desiccated coconut that doesn't have any added preservatives, like sulphites. You can usually find inexpensive, preservative-free coconut at bulk health food stores.
Maple syrup: To sweeten the slice. Maple syrup works really well to cut through the rich creaminess of the cocoa butter. However, you could use brown rice syrup or honey if you prefer.
Dried cranberries: To mix into the slice for delicious flavor and ruby red color. You can substitute another dried fruit if you like.
Pistachio nuts: To mix into the slice for a gourmet vibe. Since pistachio nuts can be quite expensive, you can easily use another nut if you prefer. If using larger nuts, I would roughly chop them before adding to the mixture.
Currants: Another dried fruit mix in. Currants remind me of Christmas, but you can substitute any dried fruit that you like.
Vanilla extract: Blends so well with the creamy cocoa butter. You can also use vanilla paste or vanilla bean seeds if you have them for a super luxe option.
Fine sea salt: Essential to bring out the flavors in the slice. I never skip it!
More healthy vegan slice recipes
This Vegan No Bake Chocolate Mint Slice is like a healthy peppermint slice. The creamy mint filling is so good.
If you like caramel slice, this Easy No Bake Vegan Slice has a deliciously creamy vegan caramel filling.
This Chocolate Raspberry and Chia Slice is one of my most popular recipes with a dreamy raspberry filling.
These 4 Ingredient Vegan Peanut Butter Bars are a healthy version of old fashioned chocolate peanut butter bars.
You can find all of my bars and slices on the Bar and Slice Recipes page.
Vegan White Christmas Slice Recipe
Serves
18 pieces
Prep time
10 mins
Cook time
1 hour chilling
Ingredients
2.3oz / 65g cocoa butter (see Note 1)
3/4 cup / 107g raw cashew nuts
3/4 cup / 70g unsweetened desiccated coconut
1/8 tsp fine sea salt
3 tbsp / 45ml / 60g maple syrup
2 tsp vanilla extract
1/2 cup / 65g dried cranberries
1/2 cup / 75g pistachio nuts
1/4 cup / 35g currants
Method
Line a 10 x 20 cm / 4 x 8 inch loaf tin with baking paper or cling film (see Note 2).

Melt the cocoa butter in the microwave or using a double boiler.

Process the cashew nuts and coconut in a blender until the mixture starts to clump together. Tip the mixture into the melted cocoa butter and add the salt, maple syrup and vanilla. Stir until smooth, using your spoon to press out any large lumps. Alternatively, you can blend these ingredients together in a food processor until smooth.

Stir through the cranberries, pistachio nuts and currants. Tip the mixture into the lined loaf tin, evening out the surface with the back of a spoon. Top with a few extra cranberries and pistachio nuts if desired.

Chill in the fridge for at least 1 hour until firm. Once firm, cut into pieces.
Notes
1. Cocoa butter – Cocoa butter, or cacao butter, is usually sold in buttons or chunks in the health food section of supermarkets and health food stores. If you can't find it, you can use 1/4 cup / 60ml melted coconut oil instead.
2. Scaling the recipe – You can easily scale this recipe up or down and set it in a range of containers. If you double the recipe, you can use a 20 cm / 8 inch square cake tin. You could also spoon the mixture into mini muffin or cupcake cases for individual portions.
3. Storage – Store the slice in an airtight container in the fridge. It also freezes well. If you leave it out at warm room temperatures, it will start to soften slightly.
Nutrition Facts
Serving size: 1 piece
Energy: 579kJ (138Cal)
Protein: 2.3g
Total Fat: 10.5g
Saturated Fat: 5g
Total Carbohydrate: 9.7g
Sugars: 6.4g
Dietary Fibre: 1.7g
Sodium: 18mg
Potassium: 54mg