This Sweet Potato Bread is sweetly spiced, super moist and studded with chocolate chips. It is easy to make, vegan and gluten-free with no dairy and no eggs. Similar to banana bread, but made with mashed sweet potato instead of banana.
The sweet bread is spiced with cinnamon, allspice and a good dash of vanilla. I also love to add chunks of dark chocolate. However, feel free to get creative with the mix ins. Chopped nuts would also be great instead of chocolate if you want to keep the sugar content down.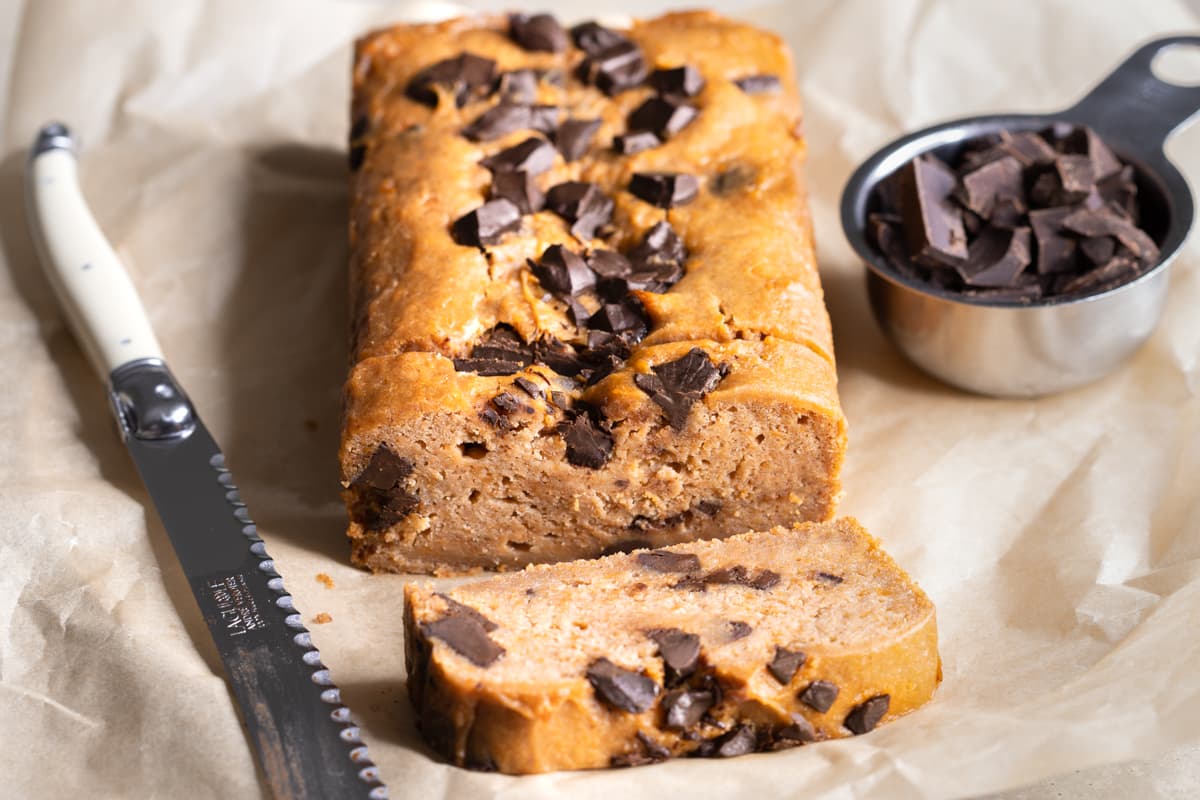 Vegan sweet potato bread
This sweet potato bread is vegan because it is made without dairy and eggs. The mashed sweet potato helps to bind the mixture together in place of eggs. The texture of the bread is quite dense due to the sweet potato. However, it's also super moist. That's how I love breads, like banana bread and this sweet potato bread.
Does sweet potato bread contain gluten?
This sweet potato bread recipe is gluten-free thanks to buckwheat flour. Buckwheat flour is made from ground buckwheat and it naturally does not contain gluten. It makes a great wholesome alternative to wheat flour. However, you can use all-purpose flour if you don't need the bread to be gluten-free.
How to store sweet potato bread
Store the sweet potato bread in the refrigerator since it contains cooked potato and no preservatives. The bread also freezes really well. I actually love to freeze the bread in slices.
I separate each slice with some baking paper before freezing. That way, I can simply defrost a slice when I feel like something sweet. It also helps to stop me from eating the whole bread in a short period of time.
Ingredients for this vegan gluten-free sweet potato bread
Sweet potato: Sweet potato is the star ingredient. It adds natural sweetness and keeps the bread moist.
Coconut oil: Coconut oil replaces butter to keep the sweet potato bread vegan and dairy-free.
Raw sugar: I use raw sugar to sweeten the bread. Other granulated sugars should also work.
Apple cider vinegar: Vinegar reacts with the bicarb soda to lift the bread. You can use white vinegar instead if that's what you have at home.
Buckwheat flour: I use buckwheat flour in this bread to keep it gluten-free. However, you can use all-purpose flour as a substitute if you don't need the bread to be gluten-free.
Cinnamon and allspice: These warm spices work perfectly with the sweet potato. Pumpkin pie spice mix also works well as a substitute.
Vanilla extract: Vanilla is delicious with the sweet potato and warm spices. I like pure vanilla extract best, rather than essence.
Baking powder: Baking powder gives the bread some lift.
Bicarbonate of soda: Bicarb soda, or baking soda, reacts with the vinegar to help give the bread extra lift.
Sea salt: I always add some salt to enhance the flavors of the bread.
Dark chocolate: I like to chop dark chocolate into chunks to stud throughout the bread. Chocolate chips also work well. You can leave out the chocolate if you prefer, or replace it with some roughly chopped nuts.
To serve: For an indulgent twist, you could frost the sweet potato bread with this easy Vegan Avocado Chocolate Frosting. The frosting is rich, chocolatey and surprisingly healthy.
More easy bread and cake recipes
For a chocolate hit, this Vegan Sweet Potato Chocolate Fudge Cake is super moist, chocolatey and delicious.
This Grain Free Double Chocolate Zucchini Bread is one of my favorite cake-like breads. It tastes like rich chocolate cake.
For another sweetly spiced bread, this Easy Pumpkin Bread comes with an amazing maple glaze.
This Gluten Free Buckwheat Olive Oil Bread is a quick savory bread, but it's also delicious served with sweet toppings.
You can find all of my breads and cakes on the Baking Recipes page.
Sweet Potato Bread, Vegan & Gluten Free Recipe
Serves
10 slices
Prep time
10 mins
Cook time
55 mins
Ingredients
1 1/2 cups / 340g mashed sweet potato (see Note 1)
1/3 cup / 80ml / 70g coconut oil, melted
1/2 cup / 100g raw sugar
1/4 cup / 60ml / 60g water
2 tsp apple cider vinegar (or white vinegar)
2 tsp vanilla extract
1 cup / 120g buckwheat flour (see Note 2)
3/4 tsp fine sea salt
1/2 tsp ground cinnamon
1/4 tsp ground allspice
1 tsp baking powder
1/4 tsp baking soda (bicarbonate of soda)
3.5oz / 100g dark chocolate, cut into chunks
Method
Preheat your oven to 160°C fan-forced / 180°C / 350°F and line a 10 x 20 cm / 4 x 8 inch loaf tin with baking paper.

Mix the mashed sweet potato, coconut oil, sugar, water, vinegar and vanilla in a bowl until combined. Add the remaining ingredients, except for the chocolate, and fold together until just combined. Fold through half of the chocolate chunks.

Spoon the mixture into the lined tin, spreading it evenly with the back of a spoon. Sprinkle over the remaining chocolate chunks and press them down slightly into the mixture. Bake in the preheated oven for 55 – 60 minutes or until a toothpick inserted into the center of the bread comes out clean.

Cool slightly in the tin, then transfer to a wire rack to cool completely before cutting into slices.
Notes
1. Sweet potato – 1.7lb / 750g raw weight sweet potato should give enough cooked flesh for this recipe. Cook the sweet potato in a microwave or oven, then mash the flesh to measure out.
Microwave: Prick the potatoes all over with a fork, place on a microwave safe plate and microwave for about 20 minutes or until soft, flipping the potatoes over half way.
Oven: Prick the potatoes all over with a fork, place on a baking tray and bake in a 180°C fan-forced / 200°C / 400°F oven for 30 to 40 minutes or until soft.
2. Flour – You can use all-purpose flour instead of buckwheat flour if you don't need the bread to be gluten-free.
3. Storage – Store the bread in an airtight container in the fridge for 3 to 5 days, or freeze it. To freeze, I slice the bread and separate each slice with some baking paper. That way, you can defrost single portions as needed.
Nutrition Facts
Serving size: 1 slice (made with 70% cocoa dark chocolate)
Energy: 958kJ (229Cal)
Protein: 2.9g
Total Fat: 11.4g
Saturated Fat: 8.1g
Total Carbohydrate: 28.8g
Sugars: 14.6g
Dietary Fibre: 3.1g
Sodium: 245mg
Potassium: 3mg