Make this simple Shakshuka with Fresh Tomato and Spinach for breakfast, lunch or a light dinner. The spiced tomato sauce is the perfect base for the eggs, topped off with some chilli flakes for an extra kick.
Fresh tomato is used to make the sauce. All you have to do is chop the tomatoes up and they reduce down nicely with the onion, garlic and spices. I also add some tomato paste. This is a short-cut method for adding depth of flavour to the sauce.
Healthy breakfast ideas
I add baby spinach to the sauce in this shakshuka recipe for added nutrients. It's not traditional, but it makes the meal a bit healthier. Getting some extra vegetables into a recipe is always a bonus.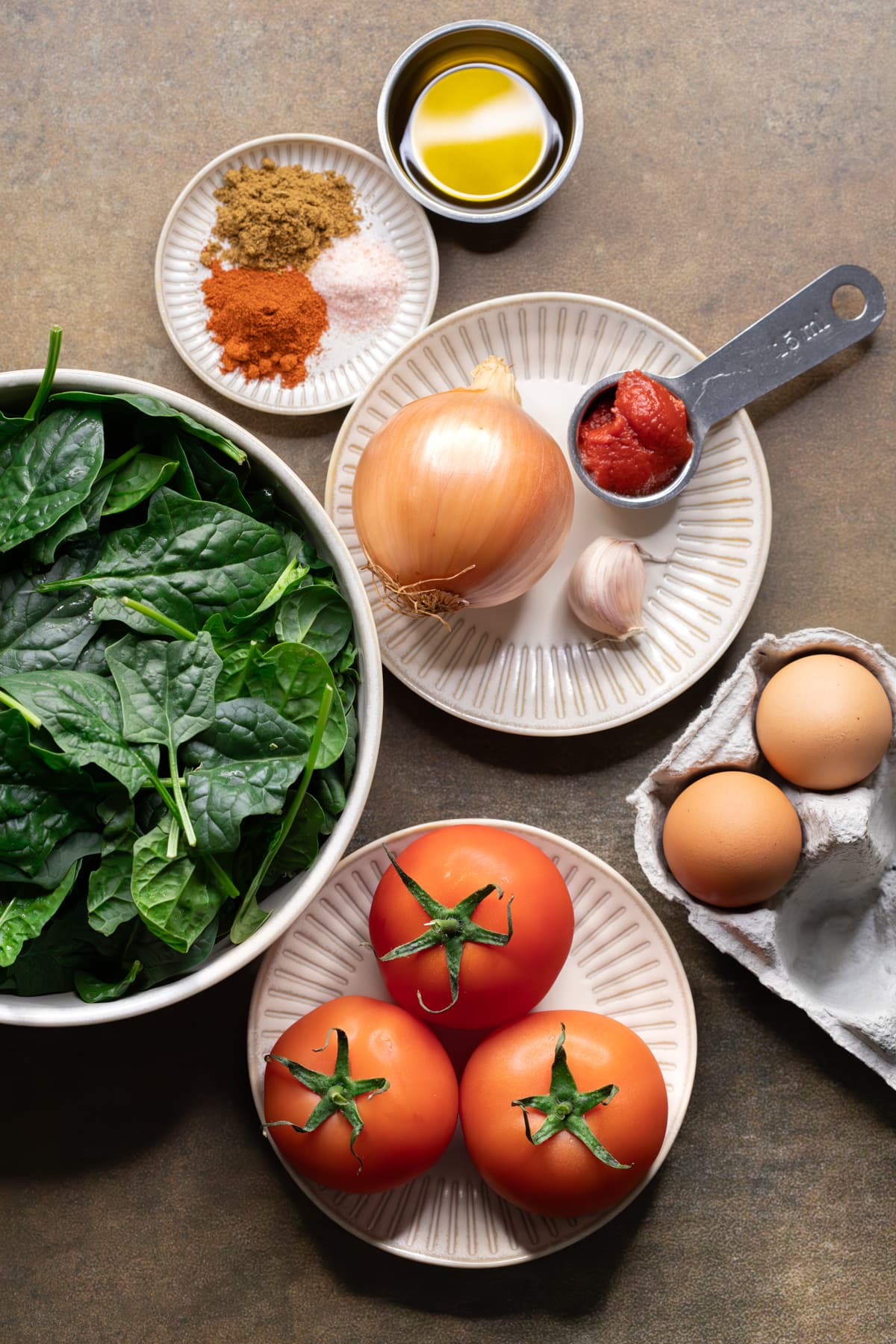 All you have to do is stir the spinach through the sauce before adding the eggs. The way that a huge pile of baby spinach wilts down into a tiny streak of green never ceases to amaze me.
I love to eat this shakshuka with warm flatbread. Sourdough toast or your favourite gluten-free toast would also work well. The idea is to have something to dip into the sauce and soak it up as you eat.
If you want to keep the recipe low carb, you can just leave out the bread. If you do this, I would crack in an extra egg per person to make the meal a bit more substantial. You could also crumble over some feta cheese before serving.
Ingredients for Shakshuka with Fresh Tomato and Spinach
Tomatoes: Any ripe, medium to large tomatoes can be used in this recipe. I used vine or truss tomatoes. Roma tomatoes would also be great.
Tomato paste: I buy the little sachets of tomato paste, since you only need a small amount. You can leave the tomato paste out of the recipe, but the sauce may end up tasting a bit lacklustre.
Onion: I use a small brown onion in this recipe. But you can use a white onion or red onion, or even finely sliced spring onion if you prefer.
Garlic: A clove of garlic adds extra kick to the sauce. One key thing I've learnt about cooking with fresh garlic is that you want to add it to the pan AFTER the onions. This is to avoid burning it. If garlic starts to burn, it can give off an acrid taste. I always fry my onions first, then stir through the finely chopped or minced garlic briefly before adding the rest of the ingredients. If you don't have fresh garlic, you could use dried garlic powder instead.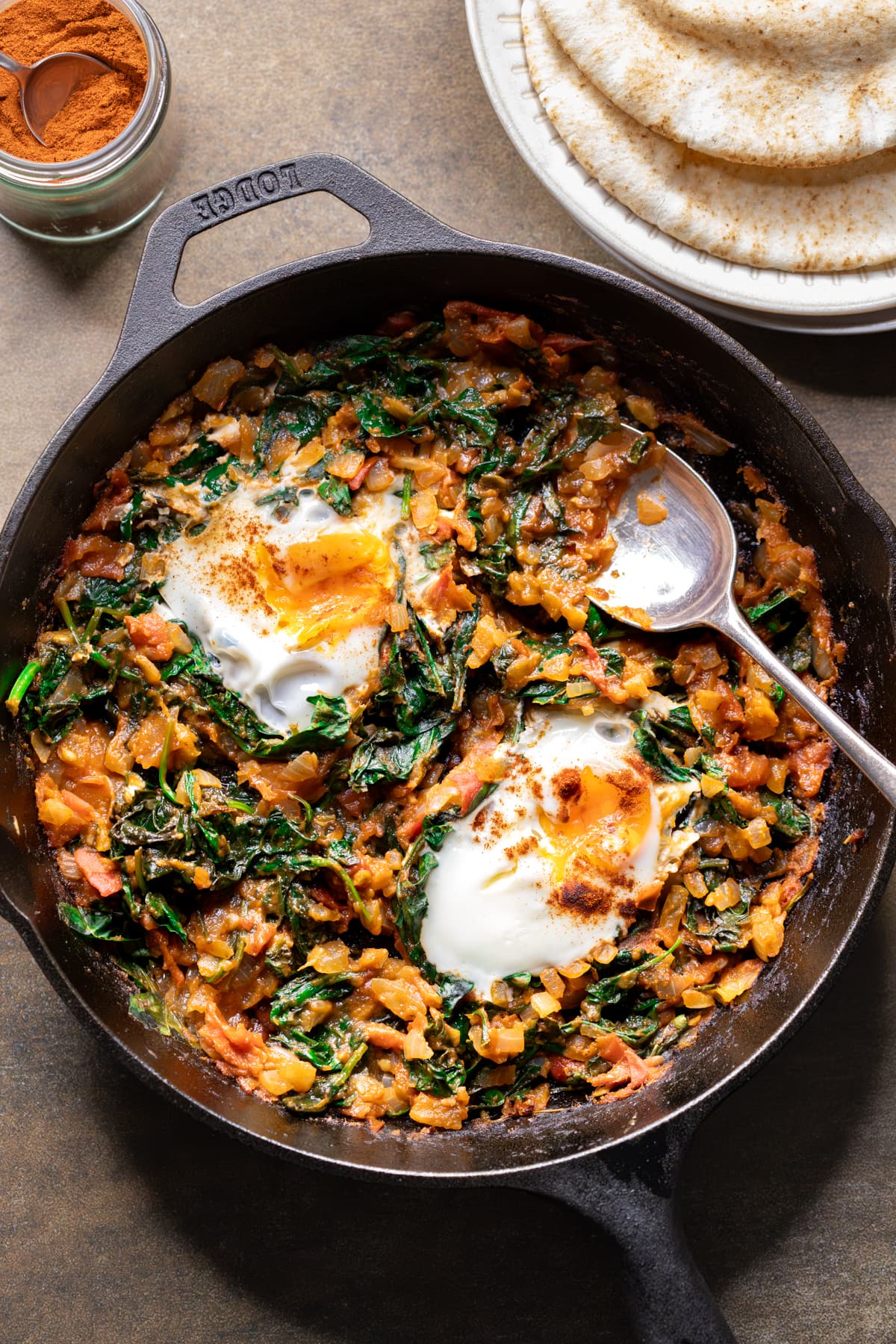 Ground cumin: This spice gives the sauce an earthy, warm flavour. It's essential (in my opinion) in this recipe.
Smoked paprika: This spice gives the sauce a delicious hint of smokiness. It's one of those spices that if you use too much, it can be overpowering. But I think 1/2 teaspoon is perfect in this recipe. If you don't have smoked paprika, you could use sweet paprika instead. Although I highly recommend that you try this recipe with smoked paprika.
Baby spinach leaves: Make sure your spinach leaves are washed well before adding to the sauce. If you don't have baby spinach leaves you could use a bunch of traditional English spinach and tear the leaves off the stems before adding the leaves to the sauce.
Free-range eggs: This recipe uses one egg per person. But you can easily crack in additional eggs to make the meal more substantial.
Extra virgin olive oil: I use extra virgin olive oil to fry the onion and garlic. You could use butter or coconut oil instead. Just keep in mind that coconut oil will add a slight coconut flavour that might taste a bit out of place.
Chilli flakes: If you want to add some extra heat, sprinkle the eggs with chilli flakes before serving.
Flatbread or toast: Having some flatbread or good quality toast to soak up the sauce makes this dish even more satisfying. This Easy Gluten Free Flatbread is made with only 3 ingredients. It is also more cost effective that store-bought breads.
More savory breakfast ideas
These savory Buckwheat Zucchini Muffins make a handy gluten-free grab and go breakfast.
I also make these Herbed Sweet Potato and Oat Savoury Muffins when I want something at home that's ready to go.
When I have a bit more time, I love to make these Gluten Free Zucchini Fritters with Feta.
This Easy Hummus is another recipe that I make weekly just using a hand blender. It's great with eggs for breakfast.
You can find all of my savory breakfast ideas on the Savory Breakfast page.
Shakshuka with Fresh Tomato and Spinach Recipe
Serves
2
Prep time
10 mins
Cook time
20 mins
Ingredients
1 small brown onion
1 clove garlic
2 medium tomatoes
4 teaspoons (20ml) extra virgin olive oil
2 teaspoons tomato paste
1 teaspoon ground cumin
1/2 teaspoon smoked paprika
1/2 teaspoon sea salt
3 cups (100g) baby spinach leaves, washed
2 free-range eggs
Chilli flakes (optional)
Flat bread or toast (optional)
Method
Finely chop the onion, garlic and tomatoes. Heat the olive oil in a frypan on a medium heat. Fry the onion in the oil until softened. Add the garlic and fry for another minute.

Add the chopped tomatoes to the pan along with the tomato paste, cumin, paprika and salt. Stir well and continue to cook on a medium heat until reduced. Stir regularly and squash the tomatoes down with your spoon if there are any larger pieces. Once reduced, add the spinach leaves and stir into the mixture until just wilted.

Make two wells in the mixture and crack the eggs into the wells. Place a lid on the pan (or cover with foil) and continue to cook on a medium heat until the whites of the eggs are set and the yolks are cooked to your liking. To check the yolks, pierce one of the yolks with a knife.

To serve, sprinkle the eggs with chilli flakes and eat with some warm flat bread or toast if desired.
Nutrition
Serving size: 1 egg + half of the sauce (excluding bread)
Energy: 854kJ (204Cal)
Protein: 9g
Total Fat: 14.7g
Saturated Fat: 2.8g
Total Carbohydrate: 12.5g
Sugars: 6g
Dietary Fibre: 3.9g
Sodium: 584mg
Potassium: 772mg
Nutrition information is an estimate only. It may vary depending on the brand of ingredients used.