This Creamy Vegan Tahini Ranch Dressing is a delicious dairy-free and egg-free twist on the classic recipe. Made with basic pantry ingredients, it is quick, easy and healthy. You can mix it together in a matter of minutes.
A classic American ranch dressing is usually made with mayonnaise, buttermilk, garlic, onion, mustard and fresh herbs such as dill, parsley and chives. There are also a lot of vegan, non-dairy versions out there, made with vegan mayonnaise and buttermilk alternatives.
Dairy-free ranch dressing recipe
Instead of using vegan alternatives, I wanted to create a dairy-free ranch dressing with healthy whole food ingredients that I always have in my pantry. Tahini paste, mixed with some apple cider vinegar and a dash of Dijon mustard, gives a beautiful creamy base to replace the need for mayonnaise and buttermilk. You simply thin it out with water to reach your desired consistency.
Then I use garlic and onion powders and dried herbs for a serious hit of flavor. Although whole garlic, onion and fresh herbs are great, sometimes I can't be bothered chopping things up. Fresh herbs can also be expensive and not always readily available. Using powders and dried herbs also makes it easier to mix up this dressing in a flash.
How to store tahini ranch dressing
It is best to store tahini ranch dressing in the fridge. This keeps the natural oil from the tahini paste as fresh as possible. The dressing may thicken slightly in the fridge, but you can easily stir through a little extra water before serving to thin it out if needed.
I also store my jars of tahini in the fridge for the same reason. After opening the jar, I give the tahini a good stir to incorporate any oil that has risen to the top of the jar. Then I store it in the fridge.
Ingredients for Creamy Vegan Tahini Ranch Dressing
Tahini: I recommend using hulled tahini because it is less bitter in flavor than un-hulled tahini. However, any tahini will work.
Apple cider vinegar: Vinegar cuts through the richness of the tahini. I use apple cider vinegar because I always have it at home. However, you can use white vinegar, red wine vinegar or fresh lemon juice if you prefer.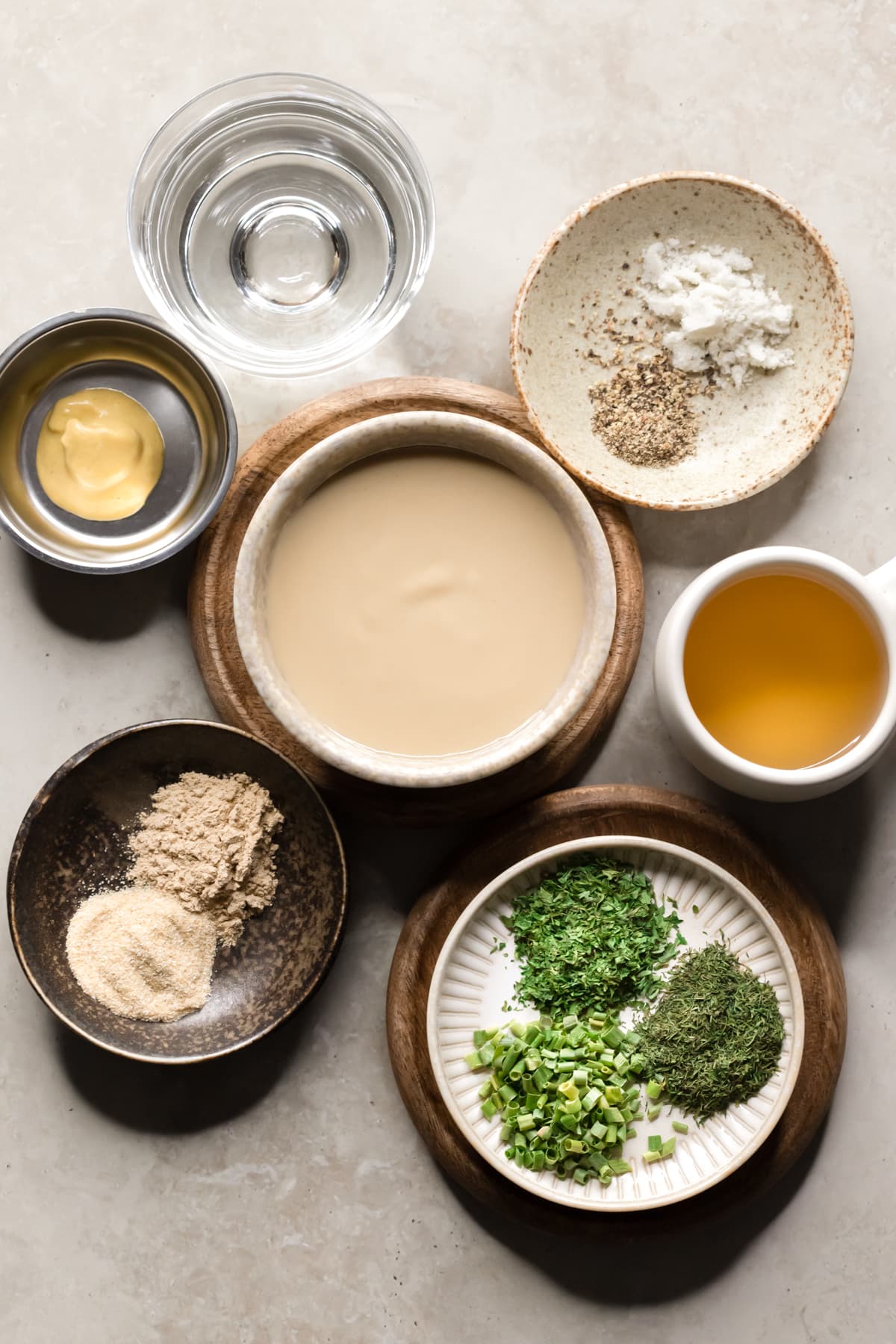 Dijon mustard: Mustard gives the dressing some kick. I like Dijon best. If you don't have any Dijon mustard you could add a dash of mustard powder. Or simply leave it out and perhaps add a little extra vinegar to taste.
Dried chives: Dried chives are usually found in the spice section of the supermarket, sometimes labelled "chopped chives". They have a more concentrated flavor when compared to fresh chives.
Dried dill: Dill is a mild herb that has a fresh and herbal aroma. Dried dill works well with so many things, so it's handy to have in your pantry.
Dried parsley: Also known as parsley flakes, dried parsley works with the chives and dill to give the dressing its ranch flavor.
Garlic powder: Garlic powder is made from dried and ground garlic. It is milder and less 'spicy' than fresh garlic. It works really well in this healthy ranch dressing.
Onion powder: Similar to garlic powder, onion powder works best in this ranch dressing because it disperses evenly throughout the dressing. That way, you don't end up with chunks of onion in your dressing.
Fine sea salt: Salt is essential to season any dressing. I use fine sea salt, but any finely ground salt will work.
Black pepper: I use freshly cracked black pepper in this dressing. If I want to measure it out, I crack it from my pepper grinder onto a piece of paper towel, then lift up the sides of the paper towel to 'funnel' the pepper into my measuring spoon. Alternatively, you can just crack the pepper straight into the dressing, taste, and add more if needed.
More healthy sauce recipes
This smokey Romesco Sauce is amazing as a dressing, dip or sauce. Plus it's made with just five simple pantry ingredients.
I love to dollop this Easy Hummus without Lemon and Garlic over salads or enjoy it as a dip.
This Homemade Vegan Burger Sauce is an easy dairy-free alternative to regular burger sauce, made without refined oils.
You can find all of my sauces, dips and dressings on the Sauce Recipes page.
Creamy Vegan Tahini Ranch Dressing Recipe
Serves
4
Prep time
5 mins
Cook time
0 mins
Ingredients
1/4 cup / 60ml / 60g tahini (see Note 1)
1-2 tbsp / 15-30ml / 15-30g apple cider vinegar (see Note 2)
1/2 tsp Dijon mustard
1 1/2 tsp dried chives
1 1/2 tsp dried dill
1 1/2 tsp dried parsley
1/2 tsp garlic powder
1/2 tsp onion powder
1/2 tsp fine sea salt
1/4 tsp freshly cracked black pepper
Water, as needed
Method
Add all ingredients, except for the water, into a large mug or bowl. Stir to combine. It will be thick.

Slowly stir through some water, about 1 tablespoon at a time, until you reach your desired dressing consistency. It may feel like it has split at times, but just keep gently stirring. You can watch the recipe video above to see how it transforms.

Taste, and add more vinegar, salt or pepper if needed. Serve straight away, or store in the fridge in a sealed jar for up to 3 days.
Notes
1. Tahini – I use hulled tahini because it is less bitter in flavor than un-hulled tahini. However, any tahini will work.
2. Vinegar – I recommend adding the vinegar to suit your taste. Start with less, mix the dressing, then taste the dressing and add more if you want. Different brands of apple cider vinegar can also be more or less sharp, so I always like to use this method of adding it slowly. If you add too much vinegar, you can just stir though a little extra tahini to offset it.
3. Storage – The dressing is best stored in the fridge in a sealed jar for up to 3 days. It may thicken slightly in the fridge, but you can thin it out with a little extra water before serving if needed.
Nutrition Facts
Serving size: 1/4 of the recipe
Energy: 446kJ (107Cal)
Protein: 3.8g
Total Fat: 9.1g
Saturated Fat: 1.4g
Total Carbohydrate: 2.8g
Sugars: 0.1g
Dietary Fibre: 1.5g
Sodium: 317mg
Potassium: 99mg