Made with basic pantry staples, this Homemade Vegan Burger Sauce is an easy dairy-free alternative. Perfect if you want to avoid refined oils and know exactly what goes into your sauce.
It starts with some soaked cashew nuts, which you only have to soak for 10 minutes in boiling water. This softens them up so that they blend smoothly with the other ingredients.
I find it easiest to make the burger sauce with my immersion blender, also known as a stick mixer or hand blender. It's perfect for blending small quantities of ingredients and gives you more flexibility to move the blade around to make sure everything is well blended. I also make my Parsley Pine Nut Pesto this way.
If you don't have a an immersion blender, you could blend it up in a small food processor. It would need to be a small food processor though, since the recipe quantities are small.
The recipe gives quite a thick sauce, which you can dollop over salads, add to a burger or sandwich or serve as a dip. It's versatile!
If you want a thinner sauce, you can simply add a little more water until you reach your desired consistency.
Ingredients for Homemade Vegan Burger Sauce
Cashew nuts: Raw cashew nuts work best as we want them to soften in the boiling water to blend smoothly into the sauce. I also prefer to use unsalted nuts so I can control the amount of salt added to the sauce.
Tomato paste: This adds a subtle sweetness to the sauce and gives it its orange colour. I buy tomato paste in small sachets to avoid wastage.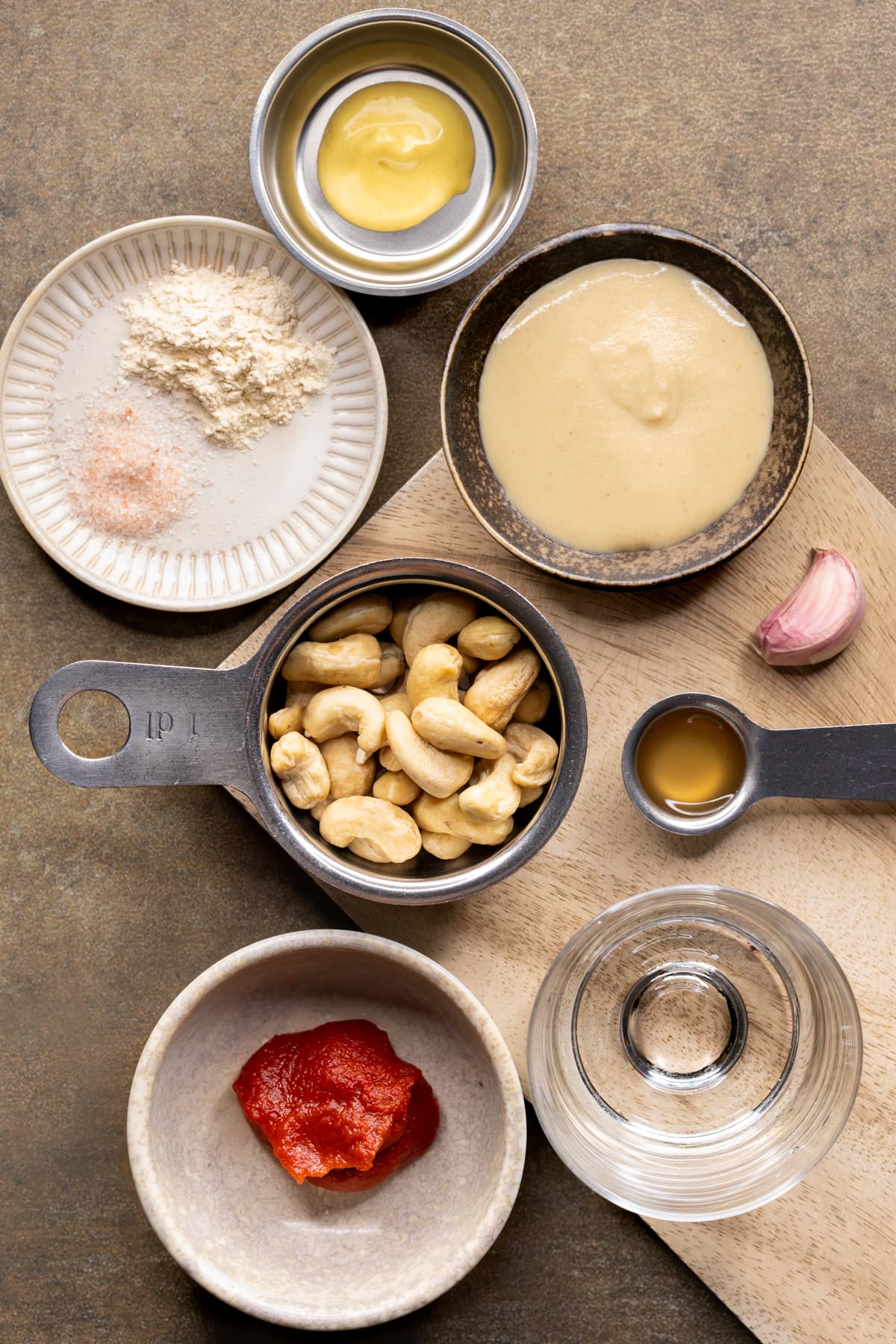 Tahini: The tahini adds earthiness and extra creaminess to the sauce. Hulled tahini is my preference as it's less bitter than unhulled tahini. But either would work.
Dijon mustard: This gives the sauce a bit of a kick. You could substitute another mild mustard if you prefer.
Garlic: I've made the sauce with 1/2 clove of fresh garlic and also with 1/4 teaspoon of garlic powder when I didn't have any fresh garlic. Both ways work well. Fresh garlic adds more heat.
Onion powder: This adds depth to the sauce and works well with the garlic.
Apple cider vinegar: The sharpness of the vinegar lifts the sauce. You could use white wine vinegar or another vinegar if that's all you have at home.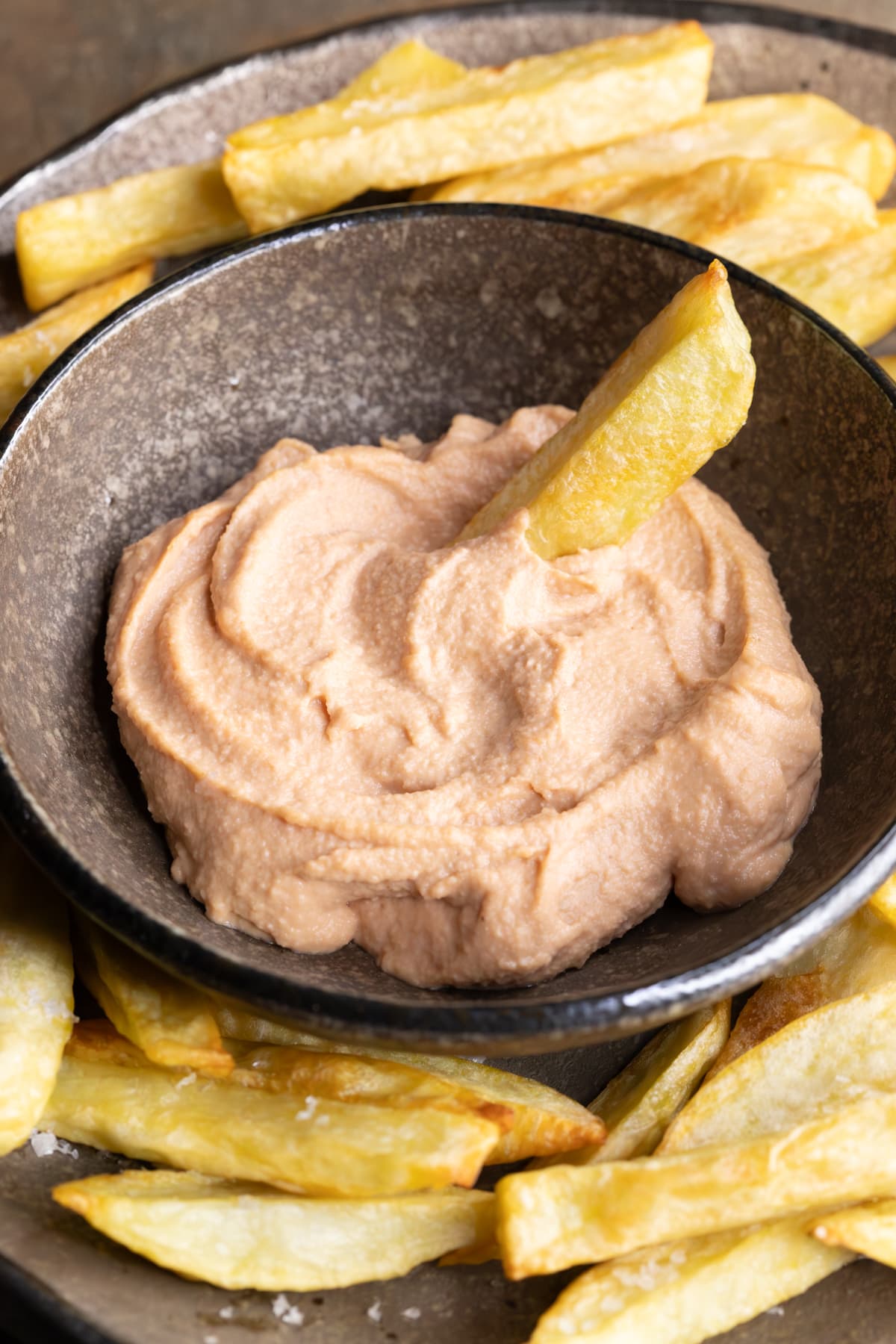 Fine sea salt: Always needed to enhance the flavours. Depending on how salty your tomato paste is, you might want to start with a little less than 1/4 teaspoon and then add more if needed.
Water: I add 30ml of water to help the sauce blend, but still keep it thick. If you want a thinner sauce, you can stir in extra water a teaspoon at a time until you reach your desired consistency.
Serves
About 1/3 cup
Prep time
5 mins
Cook time
10 mins soaking
Ingredients
1/4 cup (37g) cashew nuts, raw and unsalted
3 teaspoons tomato paste
3 teaspoons tahini
1/2 teaspoon Dijon mustard
1/2 clove garlic, minced (or 1/4 teaspoon garlic powder)
1/2 teaspoon onion powder
1/2 teaspoon apple cider vinegar
1/4 teaspoon fine sea salt
6 teaspoons (30ml) water
Method
Place the cashew nuts in a bowl. Cover with boiling water and let them soak for 10 minutes.

While the cashews are soaking, place the remaining ingredients into an immersion blender cup or a small food processor.

Once the cashews have soaked for 10 minutes, drain and rinse them well. Add the drained nuts to the other ingredients and blend until smooth.

Best used straight away, but you can store leftovers in an airtight container in the fridge for 1-2 days.
Notes
The recipe makes about 1/3 cup (80ml) of sauce, which I usually divide into two portions. If you're making it for more people, you can easily double or triple the recipe.
Nutrition
Serving size: Half the recipe (2 x 20ml tablespoons)
Energy: 674kJ (161Cal)
Protein: 5.1g
Total Fat: 12.1g
Saturated Fat: 1.9g
Total Carbohydrate: 9.9g
Sugars: 2.6g
Dietary Fibre: 1.8g
Sodium: 265mg
Potassium: 123mg
Nutrition information is an estimate only. It may vary depending on the brand of ingredients used.