This Parsley Pesto Pasta with Cashews makes an easy and healthy dinner, ready in just 15 minutes. It's gluten-free and more cost-effective than traditional pesto too. You don't even need a fancy food processor. All you need is a simple hand blender.
Traditional pesto sauce recipes use fresh basil and pine nuts. I love this combination, but basil can often be hard to find and pine nuts are expensive. Swapping basil for parsley and pine nuts for creamy cashew nuts is a great alternative.
Is pesto bad for you?
Pesto can sometimes be labelled as bad because it is quite high in fat and therefore calories. This is simply due to the nuts, Parmesan cheese and olive oil. However, raw nuts and extra virgin olive oil are widely considered to come with a bunch of health benefits. Plus, a good quality Parmesan is one of the highest protein cheeses. Parmesan has approximately 38g protein per 100g, compared to 25g per 100g for cheeses like Cheddar.
Homemade pesto is also usually healthier than store-bought brands. Jars of pesto at the supermarket are usually made with refined vegetable oils because they are cheaper. They sometimes have added sugar and preservatives as well. Making your own pesto allows you to use good quality extra virgin olive oil and skip the unnecessary sugar and preservatives.
As for the pasta, you can always make some healthy pasta swaps. There's nothing wrong with regular wheat pasta, but if you're allergic to gluten or simply don't enjoy how gluten makes you feel, there are plenty of gluten-free pastas these days. I eat gluten-free pasta made from quinoa and rice flours without any issues. There are also grain-free pasta alternatives, such as lentil pasta, as well.
Overall, I prefer not to classify food as good or bad. In my opinion, all food can be enjoyed in moderation. Worrying too much about food can also lead to stress, which isn't good for you either. I eat to feel good and to enjoy life.
Can I use parsley instead of basil in pesto?
You can indeed. That's exactly what I have done here with this recipe. I love pesto made with basil, but fresh parsley is a handy alternative. The great thing about parsley is that it's usually easier to find and can be less expensive than basil.
I like flat-leaf parsley best, which is also sometimes called continental parsley or Italian parsley. The leaves are delicate and fragrant. However, curly parsley should also work. If you try the recipe with curly parsley I'd love to hear how it goes.
What cheese is best for pesto?
Pesto is usually made with Parmesan cheese. Parmigiano Reggiano is the authentic Parmesan cheese made in Italy. For a cheese to be labelled as Parmigiano Reggiano, it has to be made in certain parts of Italy. You will see the name stencilled on the rind of the cheese.
If you're outside of the European Union, Parmesan is simply the generic term for cheeses inspired by Parmigiano Reggiano. Generic Parmesan cheeses are usually a pretty good alternative. They can sometimes taste saltier than Parmigiano Reggiano, so that's why I suggest starting with a smaller amount of salt in the pesto recipe and then adding more to taste if needed.
If you can't find a block of Parmigiano Reggiano or Parmesan, sharp or aged Cheddar cheese also works quite well. It's easy to find at any supermarket. I would just avoid pre-grated cheese because anti-caking agents are usually added to stop the cheese from clumping together. Pre-grated Parmesan cheese can also smell terrible.
Can you just add pesto to pasta?
It's always a good idea to save some of your pasta cooking water to add to the sauce as you stir it through the pasta. The starch that is released from the pasta into the water while it's cooking helps the sauce to become extra creamy and stick to the pasta. This applies whether you have made your own pesto or are using a store-bought jar.
The amount of cooking water needed will depend on the thickness of your pesto sauce and how thoroughly you drained the pasta. Once your pasta is cooked, use a mug to extract a cup of the cooking water before draining. You can watch the recipe video below to see how I do this.
Then, after you have drained your pasta, dollop the sauce onto the pasta and start stirring it through. If the sauce is clumping and not coating the pasta well, start adding small splashes of the cooking water as you stir. This will loosen the sauce and help you get that delicious creamy texture.
How long does pesto last in the fridge?
Pesto sauce should last for 3 days in the fridge in an airtight container. You can also freeze pesto sauce in ice cube trays. This allows you to defrost the sauce in smaller portions in the fridge as needed.
If you have added the freshly-made pesto to cooked pasta, any leftovers can also be stored in the fridge in an airtight container for up to 3 days. Leftover cooked pasta generally needs to be eaten within 3 to 5 days to be safe.
Ingredients for Parsley Pesto Pasta with Cashews
Parsley: I use flat-leaf parsley in this recipe, also known as continental or Italian parsley. I haven't tested the recipe with curly parsley, but if you do I would love to hear how it goes.
Cashew nuts: Raw and unsalted cashew nuts work best. You can also use pine nuts, which are more traditional for pesto, or another creamy nut like Brazil nuts or macadamia nuts.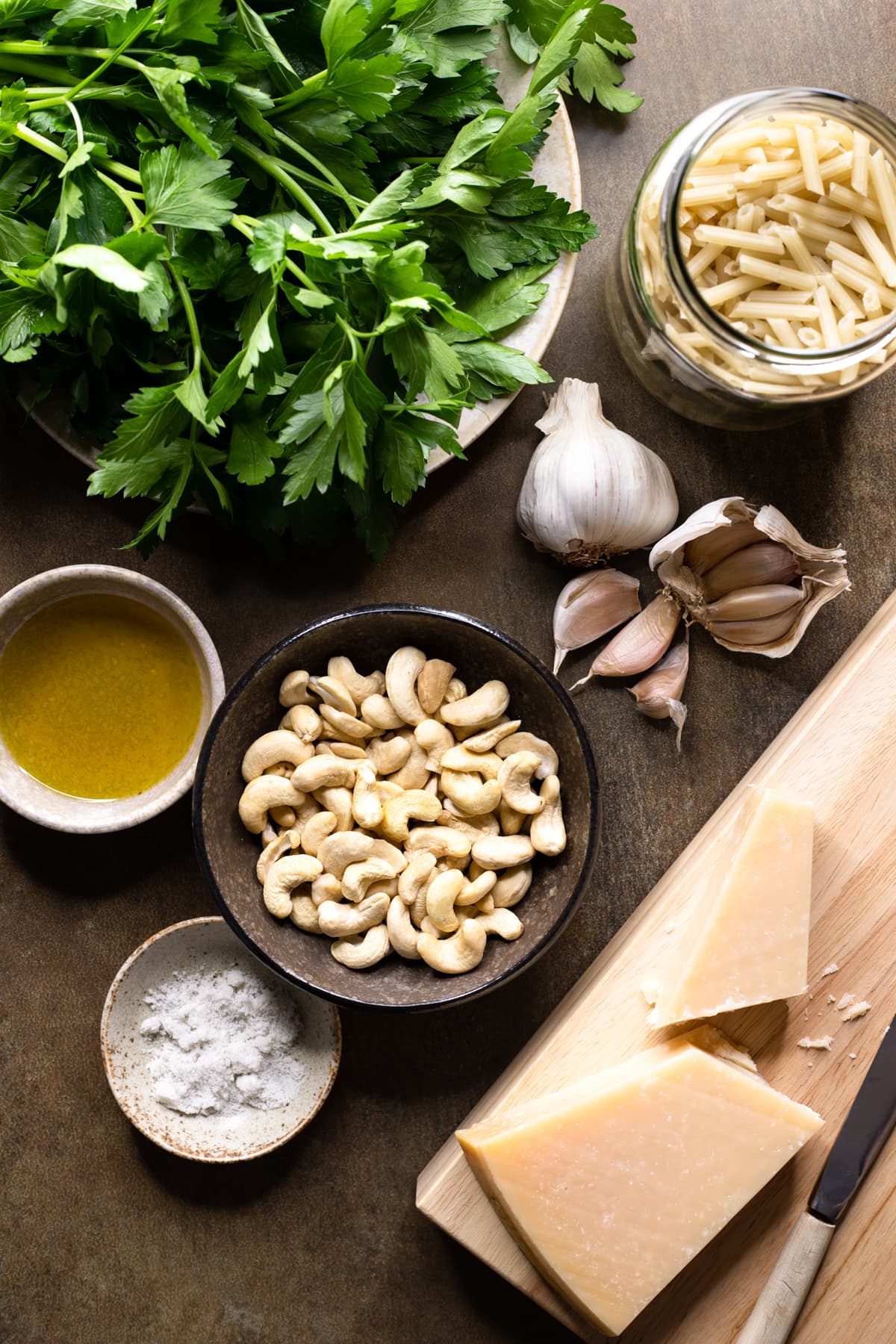 Freshly-grated Parmesan: Use a block of Parmesan cheese, or Parmigiano Reggiano if possible, and grate it yourself. If you can't find Parmesan, a block of sharp or aged Cheddar also works.
Extra virgin olive oil: I love to use a really peppery extra virgin olive oil. But any olive oil will work. You could also use avocado oil.
Garlic: Freshly minced garlic gives the sauce a kick. You can add more or less garlic to suit your taste.
Fine sea salt: Essential to lift the sauce. I start with a small amount, then add more to taste depending on the saltiness of the cheese.
Gluten-free pasta: I use a gluten-free penne pasta made from quinoa and rice flours. But any pasta will work. You can even buy grain-free pasta alternatives these days.
More easy dinner recipes
For a protein packed dinner, you might like this Gluten Free Cashew Chicken with Broccoli. It's all about the homemade stir-fry sauce, which is easily made with a few basic ingredients.
This Sheet Pan Chicken with Sweet Potato and Red Onion makes another easy dinner. It all cooks on one baking tray. The sweet potatoes and red onion cook in the chicken juices, giving maximum flavour for very little effort.
Parsley Pesto Pasta with Cashews Recipe
Serves
4
Prep time
5 mins
Cook time
10 mins
Ingredients
1 bunch flat-leaf parsley (to give 1 1/2 cups / 45g leaves)
1/4 cup / 36g raw cashew nuts
3/4 cup / 60g freshly-grated Parmesan (see Note 1)
1/3 cup / 80ml / 73g extra virgin olive oil (plus extra, as needed)
1/2 – 1 clove garlic, minced
1/4 tsp fine sea salt
8oz / 225g gluten-free pasta (see Note 2)
Method
Bring a pot of water to boil and cook the pasta according to the packet instructions.

Meanwhile, wash the parsley and pick the leaves off the stems. Place the leaves, cashew nuts, grated cheese, olive oil, minced garlic and salt into a hand blender cup or small food processor.

Blend until you get a paste, adding a little more olive oil if needed.

Once the pasta is cooked, scoop out a cup of the cooking water to save, then drain the pasta. Stir the pesto through the drained pasta, adding splashes of the saved cooking water to loosen the sauce. Taste and add more salt if needed.

To serve, spoon the pasta onto plates and top with an extra grating of Parmesan if desired.
Recipe Notes
1. Parmesan – A generic Parmesan, or authentic Parmigiano Reggiano, is best when you buy it in a block and grate it yourself. I talk more about this in the post above. You could also use sharp or aged Cheddar cheese, which is easy to find at the supermarket.
2. Pasta – I use a gluten-free pasta made from quinoa and rice flours. But any pasta will work. Just follow the instructions on the packet to cook it, and remember to save some of the starchy cooking water before draining to loosen the sauce.
3. Storage – The pesto sauce should last for 3 days in the fridge in an airtight container. You can also freeze it in ice cube trays and defrost in the fridge in portions as needed. If you have added the freshly-made pesto to cooked pasta, any leftovers can also be stored in the fridge in an airtight container for up to 3 days.
Nutrition Facts
Serving size: 1 serve
Energy: 2009kJ (480Cal)
Protein: 13g
Total Fat: 27.9g
Saturated Fat: 6.4g
Total Carbohydrate: 48.4g
Sugars: 3.5g
Dietary Fibre: 3.5g
Sodium: 155mg
Potassium: 123mg
Nutrition information is an estimate only. It may vary depending on the brand of ingredients used.