This vegan, grain-free Chocolate Brownie Batter Chia Pudding tastes indulgent, but you could eat it for breakfast. It starts with a quick chocolate chia pudding, topped with chunks of dark chocolate and crushed walnuts for a brownie batter vibe.
The chia pudding can be ready in 10 minutes. Once you mix the chia seeds and liquid together, the seeds will soak up the liquid in around this time. Make sure you keep stirring it regularly to stop the seeds sinking to the bottom.
I prepare the chia pudding while I'm doing something else, like making coffee or tidying up the kitchen. That way, I can keep stirring it as I go without having to wait around. Particularly handy to have the chia pudding ready with your coffee!
You can also make the chia pudding ahead of time and keep it in the fridge until you're ready to eat it. If doing this, I like to chop up the dark chocolate and walnuts right before serving.
How to make chia pudding taste good
For me, it's all about contrast in textures and lots of toppings. I like to have something sweet and something crunchy along with the slippery chia pudding. This Chocolate Brownie Batter Chia Pudding comes with chunks of dark chocolate and crushed walnuts.
I also make this Chia, Raspberry & Almond Parfait, which is one of my favourite ways to eat chia pudding. In that recipe, I make a quick raspberry compote to layer through the chia pudding, then top it all off with crushed almonds.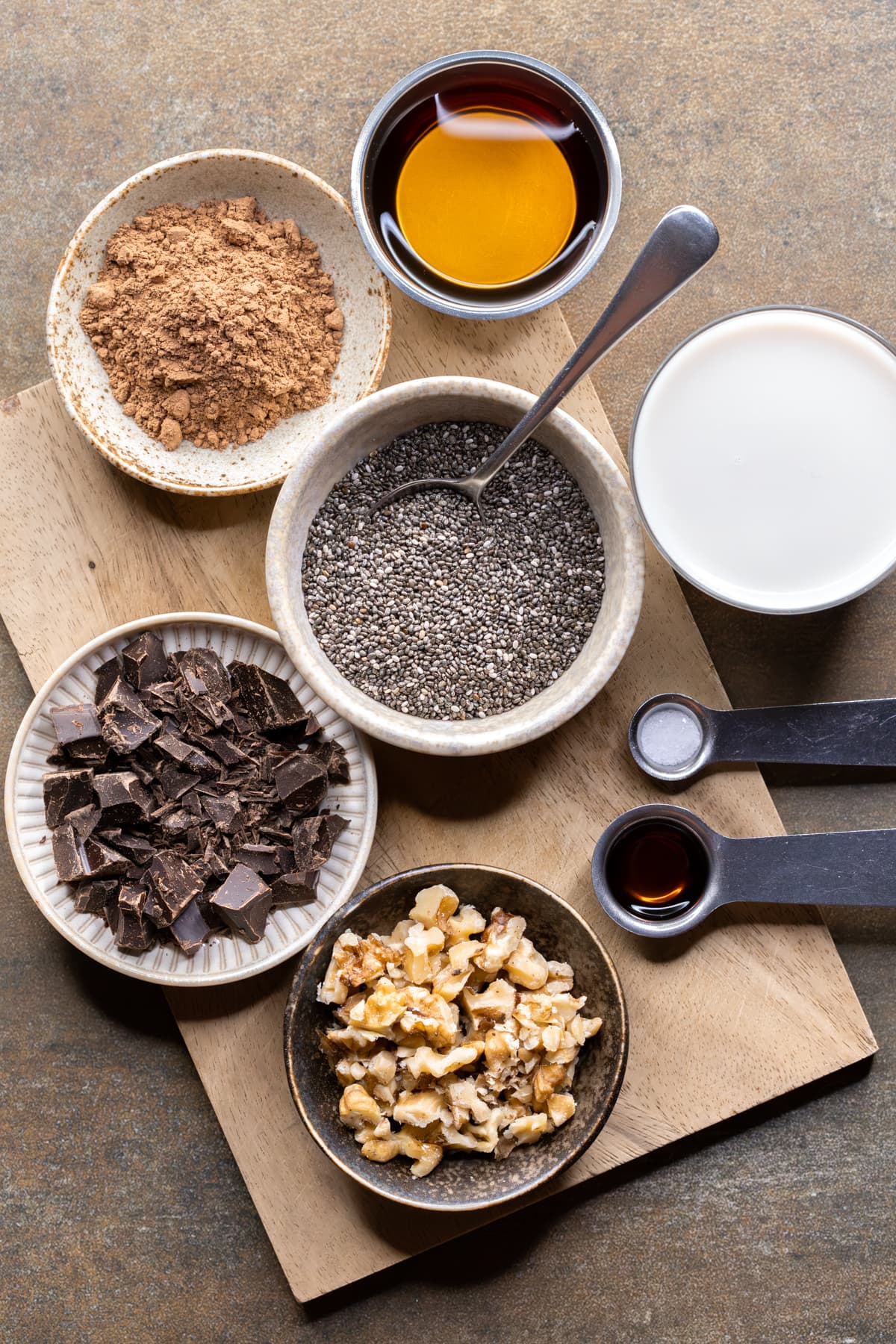 Another thing to remember is to make sure you like the taste of the milk that you use. You will be able to taste it! I used unsweetened almond milk, then sweetened it myself with some maple syrup. But you could use coconut milk, oat milk, rice milk or regular dairy milk. If your milk is already sweetened, just leave out the maple syrup.
Ingredients for Chocolate Brownie Batter Chia Pudding
Chia seeds: I use a mixture of white and black chia seeds. But any chia seeds will work.
Raw cacao powder: Raw cacao powder comes with antioxidants, but you can certainly use cocoa powder if that's what you have at home.
Maple syrup: To sweeten the chia pudding. You could use rice malt syrup, honey or another liquid sweetener if you prefer. If your milk is sweetened, you can leave it out.
Vanilla extract: Helps with the brownie batter vibe. You can leave it out if you prefer.
Sea salt: A pinch of sea salt enhances the flavours. It also goes really well with chocolate.
Unsweetened almond milk: Any sort of milk would work, such as coconut milk, oat milk, rice milk or regular dairy milk. If using coconut milk, make sure it's liquid, since the chia seeds won't be able to absorb the super thick, creamy part.
Dark chocolate: To chop into chunks and sprinkle over the chia pudding. I used 70% cocoa dark chocolate, but you can use your favourite chocolate bar or chocolate chips.
Walnuts: Also for topping the chia pudding. The combination of chocolate and walnuts always reminds me of brownies. But any nut would work!
Serves
1
Prep time
5 mins
Cook time
5 mins soaking
Ingredients
8 teaspoons (28g) chia seeds
3 teaspoons (4g) raw cacao powder
2 teaspoons (14g) maple syrup
1/4 teaspoon vanilla extract
Pinch of sea salt
1/2 cup (120ml/120g) unsweetened almond milk
20g dark chocolate
10g walnuts
Method
Place the chia seeds, cacao powder, maple syrup, vanilla and sea salt in a small bowl or glass. Stir briefly to turn the cacao powder into a paste. Add the milk and stir until everything is well combined.

Let the chia seeds soak up the liquid for about 5 – 10 minutes, stirring regularly to ensure even distribution.

To serve, chop the dark chocolate into chunks and break the walnuts into small pieces. Sprinkle over the chia pudding and enjoy.
Notes
Mixing the cacao powder with a small amount of liquid before adding all the milk makes it easier to incorporate.
The chia pudding can be made the night before and stored in the fridge until ready to eat the next day.
Nutrition
Serving size: 1 serve (made with 70% cocoa chocolate)
Energy: 1504kJ (359Cal)
Protein: 8.2g
Total Fat: 22.5g
Saturated Fat: 6.3g
Total Carbohydrate: 32.3g
Sugars: 10.9g
Dietary Fibre: 12.9g
Sodium: 353mg
Potassium: 282mg
Nutrition information is an estimate only. It may vary depending on the brand of ingredients used.