All you need is a bowl and spoon to make these high protein Choc Mint Whey Protein Balls. No food processor needed. Unlike many protein ball recipes, they are actually high in protein and don't contain any artificial sweeteners or sugar alcohols.
Trying to find good quality protein balls or protein bars that have a decent amount protein AND don't use artificial sweeteners or sugar alcohols (such as erythritol) can be hard. I have nothing against non-nutritive sweeteners and I do use them at times. But if overdone, they can cause digestive issues.
Lately I've been using an unflavoured whey protein isolate in my protein balls and adding my own sweetener, such as rice malt syrup, pure maple syrup or raw honey. I find this generally more satisfying and no strange aftertaste that many non-nutritive sweeteners impart.
High protein whey protein balls
Each little Choc Mint Whey Protein Ball has 335kJ (80Cal) and 5.2g protein. I usually eat two balls at a time, which gives 10.4g protein at 669kJ (160Cal). Not bad if you want a small snack or something sweet after dinner. You can check out the full nutrition estimate at the end of the recipe below.
I didn't include the optional chocolate drizzle in the nutrition estimate because I often leave it out when I'm just making the balls for everyday eating. But they do look pretty with the drizzle and it's only a small amount of chocolate.
Ingredients for Choc Mint Whey Protein Balls
Whey protein isolate: I recommend using an unflavoured whey protein isolate in this recipe. We add our own flavouring and sweeteners. However, if you only have flavoured whey protein powder, I imagine vanilla or chocolate flavour would work ok (although I haven't tested this). You will need to use whey protein in this recipe because it's sticky texture when mixed with the liquid is needed to hold the balls together. If you want to use vegan protein powder, you could try my Easy Vegan Protein Balls.
Almond butter: Look for a smooth, natural almond butter that only lists almonds in the ingredient list. I use unsalted almond butter, then add my own pinch of salt to control how salty the balls are. But if your almond butter contains salt, just omit the sea salt in the recipe. You could also use cashew or brazil nut butter. I would avoid peanut butter in this recipe as it will interfere with the mint flavour.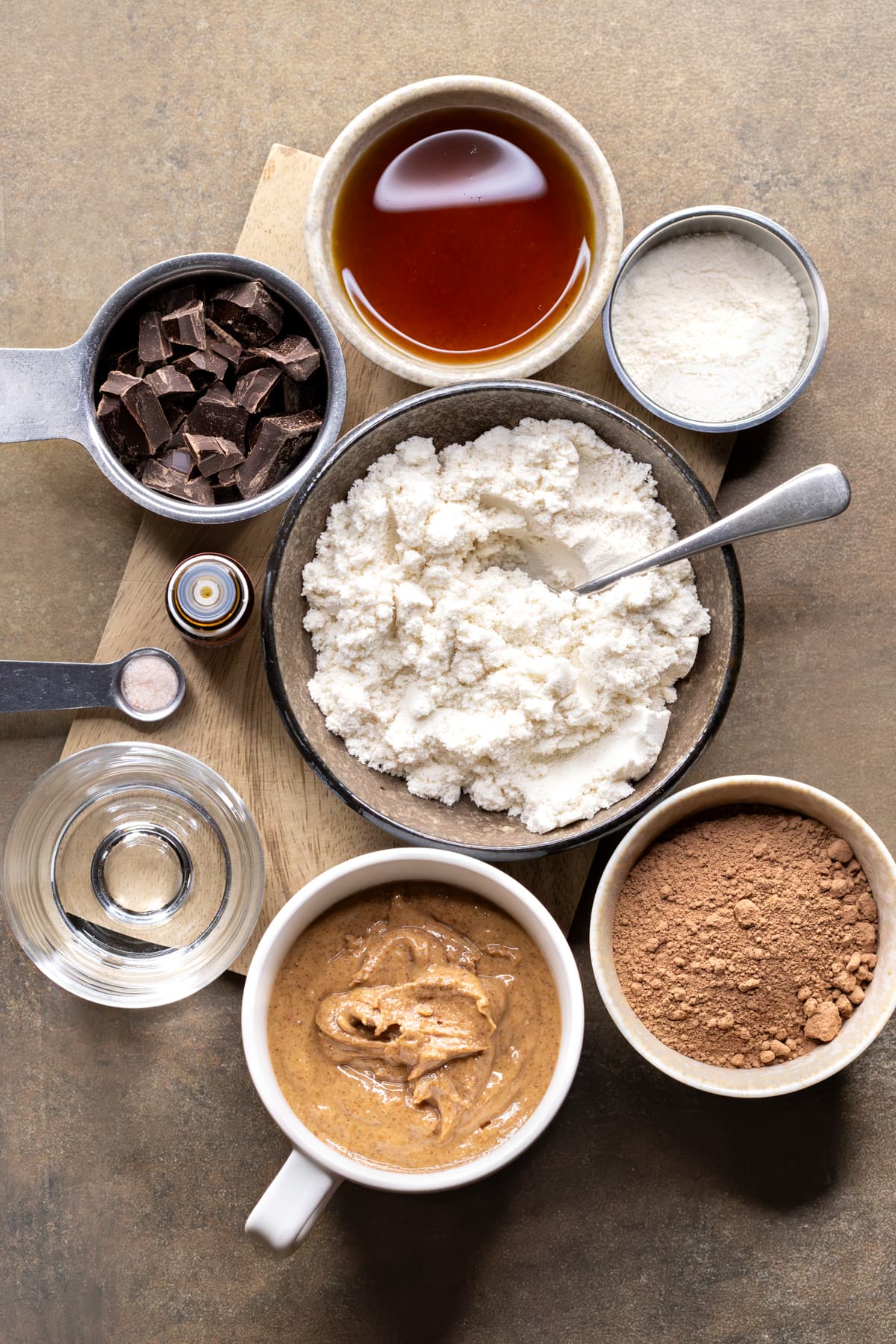 Rice malt syrup: I use rice malt syrup as the main sweetener because it has a mild flavour that doesn't interfere with the mint and its thick texture adds chewiness to the balls. You could substitute honey if you prefer.
Pure maple syrup: I add a small amount of pure maple syrup to boost the sweetness (it is sweetener than rice malt syrup). You could substitute extra rice malt syrup or honey if you prefer.
Pure peppermint oil: I use Obbekjaers pure peppermint oil. I first bought it when I was in the UK and love it's sweetness. You can buy it online or use another peppermint oil that is 100% pure and suitable for ingestion. I haven't found another peppermint oil brand that I like (many have a harsh menthol taste). If you don't have an oil, just use peppermint extract instead. You can buy peppermint extract in the baking section of most supermarkets.
Raw cacao powder: I use raw cacao powder for the added health benefits, but you can easily use cocoa powder instead.
Coconut flour: The coconut flour gives the balls a slightly chewier and more stable texture. If you don't have any, you can leave it out and reduce the amount of water added.
Sea salt: Adding a pinch of salt enhances the flavour of the balls. If you're using a salted almond butter, leave it out.
Dark chocolate: To melt and drizzle on top of the balls to make them look pretty and add some textural contrast when you bite into the ball. You can leave it out if you prefer – the balls are still great without it.
Digital kitchen scale
This recipe is much faster to make if you use a digital scale. You just put your mixing bowl on the scale and add ingredients by weight. This is why I have given the recipe ingredients in grams below (I've also included ml/cup equivalents if you prefer to measure things out that way).
Measuring by grams is also a much more accurate way to cook. Measuring out ingredients in cups and tablespoons can result in varying amounts depending on how much you 'pack' the ingredients. Plus a standard Australian tablespoon is 20ml, whereas throughout the rest of the world it is 15ml! In short, I highly recommend that you consider buying a digital scale. It will transform your cooking! I'll be including gram measurements in my recipes from now on too.
You might also like my Easy Choc Mint Bliss Balls. If you don't have any protein powder, you won't need it for that recipe.
Serves
16 small balls
Prep time
15 mins
Cook time
30 mins chilling
Ingredients
1/2 cup (125g) almond butter
2 x 20ml tablespoons (40ml/55g) rice malt syrup
3 teaspoons (15ml/19g) pure maple syrup
3 – 5 drops pure peppermint oil (or 1/2 – 1 teaspoon peppermint extract)
1/2 cup (50g) unflavoured whey protein isolate
1/3 cup (32g) raw cacao powder
3 teaspoons (8g) coconut flour
Pinch of sea salt
6 teaspoons (30ml/30g) water
Dark chocolate, for drizzle (optional)
Method
Mix the almond butter, rice malt syrup, maple syrup and peppermint oil in a bowl until well combined.

Add the whey protein, cacao powder, coconut flour and salt and stir until the mixture starts to come together.

Add the water and continue to stir until you get a dough. You will need to work the mixture quite thoroughly with the spoon to get everything well combined. Keep at it, but add a little extra water if needed. If the mixture gets too wet, add a little extra coconut flour. Taste the mixture, and add more peppermint oil or extract to reach your preferred level of minty.

To divide the dough into 16 balls, press the mixture into one large sausage, then split it in two. Split each half into two, then repeat this two more times on each portion to get 16 portions.

Roll each portion between the palms of your hands to get smooth balls and place on a tray or plate. If you want to drizzle the balls in chocolate, melt about 35g chocolate in the microwave or using a double boiler. Use a teaspoon to drizzle the melted chocolate over the balls. Place the balls in the fridge for around 30 mins to firm up.

Store in an airtight container in the fridge for 1-2 days, or freeze if you will take longer to eat them.
Notes
I recommend adding the lower amount of peppermint oil or extract at first, then you can taste later and add more if needed. I like it quite minty so I personally use the higher amount specified.
Since the whey protein powder is mixed with water, I only trust the balls in the fridge for 1-2 days. I store enough balls in the fridge for this amount of time, then wrap the remaining balls in foil or a ziplock bag and freeze them. Defrost in the fridge overnight as needed.
Nutrition
Serving size: 1 ball (excluding the optional chocolate drizzle)
Energy: 335kJ (80Cal)
Protein: 5.2g
Total Fat: 4.4g
Saturated Fat: 0.5g
Total Carbohydrate: 6.4g
Sugars: 3.3g
Dietary Fibre: 1.6g
Sodium: 21mg
Potassium: 37mg
Nutrition information is an estimate only. It may vary depending on the brand of ingredients used.